Former Harvard player and Canadian forward Sarah Vaillancourt officially announced her retirement from the women's national team on Thursday, just nine days after winning a silver medal at the 2013 Women's World Championships.
It's not every day that we recognize the retirement of a 27-year-old athlete. Not two-points-per-game players. Not former Patty Kazmaier Award winners. Not two-time Olympic gold medalists. Not when they're this good, and this young. Because sure, there are always going to be those post-college athletes who just aren't good enough to compete at the highest level anymore, those who don't have the work ethic to continue making the cut. And, especially in women's sports, those who have decided to put the game behind things like families and financial security.
But that is not the case for Sarah Vaillancourt. It's not for lack of talent or heart, skill or drive. And it's not because hockey is no longer her number one priority. It's because of an unfortunate string of injuries that after more than three years finally seem to have won out over everything else.
Most retirements in sports feel like celebrations, no matter how loved the athlete or how special their talent. And certainly, Vaillancourt's career is one to be celebrated. But her retirement announcement feels different, even if it's just from the national team (she still plans on playing in the Canadian Women's Hockey League). It feels more solemn than jubilant. It feels a little bitter. It feels like maybe everyone has been cheated out of a few more years from a great competitor and a very good player.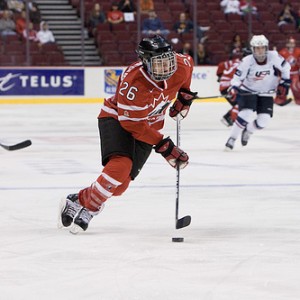 And make no mistake about it, Vaillancourt is a heck of a hockey player. In 118 games at Harvard, she compiled 105 goals and 234 points, and won the prestigious Patty Kazmaier Memorial Award in 2008. Over the course of six World Championships and two Olympics, Vaillancourt scored 19 goals and 51 points in 40 games for Canada. In a real testament to her skill, she scored seven points in five games at the 2013 World Championships, despite missing pretty much all of the last two seasons due to multiple surgeries.
But her incredible talent may not be her greatest legacy. As an openly lesbian athlete who pretty boldly came out as a college freshman, it may not even be her second-greatest, though that little fact about Sarah Vaillancourt the person has nothing to do with Sarah Vaillancourt the hockey player. It never has.
Over the course of her career Vaillancourt has racked up some amazing statistics. But the one that may define her best is this: leading up to the Vancouver Olympics in 2010, she played over 60 games for Team Canada on a torn labrum in her hip. That would eventually lead to a host of other complications, but the bottom line is, Vaillancourt played through that kind of pain for basically an entire season, all for the chance to win a gold medal. And despite an arduous recovery process and numerous setbacks, she kept fighting to get herself back on the ice, even though at times she admits it felt like a hopeless cause.
As sports fans, we often look for certain traits in athletes that we'd like to see in ourselves. And we fall in love with those athletes when we find them.  The specific qualities we're looking for are ones like courage, guts, and a dogged will to fight. Vaillancourt exemplifies all these things and more. Because she's a little crazy, too. You've got to be a little crazy to play for so long on a torn labrum. But it's the best kind of crazy. The brave kind. The gold medal kind. And we love that kind of crazy in our athletes and our idols.
Perhaps the reason why Sarah Vaillancourt's retirement from the national program comes with an air of solemnity is because of how her career with Team Canada ended. With that final go-round in Ottawa last week, she was at least granted one more chance to win gold for her country, giving her priceless closure no matter what. But her competing in the 2013 World Championships in hindsight feels less like a comeback attempt and more like a victory lap, one that ended with a silver medal. And as we could tell by her post-game tears last Tuesday night, silver is not the color of victory. Not to a competitor like her. But Sarah Vaillancourt leaves behind a legacy that transcends medals and awards, wins and losses, goals and points. Hers is instead one of heart and audacity and a pure love of the game.