Every hockey player dreams of going to the Stanley Cup finals. However, fans are only going to the Stanley Cup finals if they have a ticket. Getting a ticket can be expensive even for a cheap seat. What are some ways to pay for tickets to one of the biggest hockey games of the year?
Put It On Your Credit Card
Low interest rate credit cards could make going to a Stanley Cup final game more affordable. You can pay for the ticket in installments each month. A card with an interest rate under 5 percent would add only $50 to the cost even if you took a full year to pay it off. Using your credit card may even qualify you for points that can be used for future hockey games.
Look To The Internet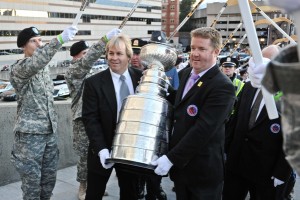 eBay should have plenty of tickets available to one of the games. You may even be able to get tickets for less than face value if you are really lucky. StubHub is another great source for affordable tickets. Fans post their available tickets online to anyone who wants them.
Most of them are below market value because people just want to get rid of the tickets as fast as possible. If you do buy online, make sure you use one of many credit cards with no foreign transaction fee. A Canadian team could very well be playing in the finals.
It Pays To Know The Right People
Your boss may be willing to give you tickets to the game for doing a good job. Perhaps you have a friend who knows someone who has an extra ticket to the game. Having a connection to someone who has season tickets can work out well. Fans with season ticket packages get the first shot at all playoff tickets.
This can be your chance to get tickets to a game before they sell out. The only downside is that you will have to pay face value to get those tickets. However, tickets have been known to sell out in mere minutes.
Scoring a ticket to a playoff hockey game can be very difficult. You need to know where the tickets are when the box office no longer has any. Go online, know the right people and make sure you have a good credit card. The tickets are not going to be cheap if you can get them.