If the Albany River Rats play another game at the Times Union Center, it will be under another parent club affiliation and in 2018-19 at the earliest. After 6,467 spectators attended the Albany Devils "River Rats night," maybe fans aren't quite ready to give up on AHL hockey in New York's capital city. Incredible what a little marketing, promotion and branding will do.
They still love their Albany River Rats! A crowd of 6,467 packed Times Union Center for #RiverRats night. New affiliation in 2018-19! #AHL pic.twitter.com/i9sn9pZsba

— Mike Gwizdala (@MikeGwizdala) March 26, 2017
When the A-Devils donned the River Rats sweaters in November, they doubled up the Rochester Americans 4-2. This time around the A-Devils were hammered by former Rats captain Kevin Dean's Providence Bruins by a final count of 5-0. For many, the two results were a symbolic microcosm of when the River Rats were the primary affiliate of the New Jersey Devils from 1993-2006. A great start from 1993-2000 and a sour end from 2000-2006.
[RECAP] The #RiverRats fell tonight to the Bruins, 5-0 → https://t.co/yyHnu4yTSy pic.twitter.com/qOBNDi2FGJ

— Albany Devils (@AlbanyDevils) March 26, 2017
Although there will not be any AHL action in downtown Albany in 2017-18, there may well be a new club in town come 2018-19. Below we examine the possibilities.
Florida Panthers
Presently the Panthers house their top prospects with the Springfield Thunderbirds. While the league's headquarters are based in Springfield, MA, a change in the NHL landscape might shuffle the deck with affiliations.
Why Albany? Panthers owner Vincent Viola and his wife Teresa are prolific thoroughbred racers and own a home in Saratoga Springs. Panthers general manager and interim head coach Tom Rowe, was head coach of the River Rats from 2006 to 2008 when the franchise was the top affiliate of the Carolina Hurricanes. Rowe's assistant coach was present Thunderbirds bench boss Geordie Kinnear. Kinnear was a Calder Cup champion, captain and had his No. 4 retired by the River Rats.
Awesome move to welcome Geordie Kinnear back to the Capital Region. #champ pic.twitter.com/noxqyOQ587

— Tracey Lake (@trace_1114) January 14, 2017
If the Las Vegas Golden Knights were to initially place their team in Springfield or if the Hurricanes moved back to Hartford and shifted their AHL team from Charlotte to Springfield, it may open up an opportunity for Albany to snag the top affiliate of the Panthers.
Hartford Whalers Impact
I'll preface this by saying the Whalers don't exist yet and may never exist again. Yet, Hartford is making $250 million dollars worth of improvements to the XL Center and Connecticut Governor Daniel Malloy has stated interest in the city bringing in the New York Islanders. Plus, there are the aforementioned Hurricanes and their ownership and attendance issues. What it could mean is a chain reaction.
If an NHL team returns to Hartford, the Hartford Wolf Pack, top affiliate of the New York Rangers, would need a landing spot. Albany is a hotbed of Rangers fans and would make a solid fit.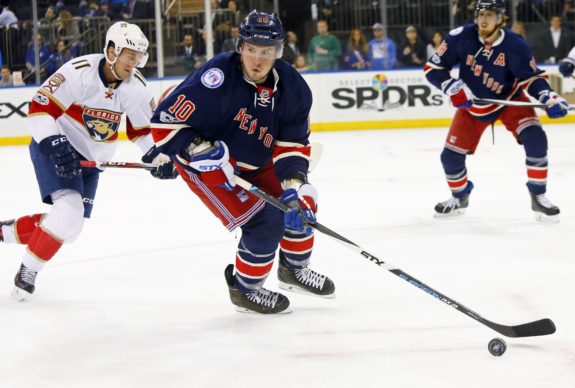 Should the Islanders move to Hartford, perhaps they would move their team from Bridgeport to Albany, with the Wolf Pack shifting to Bridgeport. The old Capital District Islanders played in nearby Troy from 1990 to 1993 and there's a decent base of Islanders fans in Albany. There's also a scenario where one team lands in Bridgeport and the other winds up in Long Island.
In the event, the Hurricanes move from Raleigh to Hartford, there's a connection between Albany and the Carolina franchise which was the top AHL affiliate of the River Rats from 2006 to 2010. Perhaps a reunion would be in order with Albany being in closer proximity to Hartford than Charlotte. The Whalers also housed their top prospects in Springfield from 1990 to 1997, which could also make a logical fit if the Hurricanes bolt to Hartford. Hence, as mentioned above, it would open the door for Albany to potentially pair up with the Panthers or Rangers.
Conclusion
If a team is run, promoted and marketed correctly, it can succeed in Albany. Having strong local ownership with deep pockets in the case of Mr. Viola would be huge. Having a team with a large local rabid NHL fan base like the Rangers would also be beneficial. Depending on what happens around the NHL, Albany and the River Rats could be back in play in the AHL in 2018-19.
Michael Gwizdala covers the New York Islanders for The Hockey Writers. Michael is also an Associate Producer at WNYT NewsChannel 13. Additionally, Michael was once a Media Relations intern for the AHL Albany River Rats. Michael is a graduate of The College of Saint Rose in Albany, NY.