The Vancouver Canucks are battling in a very competitive Pacific Division largely due to their above-average defensive play and all without their supposed number-one defender, Alex Edler. So, do the Canucks really need Alex Edler?
For a time, Edler was, without a doubt, the Canucks' top defender. During the 2010-11 Cup Final run, he was arguably one of the best in the NHL, but that is no longer the case. He peaked in the 2011-12 season with 11 goals and 49 points in 82 games and then started on a decline in the seasons that followed as he was plagued with injuries.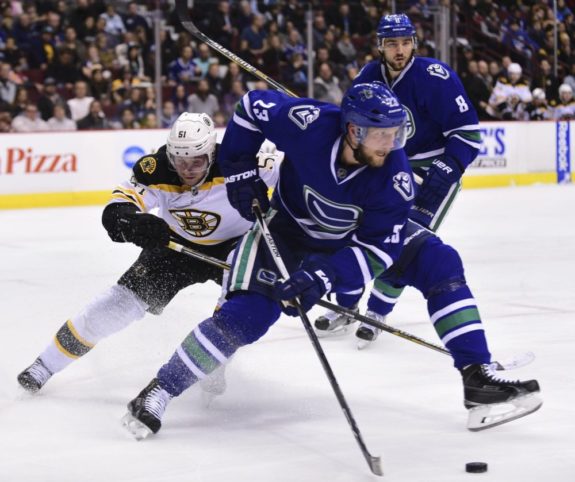 With all the personnel changes and progression throughout the Canucks' blue-line, Edler may be subjected to some serious role changes. He made his return on Nov. 9 against the Anaheim Ducks and logged 19:20 of ice time, fourth among Canucks defenders. He recorded no shots but was a plus-one.
The New Number One
In Edler's absence, newcomer Michael Del Zotto has stepped up in a big way and has become the Canucks new top defender. Among the Canucks' defence (as of Nov. 11), Del Zotto has the most points (seven), highest average time-on-ice (24:09), most blocked shots (33), most power play points (two), second most shots (34), second most hits (29) and so on — undoubtedly, he is the most valuable blue-liner for the Canucks.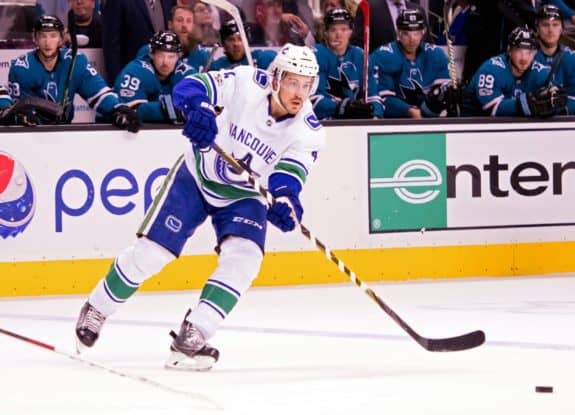 Del Zotto has seemingly filled Edler's void in most places but, on the power play, he's been missed — the team is currently 25th in the league for power play percentage at 15.2%. Edler, when healthy, is capable of contributing upwards of 20 points per season on the man-advantage, and could definitely help the struggling power play.
Defensively, though, the Canucks are looking better than they have in years — they allow the fifth-fewest shots against per game in the NHL with 30 and, as a result, boast the fourth-lowest team goals-against-average at 2.50. So again I ask, do the Canucks really need Alex Edler?
Future of the Canucks' Defence
The Canucks have a healthy pool of defencemen at their disposal ranging from reliable veterans to up-and-coming talent. The development of Troy Stecher, Ben Hutton and Chris Tanev have strengthened the team's core drastically. Additionally, bringing Del Zotto and Derrick Pouliot into the fold while having both Erik Gudbranson and Edler healthy gives a complete and strong lineup.
With Olli Juolevi, the Canucks fifth-overall selection in the 2016 NHL entry draft, climbing the ranks and poised to take over a prominent spot in the rotation, it makes at least one of the Canucks' defenders disposable.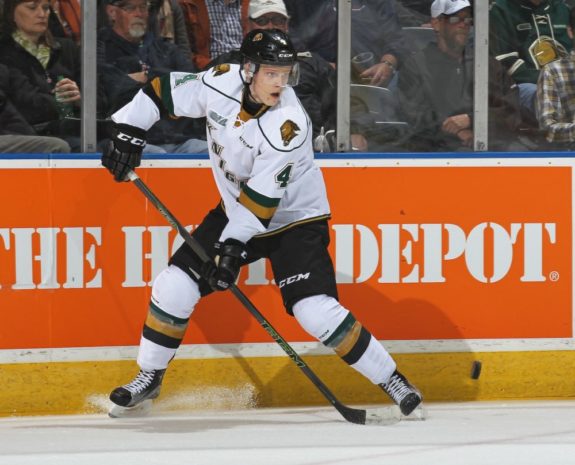 Being in the state of rebuild that the Canucks are, a trade bringing in another young prospect, or at the very least, a second-tier draft pick make a lot of sense. Edler and Gudbranson are two names that I'd peg as disposable, primarily Edler as he has mostly been replaced and the constant growth of Hutton and Stecher will likely push him out of the power play quarterback position.
Trade Bait
Edler is just not a top-pair guy anymore, but he is getting paid as such at $5-million per year through the 2018-19 season. He's injury prone, expensive and a depth defender that the Canucks simply do not need.
He would be most valuable to a team looking to gear up for a playoff run by adding depth to their bottom-two pairings on defence. A team like the New Jersey Devils could make use of Edler as they can afford to take on his salary and use him where needed as they look to push for the playoffs.
With Alex Edler and Loui Eriksson nearing return, Canucks have some tough decisions to make https://t.co/VZ06JeCRex #Canucks pic.twitter.com/XgJz7OUlQJ

— Daniel Wagner (@passittobulis) November 9, 2017
As mentioned, a second-tier draft pick is something to expect in return for an injury-prone 31-year-old who is on the back-nine of his hockey career. He's been a pillar on the Canucks backend for the better part of 11 seasons now, but, as he embarks on his twelfth campaign, I believe it's time to part ways with Edler before it's too late and while it makes sense for the organization.
Matt is a longtime fan, player and student of the game of hockey. Broadcast and Online Journalism student at the British Columbia Institute of Technology.