It didn't take long for Alex Ovechkin to establish himself as an elite goal scorer in the NHL. Known for his wicked shot and explosive speed, the 30-year-old Russian has been, and continues to be, one of the most exciting players to watch in the game today. From his wild celebrations, to his highlight-reel goals, Ovechkin can arguably lay claim to being the most dominant goal scorer of the modern era.
Although Ovechkin's offensive firepower and game-changing ability are assets any team would love to have, No. 8 has received a lot of criticism surrounding his defensive game throughout his career. Under former head coach Adam Oates, Ovechkin was horrendous in his own zone. Not only was he incapable of adaquately preventing scoring chances, but he ranked third-last in the league in even-strength goal differential (minus-35 rating).
It's not hard to see why on this goal by New York Rangers forward Derek Stepan.
While criticism of Ovechkin's two-way game has certainly been warranted in the past, that argument has been irrelevant for over a year now; yet there still seems to be this idea that No. 8's defense is not up to par.
Well, I have news for the doubters — Ovechkin is a changed player, and has been since the start of the 2014-15 season. Head coach Barry Trotz is a big reason why.
But what is it about Trotz that sparked Ovechkin's changed game?
Trotz's Philosophy
Barry Trotz didn't come in quietly when he was named the Washington Capitals' head coach. Since his official hire on May 26, 2014, Trotz established the identity he wanted his team to have; and part of that identity was a frank and honest relationship with his players. He initiated that with Ovechkin right off the bat.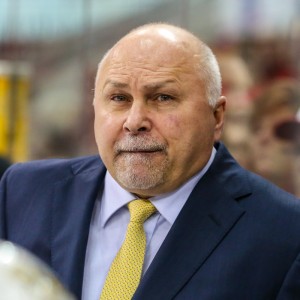 "I told Alex, when you have the puck, I want you to do what you do," Trotz said. "When you don't have the puck, I want you to do what I want you to do so we can get you the puck more. He bought in."
When players try to do too much, it can lead to mistakes. The same can be said for coaching. Coaches play a crucial role in bettering player development, but they can also play a part in making them worse. Letting players follow their natural scoring instincts — and giving them leeway to make mistakes — only helps them reach their potential.
With Oates at the helm, Ovechkin was being held back by a system that didn't allow for mistakes. But when a player isn't given the reigns to follow his instincts, and is placed in a role he's not comfortable with, it leads to more blunders. That is exactly what we saw with Ovechkin, and it only got worse towards the end of the Oates era.
Trotz took a different approach. By letting Ovechkin do what he does best with the puck, he put No. 8 in a role he thrives in, while effectively coaching the side of the game he historically struggled with (defense). It's obvious Ovechkin bought in to Trotz's philosophy, and he has reaped the benefits because of it.
With that said, has it actually translated to better results defensively?
No. 8: A Different Player
As the header says, Ovechkin really is a different player. He is backchecking harder, more positionally sound and looks just as motivated without the puck as he does with it. The Russian star was always capable of skating a 200-foot game, but somewhere along the way, he lost the motivation to do so. That is no longer the case.
Not only is Ovechkin putting up better possession numbers since the Trotz era, but he's preventing scoring chances at a higher rate. To put things in perspective, in a two-season span under Oates, Ovechkin was actually allowing more scoring chances than he was producing. This season alone, Ovechkin is allowing just over 24 SCA60 (scoring chances against per 60 minutes at even strength) — an 18 percent drop from his time with Oates.
Now, given his improved defensive play, it's only logical to assume Ovechkin's offensive numbers took a dive, but that hasn't happened. Remarkably, No. 8 is producing a whole four more SCF60 (scoring chances for per 60 minutes at even strength) than he did between 2012-13 and 2013-14, which has directly translated to the scoreboard.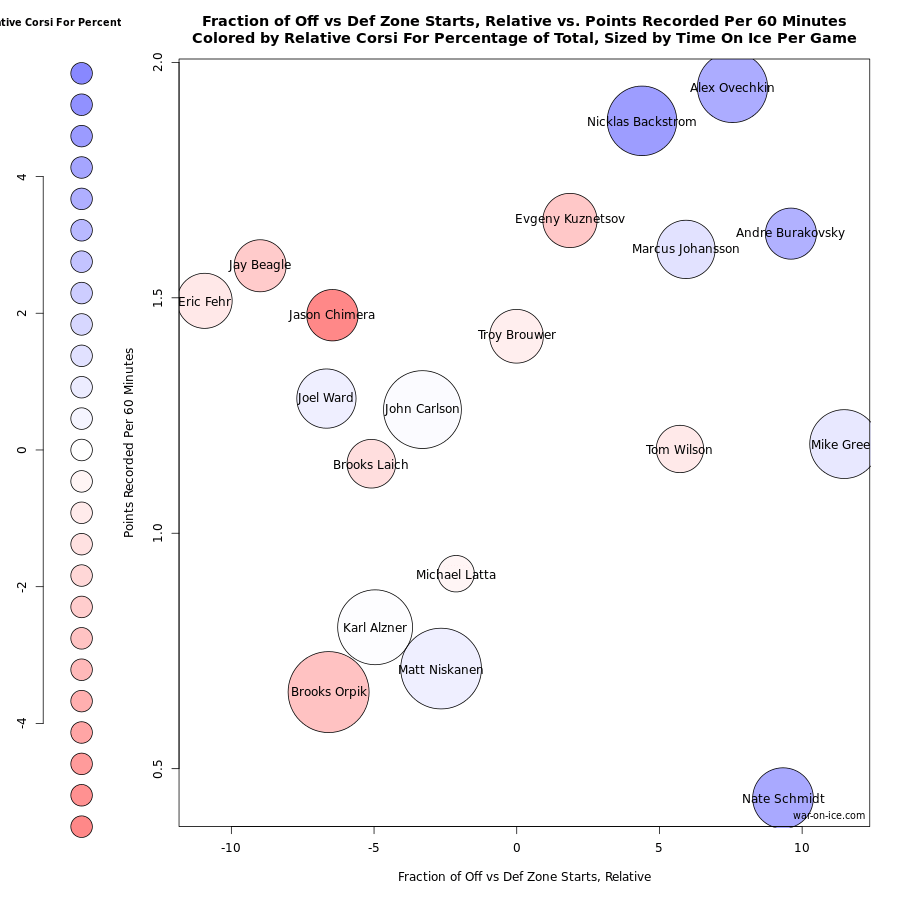 With Oates behind the bench, Ovechkin saw his point totals bottom out. Between the lockout-shortened season and 2013-14, the 30-year-old ranked fourth on the team in P60 (points per 60 minutes at even strength) with a 1.72 average, behind Mikhail Grabovski, Jason Chimera and Joel Ward.
His offensive production was dropping dramatically, frustration was mounting, and the hockey world began to question whether Ovechkin would ever return to the goal-scoring machine he once was.
But with a little tweaking behind the bench, we now know No. 8 was far from done.
With Trotz manning the reigns, Ovechkin's point production has gone up to a team-best 1.95 P60 — a significant increase from his time with Oates. He's dominating possession, setting the pace and is ultimately a more complete player at both ends of the ice.
Final Thoughts
As the cliche goes, "When you're always on offense, you don't have to play defense." And that cliche couldn't more fittingly describe Ovechkin's game today.
When assessing Ovechkin, many fans envision an elite goal scorer incapable of playing defense; a player too lazy to do what it takes to have success at both ends of the ice. What I see is a player who, when it comes down to it, helps his team win hockey games; a game-changer who dominates to a point where an opponent just can't generate anything, let alone control the puck.
Your best players have to be your best players to have success in this league, and that is exactly what Trotz has done with Ovechkin — made him into Washington's best player once again.