The Dallas Stars have arrived at their all-star break and two of their players are in Nashville to participate in the festivities. Tyler Seguin and the captain, Jamie Benn arrived at the Music City to showcase their talents in the 3v3 tournament this weekend. Both players have been sitting in the top-three in NHL scoring with Patrick Kane seemingly all season long. For now, let's dive into the season that Jamie Benn has had and what has made him an All-Star.
 Picking Up Where He Left Off
Benn ended last season on an absolute tear and ended up winning the Art Ross trophy with 87 points (a number that looks like it will be shattered by at least three or four players this year, including Benn). He had double hip surgery in the offseason and was ready to play by game one of this season. He's been piling on the points ever since. Here are some of the scoring categories he is near the top of the league in:
Benn's 58 total points is second in the NHL to Patrick Kane.
His 28 goals is also second in the NHL next to Kane.
He has 4 shorthanded points, tied for second in the league.
His points-per-60 minutes of play is also second in the NHL to Kane at 3.43.
Benn has done a great deal of his damage in front of the home fans. His 36 points at home is only second to, you guessed it, Patrick Kane again. Benn's 21 goals at home are not second to Kane, that number is good for the best in the NHL.
Benn has also been leading the Stars on many of the underlying metrics.
His 56.14 corsi-for-% at even strength is second on the team, behind only the surprising Mattias Janmark.
Only Klingberg and Janmark have a better high-danger scoring chance differential than Benn.
Jamie Benn has 63 individual high-danger scoring chances at even strength, the best on the Stars by a good margin.
It is a pretty good bet that Benn will continue to pile on the points after the All-Star break.
Embracing the "C"
There is so much to be said about what a captain can do and not do for your team. We all hear what great leaders like Johnathan Toews and Henrik Zetterberg do to will their teams to victory. It's an impossible to thing to quantify as most of it has to be judged by what we see on the ice and what quotes we read from post-game scrums. If you look at those relative to Benn this season, you'll see a young, talented player becoming one of the best captains in the league.
"It's myself not leading the way," said Benn. "It was pretty much embarrassing, and I let my teammates down."
Credit that quote to Mike Heika of the Dallas Morning News. That came after a 6-2 loss to the Rangers that saw Benn and Seguin get benched for most of the third period. Benn puts a ton of pressure on himself to succeed.
One thing I've noticed is a simple thing such as a goal celebration. When Benn would score earlier in the season (when the team was basically winning every night) he would generally get pumped up or shine a big smile. During this slump, that has changed. Even if it is a big goal late in the game, the celebration is incredibly muted. A quick fist bump to his teammates on the ice and then it is right back to work. He just can't stand losing and it's a good quality for a captain to have.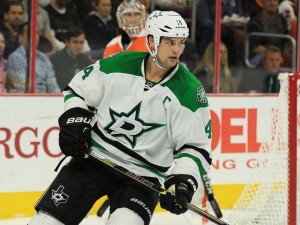 Along the same lines, check out the Art Ross celebration. This happened immediately following the game in which he clinched the trophy awarded to the league's top scorer. Sure he's happy he won the trophy but ultimately his message is he is disappointed that he couldn't get his team to the postseason. He is quickly becoming one of the top captains in this league.
Looking at the Second Half
While I'm sure Benn could have benefited from some rest at the break, playing in a skills competition and a small 3v3 tournament isn't as grueling as the regular NHL schedule. I expect Benn to fly out of the break much like he did last season and continue to march the Stars towards a playoff spot.
Can he catch Kane? It's certainly possible but doesn't look likely at this point. Kane is just on a completely different level than everyone else this season. If Benn can make this race half as exciting as he did last year, it should be fun to watch.
Jordan has been covering the Stars for The Hockey Writers since February 2015. He is originally from Iowa City, Iowa. You can follow Jordan on twitter @jordan_dix