It's amazing! The Carolina Hurricanes are not out of contention for a spot in the NHL playoffs. The Canes have a legitimate chance to grab a wild card spot, even after their recent 4-1 loss to the New York Rangers and 1-0 OT win against the Toronto Maple Leafs.
Canes Not Out
Here's the deal: As of right now the Hurricanes have 50 points. The Boston Bruins and the New Jersey Devils both have 53 points. That's it, a difference of only three points on January 23.
Whether this is a testament to the East being relatively weak, or the Canes doing better than expected is anybody's guess. The point is that with one week to go in January, Carolina is not out of the running. Well, on paper anyway.
The Canes do have some serious issues that could cause them to drop quickly, and there no apparent solutions in clear sight. One of those issues stands out immediately.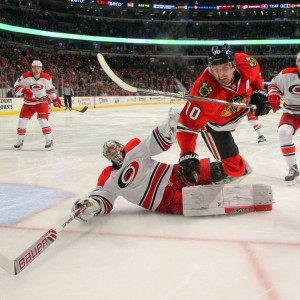 Cam Ward
Hurricanes goalie Cam Ward was placed on injured reserve on Wednesday January 20. Ward has been diagnosed with a concussion and there has not been a timetable set for his return. Coach Bill Peters told the Hurricanes website,
"His symptoms started to come on and felt worst as he went and then he got tested and now he goes through the protocol. Obviously it's gotten worse as it's went along. Hopefully it's not a long-term thing."
Carolina fans agree in hoping it is not a long-term thing. But in the short-term, staying viable for playoff contention without Ward will be a giant task for this young team.
Eddie Lack is the starter during Ward's time on injured reserve. I have been hot and cold on Lack this season, much like Lack has been in between the pipes. I recall telling a colleague that I could not imagine any scenario in which GM Ron Francis should have traded for Lack and then given him a contract extension before he donned a Canes sweater in a game.
Lack signed an agreement that will pay Lack $2.5 million in 2016-17, and $3 million in 2017-18.
[New Video] @eddielack talks about the opportunity to play more in Ward's absence → WATCH: https://t.co/yvMmihFRKd pic.twitter.com/E2C8icELGK

— Carolina Hurricanes (@Canes) January 20, 2016
Jen Neal of Yahoo! sports wrote about the extension in October, "Declaring Lack as the successor to Ward based on this signing may be a bit premature, seeing as the regular season hasn't started yet. But it's possible the writing is on the wall." I agree it's possible, but I still am not sold 100 percent on Lack.
Lack had a couple of win streaks going and he got a shutout Thursday night against the Leafs. I get that he has some potential. But, against a strong team like the Rangers, Lack was seemingly overwhelmed.
JT Miller just undressed eddie lack

— Smitty (@dansmith6595) January 23, 2016
How will he respond when the Calgary Flames who are average this season, and the Chicago Blackhawks who are again making a play for the Stanley Cup, come to town?
Sure Ward is not an elite goalie, but you can count on him more often than not to be reliable. With Lack, I'm not sure what the Canes have night in and night out. And that is not a good situation for a team trying to claw its way up the ladder to a wild card spot.
Meanwhile
Daniel Altshuller has been called up to the Canes from the Charlotte Checkers.
[NEWS] #Canes recall goaltender Daniel Altshuller & place Cam Ward on IR with a concussion: https://t.co/eFgp5AfC9G pic.twitter.com/yNOMmwsW5Z

— Carolina Hurricanes (@Canes) January 20, 2016
The Hurricanes website listed Altshuller as 21 years old, with a 9-1-1 record, a 1.71 goals-against average, a .941 save percentage and one shutout in 11 games for Charlotte this season. Maybe Altshuller will be another "young gun" as I have named the fantastic group of young players that have turned this team into at least a possible playoff contender this season.
I just can't imagine though how wide Altshuller's eyes might get if for some reason he has to go against the Blackhawks in his first NHL start. Staring at a charging Patrick Kane breaking away and coming straight at Altshuller would certainly be a "welcome to the NHL, kid" moment. I think he would be just fine.
I believe in these young guys as they are definitely the future of this franchise and currently the hope for the team climbing the playoff ladder. No, I'm not stupid. I do realize it would be just shy of miraculous for the Canes to make the playoffs this season. But, the amazing truth is that the Canes are not out.