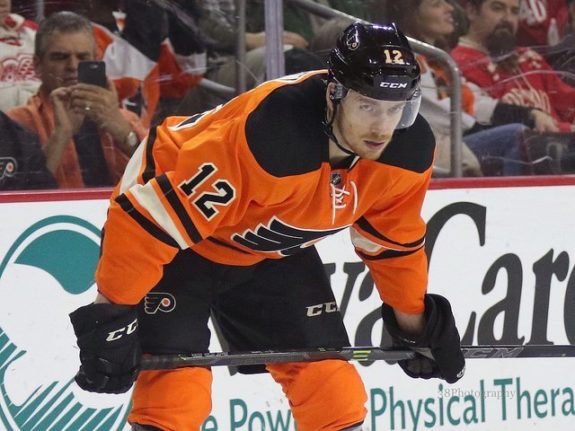 Since signing as an undrafted free-agent in the summer of 2013, Austrian left-winger Michael Raffl has been a solid player for the Philadelphia Flyers. During his two year career he has played on all four lines, he has played (sparingly) on the power play, and he has played on the penalty kill.
This past season, Raffl scored 21 goals and added seven assists for 28 points in 67 games. He spent most of his even strength minutes on the top line with Claude Giroux and Jakub Voracek. Raffl was a great compliment to both players at 5v5, scoring 14 of his 21 goals at 5v5.
To adequately assess Raffl's value to the Flyers, there are three areas that need attention. First, Raffl's place among the Flyers forward corps. Second, his place among forwards throughout the NHL. Finally, it is important to look at what his next contract could look like and what to expect from him in the future.
1. Top nine? More like top line
Michael Raffl improved during his second season with the Flyers in nearly all relevant statistical categories. For most of this analysis I will be using advanced statistics found at war-on-ice.com. War-on-ice is a tremendous resource for hockey stats and analysis. For a quick primer on what some of these stats mean, check out an article linked here. The numbers in parentheses indicate Raffl's rank among Flyers forwards each year. All stats were measured at 5v5 and are score-adjusted.
2013- 2014
Zone Start% – 56.34 (4th)
Zones Start Relative to Team – 6.06 (5th)
Corsi For % – 52.74 (4th)
Corsi For Relative to Team – +3.37 (4th)
Goals/60 mins – .72 (6th)
Assists/60 mins – .96 (6th)
Points/60 mins – 1.68 (5th)
ES TOI/game – 11:00 (10th)
2014-2015
Zone Start% – 57.09 (3rd)
Zone Start Relative to Team – 7.76 (2nd)
Corsi For % – 55.07 (1st)
Corsi For Relative to Team – +7.75 (1st)
Goals/60 mins – .99 (1st)
Assists/60 mins – .42 (11th)
Points/60 – 1.42 (5th)
ES TOI/game – 12:39 (6th)
Before getting too excited about Raffl's numbers this past season there are a few words of caution. It must be recognized that he had very favorable usage. He started most of his 5v5 shifts in the offensive zone, and many of those shifts were with two elite players, Giroux and Voracek.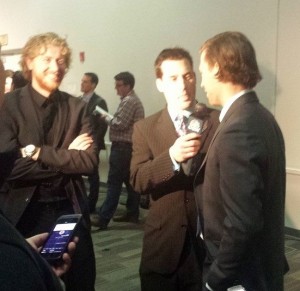 There were also times during this past season when the Flyers top line would start in the defensive zone, but without Voracek and sometimes without Raffl. Because of his desire to have multiple centers on the ice, Craig Berube would start Claude Giroux in the defensive zone far more often than his primary wingers, thus diluting some of Giroux's numbers.
But, despite these factors, the numbers still reflect favorably on Raffl. In nearly every category Rafll ranked in the top three among Flyers forwards. His assists per 60 minutes may have decreased, but playing with two elite playmakers is bound to have an effect on his assist numbers. It is also worth noting that his primary center, Giroux, suffered from a career-low shooting percentage. When a player has a line-mate that is having trouble scoring, it is hard to pile up assists.
Although his zone start percentage was worse than both Jakub Voracek and Vincent Lecavalier, Raffl held the highest Corsi For percentage on the team. His ability to generate shots and control play was essential to Voracek's huge season. Without controlled play in the offensive zone, Voracek would not have racked up so many points. Raffl was one of the best Flyers forwards (along with Voracek) at shielding the puck and maintaining offensive zone possession.
It is also important to point out that Raffl's goals per 60 minutes was the best on the team. For the last few years, Flyers fans have clamored for a "goal scoring left-winger" to play alongside Giroux and Voracek. With an average of .99 goals per 60 minutes, Raffl showed a natural ability to score that could continue to blossom with increased playing time.
2. Not Elite Goal Scoring, But Among Good Company
Among NHL forwards, Raffl ranks highly in many advanced stats categories. Among forwards who played at least 500 even strength minutes this season, he ranked 51st in Corsi For percentage. In that same group of forwards, he was T-58th in even strength goals scored and 35th in goals per 60 minutes.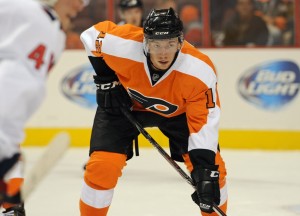 Raffl averaged more goals per 60 minutes than left-wingers like Zach Parise, Scott Hartnell, and Jaden Schwartz. His 5v5 goal total (14) was equal to that of Phil Kessel (though Kessel had a markedly bad season), and greater than that of Eric Staal, Milan Lucic, and James van Reimsdyk.
No, Michael Raffl may not be an all-star forward. But, think about it like this. There are 30 teams in the NHL, so it stands to reason that the top 60 forwards in most categories would consist of "top-6" forwards. At even strength, the facts are clear: Michael Raffl could be a top-6 forward on almost any NHL team.
3. More Playing Time Equals More Money
Michael Raffl should be in for a big pay-day following next season. He will be playing on the second year of a two year, $2.2 million contract ($1.1 million AAV).
His production will likely increase once again as he is the best option the Flyers have for a top line LW. Because of his high goals per 60 minutes average, it stands to reason that Raffl should increase his goal total as his even strength responsibilities increase. He has also shown enough skills that he could be considered as a second power play unit weapon next season. He averaged a measly 25 seconds per game on the power play this past season.
The Flyers are also light on LW prospects. Yes, Taylor Leier and Oskar Lindblom both seem to be on track for an NHL future, but that could be years away. Leier may never be more than a bottom-six player, and Lindblom is a few years away from being an NHLer, as he is still just 18 years old. Even if the Flyers were to draft solid LW prospect such as Lawson Crouse or Paul Bittner, it would potentially be 3-5 years before that player truly becomes an impact NHL forward.
What the Flyers need to do is lock up Raffl for a reasonable salary and decent term. The thing that kills most contracts is their term. For example, the long term contracts that have been given out to the Flyers current group of defensemen make it unclear as to how the organization will be able to phase in their quality prospects.
In Raffl's case, there are no prospects breathing down his neck, and with names like RJ Umberger and Zac Rinaldo behind him on the depth chart, there is no reason to believe that Raffl cannot be a core piece for the Flyers moving forward. Therefore, it would behoove the organization to sign him to a multi-year contract. A long-term deal need not be a draw back.
For the foreseeable future, Michael Raffl is the Flyers best option to be the number one left-winger. He stacks up well against other NHL forwards and should be a core piece moving forward. I would suspect that next summer, he will strike a deal in the range of 4-5 years and between $4.5-5.5 million AAV.
I am 23 years old and I've been a Flyers fan since I was six years old. I love to break down the game and take a look at prospects. I always appreciate your thoughts and feedback, so feel free to use the comment section or interact with me on Twitter.