March 10th 2014 was a night Stars' fans won't soon forget.  It was a surreal scene.  The Stars were playing the Columbus Blue Jackets and play was prematurely stopped  at 6:20 of the 1st period with Columbus leading 1-0.  Stars forward Rich Peverley had collapsed on the team's bench.  Coach Lindy Ruff and others rushed to carry Peverley to a tunnel area behind the players bench.
The game would end up being canceled but would still have 3 Stars of the night.  Only this time they weren't hockey players, they were trainers and doctors.  They acted quickly performing chest compressions and defibrillated Peverley right there in the American Airlines Center.  Shortly after that Peverley was transported to a hospital and his condition upgraded to stable that night.
Rich Peverley's Road to Recovery
Two days later the Stars announced Rich Peverley would miss the rest of the 2013-14 season.  Just seven days after that Peverley underwent heart surgery to attempt to correct his irregular heartbeat.  It is important to note Peverley also had surgery to correct his heartbeat in September 2013.
Peverley, who turns 33 in July, sat out the entire 2014-15 season, which was also the last year of his contract with the Stars.  All Rich Peverley related news had been pretty quiet until Wednesday night when arguably the most creditable source of NHL information, Bob McKenzie, tweeted of a possible Peverley comeback.
Bob McKenzie with a Rich Peverley Update
RT Peverley's agent Allain Roy said M.D.s suggested Peverley's implanted defib device may be able to be removed, p… https://twitter.com/TSNBobMcKenzie/status/598572866662182912 …
Peverley still needs to see more doctors and there would need to be work done with NHL and NHLPA on insurance waiver issues…

— Bob McKenzie (@TSNBobMcKenzie) May 13, 2015
…but, for now anyway, the story is that some encouraging medical news has Peverley at least looking hard at the possibility of comeback.

— Bob McKenzie (@TSNBobMcKenzie) May 13, 2015
Peverley's contract with DAL expires June 30, so if he can overcome medical/insurance hurdles, he could be UFA this summer.

— Bob McKenzie (@TSNBobMcKenzie) May 13, 2015
What is an ICD?
Bob McKenzie's first tweet mentioned an implanted defib device.  So what exactly is an implanted defib device and can it really be removed?  According to Texasheart.org an Implantable Cardioverter Defibrillator (ICD) is used
in patients at risk for:
Ventricular tachycardia, when the lower chambers of the heart independently beat faster than 100 beats per minute.
Ventricular fibrillation, when the muscle fibers of the lower chambers of the heart contract in a fast, uncoordinated manner.
Sudden cardiac arrest caused by arrhythmias.
It is implanted beneath the skin, usually near the collarbone and is about the size of a pager.
Obviously such a device would not be compatible with a two-handed slash, unexpected hip checks or a Shea Weber slapshot from the point.  Well, for that matter, most man-made things would succumb to a Weber blast.  So how exactly would the device be removed?  Good question.  There isn't a great deal of information available to suggest a person should remove it.   I was able to find some information from a publication by NHS, South London Cardiovascular and Stroke Network.  In most cases it seems people keep it attached until they are close to death.  However it does also reference on page 5 a "temporary ICD deactivation" process which seems to suggest the device can be turned on/off magnetically.
A Potential 2015-16 UFA Sleeper?
What happens next?  Your guess is as good as mine.  At least for now, it is nice to hear some hope of Peverley being able to get back to the game he loves.  He actually skated and performed drills with the AHL Texas Stars on February 11, 2015.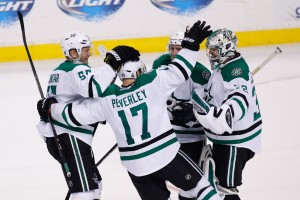 If the stars do align and Rich Peverley is able to come back next season, I'm not sure Dallas would have room for him upfront.  However, a lot of NHL teams could use a savvy veteran center ice man, maybe a Bruins sequel?  Or perhaps fellow St. Lawrence university hockey alum and new Devils GM Ray Shero will check in on him.  Certainly all potentially interested NHL teams will need a significant level of reassurance from their own medical staffs before entertaining the idea of signing him to a contract.
I have a Bachelor of Arts Degree is Sociology from Bridgewater State College. I have covered amateur hockey prospects with Texas roots for the scoutingreport.org, and I am a Dallas Stars writer for The Hockey Writers. I can be reached via Twitter @EdTexmass09.