In a summer that promised change, and lots of it, the Ottawa Senators somewhat underwhelmed the hockey world with their contentious contract extensions, questionable return for Jason Spezza and poor effort to sign Ales Hemsky. Though they did add to their long list of depth players, it begs the question: did the Senators improve at all during the offseason?
The Trade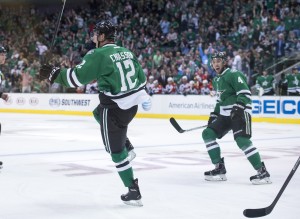 On July 1, with the offers for Spezza dwindling by the hour, Bryan Murray made a trade with Dallas Stars GM Jim Nill that sent Jason Spezza and Ludwig Karlsson to Dallas for Alex Chiasson, Nick Paul, Alex Guptill and a 2015 2nd-round draft pick.
At the time, it seemed like Sens fans were getting the short end of the stick. Jason Spezza was a point-per-game player his entire career in Ottawa and was also one of the few remaining members from the team's Cup run in the 2006-07 season. Franchise players like Spezza don't come around too often.
But after things settled down in the nation's capital, there was a feel that maybe the Senators did come out on top of the trade.
Nick Paul and Alex Guptill aren't exactly NHL ready players, but there's no doubt that in the next few years, both of them will be more than capable of making the jump from the AHL. Also, after only having five picks in this year's draft, the Senators gain a 2nd-round-pick in a draft oozing with talent.
The last piece of the puzzle, and the the biggest piece, is Alex Chiasson. Last year, in his first full season with the Stars, Chiasson had 35 (13,22) points, finishing ahead of his teammate, the highly touted Russian rookie, Valeri Nichushkin. Though his defensive game needs work (Chiasson was a minus-21 last season; worst on the Stars), Chiasson feels like he can step up and play a big role on the Senators this year.
"I feel like the trade can really be a big opportunity for me to bring my game to the next level. That's how I see it. If I sit here and think I've got to be who Jason Spezza is, I'm not going to benefit from that. There's a chance for me to step in and contribute to the success of the team and have a role and be an impact player, but that's up to me. That's being ready. I worked really hard in the summer on different things I thought needed to be worked on last year." – Alex Chiasson. Ottawa Citizen. Published: Sept. 20, 2014.
Senators fans might not have to wait for Chiasson to settle in. En route to Ottawa's 4-3 SO win against Toronto on Wednesday, Chiasson had a shorthanded goal and also scored in the shootout.
Players Let Go
Going into the summer, everyone knew the Senators were going to have a hard time signing Ales Hemsky. With Jason Spezza likely heading out of Ottawa, there was a fair chance that Hemsky would walk out with him. The two had remarkable chemistry throughout Hemsky's short period with the Senators, which lead to Hemsky calling Spezza the best centre he's ever played with.
The fact of the matter isn't how difficult the organization knew it was going to be to sign Hemsky, it's the pathetic excuse for an offer they conjured up for him. $3.33 million over three years for a player like Hemsky is a tasteless joke. Not to mention that just two weeks later, the Senators offered Milan Michalek $4 million over three years.
Ottawa offered more money to Milan Michalek than Ales Hemsky. This is incomprehensible.

— Travis Yost (@travisyost) July 1, 2014
On the other, more assuring, side of things, Matt Kassian, the Senators' ineffective enforcer, will not be returning to the team after Murray announced in an end-of-the-year presser that the 6'4″ goon is not in the team's plans going forward.
"Matt Kassian is not in my plans, and I don't think we're in his plans. He indicated to me he wants to have a chance to go where he might get a chance to play more often. He didn't feel he played a lot here." Bryan Murray. Ottawa Sun. Published: Apr. 15, 2014.
You can't argue with that decision.
Free Agent Signings
David Legwand was the only mentionable free agent pick up for Senators this summer. Coming off a strong year with the Nashville Predators and the Detroit Red Wings, Legwand proved that at age 34 he can still have a significant impact wherever he goes.
Most likely playing as a No.3 centre behind Kyle Turris and Mika Zibanejad, Legwand will bring some much needed offence to the bottom six forward group. Legwand had 51 (14-37) points last season, the third highest of his career.
Though a lot of people predicted a lot more activity out of the Senators in the free agent market, Legwand is a smart signing. He brings a veteran presence to a team that has only gotten younger and Legwand also deepens the forward corps, leaving Ottawa with four capable centremen.
Contract Extensions and Re-signings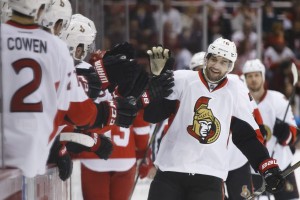 Senators fans might've moaned and groaned when they found out that an inconsistent, injury prone Milan Michalek was sticking around for another three years, but news of a Clarke MacArthur extension brought no such reactions. With MacArthur signed until the 2019-20 season, the Senators lock up a key core player and a fan favourite. Last season, MacArthur could do no wrong. Having a career year offensively, he and linemates Kyle Turris and Bobby Ryan emerged as Ottawa's top line. Now with Turris and MacArthur signed with Ottawa for a long period of time, the only missing piece is Ryan.
After extending Mark Borowiecki for another three years and re-signing Eric Gryba for two more years, the Senators have found themselves in a bit of a difficult position. Out of a total eight defensemen on their roster, the only player with a two-way contract is Cody Ceci, and one could argue quite vehemently that Ceci deserves to play at least top six minutes this season with the big club.
It's going to be hard to keep eight defensemen for the start of the season, largely because of the outstanding play of Curtis Lazar. If Lazar makes the team with the final forward spot, that will put the Senators over the 23-man limit on their roster. Furthermore, if that's to happen, it could be a tossup between Ceci and possibly Mark Stone for who Ottawa will decide to send down to start the year.
That's why one of these signings is nonessential. Borowiecki and Gryba are two rather capable defensemen, but with Cody Ceci and Patrick Wiercicoch really starting to settle in and thrive when played regularly, Borowiecki and Gryba are just getting in the way. Seven's company, but eight's a crowd. Which makes you think that a trade could definitely be looming.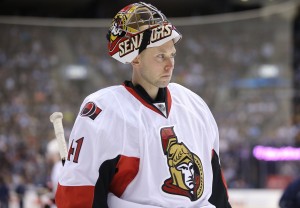 Another signing that didn't make much sense was the Craig Anderson extension. With Robin Lehner signing a three-year deal worth $2.225 million earlier in the summer, the Anderson extension caught some by surprise. The 33-year-old Illinois native will be paid $4.2 million from 2016 to 2018, which leaves the future of Ottawa's goaltending in an awkward situation.
Robin Lehner is the goalie of the future in Ottawa, there's no doubt about that. But now that Anderson is staying with the Senators for the next four years, fans will be treated to a little competition between the two. Though, under the circumstances, it makes one wonder – How long is Robin Lehner willing to wait to be No.1?
Just remember, $4.2 million isn't exactly a backup's salary.
Free Agents on July 1st
Currently, the number one priority for the Senators is signing Bobby Ryan to an extension. The 27-year-old winger is hoping to get into a new and more important role with the team and it could be the key to signing him.
"He wants to play long minutes. He wants to be more prominent in the good core of good players. Early on, and I'm not sure why this happened, but he didn't play more than 16, 17 minutes in a lot of games, early. He had an issue with that and he talked to Paul and myself about that. He felt that he wasn't one of the guys to go to." – Bryan Murray. TSN.ca. Published: Sept. 15, 2014.
If Paul MacLean plays Ryan upwards of 19 minutes regularly, the chances of him signing with Ottawa become much better. Ryan wants to be the goal scorer, he wants to be looked upon. If he's not Ottawa's go-to guy come October, Ryan will not be hanging around for long.
Ottawa's other big task on the to-do list is to sign hometown boy Marc Methot. But it hasn't been easy. Methot and agent Larry Kelly think they are being more than fair with what they're asking and the Senators are also standing their ground.
"His (Murray's) last offer was 4.7 (million) over five years, starting at 4.5, and our last offer was 5 (million) AAV (average annual salary), over five years, starting at 4.5." – Larry Kelly. Ottawa Sun. Published: Sept. 16, 2014.
"As far as my future's concerned, I'd like to get something done, but I only have so much control over that." Marc Methot. Ottawa Citizen. Published: Sept. 18, 2014.
The fans won't stand for this. It's bad enough that the organization has had difficulties signing big players over the past couple years, but for contract negotiations to turn so terrible with a hometown guy like Methot, it's downright frustrating.
As for Erik Condra, the final player who will be a free agent in the summer, the upcoming season will likely be the last for him in a Senators' uniform. With so many young talents like Curtis Lazar and Matt Puempel almost ready to make the next step to the NHL, a penalty kill specialist who can't seem to find the net, becomes expendable.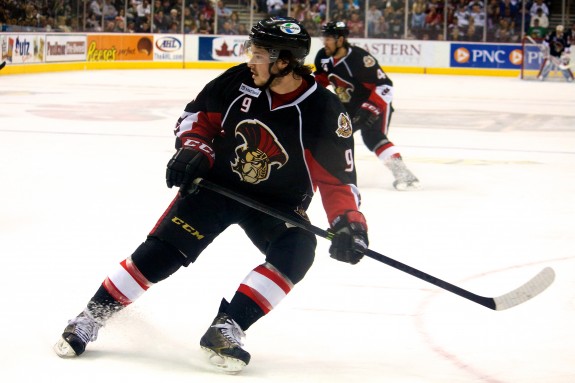 So, have the Senators improved at all this offseason?
Well, I don't think it was about improving this summer. It was about preparing for the future. When the Senators got rid of Jason Spezza, they lost an outstanding offensive talent and veteran player, but gained a few promising prospects who will only continue to develop.
Whether on purpose or not, in the past few years, the Senators have been creating a new core of players. With Kyle Turris, Clarke MacArthur and Erik Karlsson locked up and if Ryan and Methot sign in Ottawa, the organization will have a strong group of franchise quality players for a long while.
It's a group that fans will have no problem getting behind.
Callum is currently a journalism student living in Ottawa where he covers his team, the Ottawa Senators. Originally from Halifax, Nova Scotia, Callum is also a big Mooseheads fan and a lover of the East Coast.