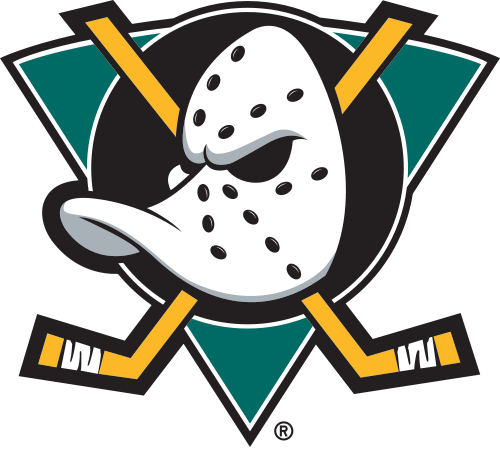 It's June 7th, 2003. The Stanley Cup Final. After coming up empty in New Jersey for Game 5, the Mighty Ducks of Anaheim find themselves on the ropes at home, down three games to two and facing the possibility of their Cinderella run coming to an end.
The home team had taken every game in the series thus far, but the Mighty Ducks would be facing a hungry New Jersey squad, eager to hoist their third Stanley Cup. If Anaheim wanted a chance, their captain Paul Kariya, so quiet in the series to this point, would need to step up his offensive game and put some points on the board.
And boy, would he.
*             *             *
The Mighty Ducks jumped out to an early first period lead on the strength of two Steve Rucchin goals and a Steve Thomas marker. The Devils made it a two goal game when Jay Pandolfo put home a shot from the low slot.
The game was beginning to get chippy, with both teams making sure to finish all their checks not so much in the interest of separating a player from the puck, but more so to put a player through the boards.
Then, at 13:47 of the second period, this happened:
The gravity in John Davidson's voice tells you all you need to know.
"Oh…my goodness. Oh, my…"
Scott Stevens, long one of the most feared open ice hitters in the League, had been relatively quiet to that point in the series, but made his presence felt in a big way on that hit – and on a player who had a long history of concussions.
There are a lot of scary elements to the above collision. The fact that Kariya never saw it coming. The force with which Kariya's head smacked the ice immediately following the impact. That great close-up shot of Kariya – completely KO'd – coming to, and the heat from his sudden breath fogging up his visor. To Anaheim fans though, perhaps the scariest thing was the gelatinous quality of Kariya's legs as he skated off, wobbily, barely under his own power. One of the most powerful, dynamic skaters in the game…reduced to this?
In the above video, you can clearly hear Bill Clement saying, "[I] can guarantee he doesn't know where he is." Well, yeah…
I can clearly remember watching this game, as an Anaheim fan, being absolutely horrified by what this all meant – to see the Mighty Ducks' best player get absolutely leveled, and with the game still very much in play. How would the rest of the Ducks respond? At the time, there wasn't even the possibility of a question that Kariya might return to this game – or even the series. He had finally become an offensive factor, and looked like a threat to score every time he hit the ice. But now what?
Only one of the most dramatic, goosebump-inducing moments in the history of the Stanley Cup Playoffs.
*             *             *
The game clock says 9:13, and Paul Kariya comes back to the Mighty Duck bench. That is, 9:13 of the second period. Fans in Anaheim come to their feet and offer up a thunderous, cacophonous roar as he takes a few small laps around the ice, trying to see if he can go. He can.
John Davidson says, "We're being told he had the wind knocked out of him." (Yeah, right. My how things have changed in the concussion-conscious NHL…there's no way Kariya would have returned to this game, or likely even the series had this occurred in today's NHL. He's even said that he has no memory of what would happen only moments after his dramatic return.) Davidson continues, "I tell you what, [Kariya]'s sure showing me something. I didn't think we'd be seeing him til next season."
On his first shift back, Kariya makes a beeline to the front of the New Jersey net, gets knocked on top of Martin Brodeur by Ian White, and very nearly puts in a rebound from a prone position on the ice – he would have, if not for the goal post.
More Davidson: "That post Kariya hit? If that thing had gone in? Oh, baby! That's the stuff that movies are made of!"
Then, at 2:45 of the second, just three shifts after returning from what by all rights ought to have been a season-ending injury, Paul Kariya streaks down the left wall, gets the puck from Petr Sykora, skates across the New Jersey blue line, and absolutely blasts a slap shot past Martin Brodeur.
The roof blows off the Arrowhead Pond of Anaheim. The usually quiet and reserved Kariya loses his cool and celebrates. Emphatically.
Gary Thorne had the call:
"Here he comes, the fans want one. Score!!! Off the floor! On the board! Paul Kariya!"
All of the above was beautifully captured in one of the NHL's History Will be Made playoff promos. Just try to not get goosebumps. Just try:
*             *             *
That goal put the Mighty Ducks up 4-1. They'd win that game 5-2, only to go back to New Jersey and get shut out 3-0 in the Cup deciding game. Of course, the next season Kariya would be wearing a Colorado Avalanche jersey alongside his longtime Anaheim linemate Teemu Selanne.
To this day, to many Anaheim fans, Paul Kariya is a persona non grata – mostly for the way he left town (although that may not be completely fair.) But even the most hardened anti-Kariya Duck fan can't help but to crack a little smile whenever they think about the above moment. Indeed, it's the defining moment in a career marred and ultimately cut short by concussions.
Off the floor. On the board. Paul Kariya authored many memorable moments during his stint as a Mighty Duck, but this one is undoubtedly the most memorable.
This is an ongoing series. Have a moment in Ducks history you'd like me to cover? Drop me a line @SoCalPuck.
As a lifelong hockey fan and resident of Southern California, he recently started a blog called SoCal Puck, which aims to explore all things hockey in Southern California. He grew up playing roller and ice hockey in the Orange County area and currently plays on several beer league teams. Collin also contributes at Sunbelt Hockey Journal.