As we approach the 2014-15 NHL season I will be doing an in depth look at the Florida Panthers lineup position by position. They have several players who will be trying to secure a spot in the lineup with the NHL club and some decisions will be difficult ones to make.
Some fans may be of the mindset that a team who placed 29th out of 30 last season cannot possibly have any competition for a roster spot. These people, however, are quite wrong.
In this article I will be covering six players who are fighting for a spot to be one of the Florida Panthers centremen for this upcoming season. These players are Aleksander Barkov, Nick Bjugstad, Dave Bolland, Brandon Pirri, Derek MacKenzie and Drew Shore.
Aleksander Barkov
Barkov is a highly touted prospect who is projected to become the franchise centreman for the Panthers. At 19 years of age he is still working on developing and transitioning his skills into the NHL. He will most likely start the season as the Panthers first line centre.
He was having a successful first season in the NHL last year but unfortunately ran into some injury problems. He finished the year playing only 54 games during the regular season. His point totals were modest by NHL standards however considering the offensive punch of the Panthers, he did fairly well for a rookie.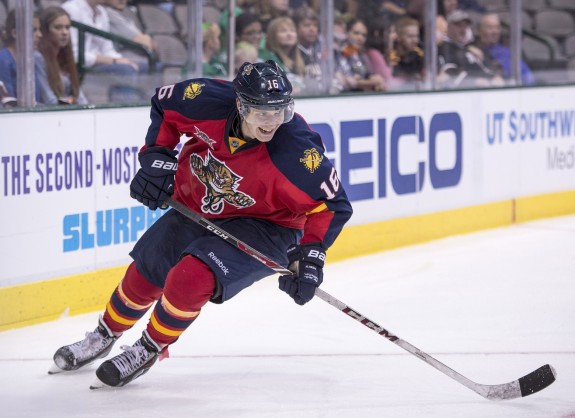 This upcoming season I would expect to see Barkov's point totals sky rocket. It would not surprise me to see his numbers more than double. He has the natural ability to post solid numbers consistently and his advanced statistics indicate an upward trend. He was a positive possession player over the course of the year and he is generally given the benefit of offensive zone starts.
Barkov is loaded with talent and has all of the tools needed to be successful in the NHL so you can expect him to start and remain in the top six for the 2014-15 season.
Nick Bjugstad
Bjugstad is another young player in the Panthers lineup who is trying to make his mark in the NHL. Last season he played 76 games and lead the team in points with 38. He averaged .500 points per game which is impressive for a twenty-three year old on a team with such an abysmal offense.
He managed to stay healthy last season and hopefully that will be a recurring trend as a few players in the top nine forward group will be trying to recover from last seasons injuries. Both Dave Bolland and Aleksander Barkov had unfortunate injuries last season that could end up coming back this season. If that happens, Bjugstad will be forced to take on more responsibility on the ice.
Last season Bjugstad played the full season in Florida and he is expected to do the same in 2014-15. He has excellent offensive upside and will help drive the Panthers second line. With two fantastic left wingers in Jonathon Huberdeau and Jussi Jokinen, Bjugstad is essentially guaranteed a dominant option to help light the lamp.
Dave Bolland
Dave Bolland was an expensive pick-up this offseason and will be trying to prove himself in Florida. He had an unfortunate injury last season in Toronto that hindered his ability to showcase his talents there. Florida has quite a few options at centre in the event that Bolland is unable to produce and achieve the goals set out for him by head coach Gerard Gallant. Bolland will most-likely be used in the third line centreman slot in a two-way player type role.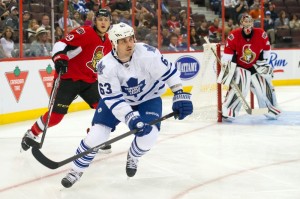 The difficult part with Bolland is that his pay check is too rich for the bench. By that I mean, if Bolland does not produce or is showing difficulties during the season, it is difficult to justify benching a player making 5.5 million dollars.
I believe Bolland will have a bounce back year and find his niche with a young Panthers' squad. He knows there is competition for the third line role, and will not want to give up on this opportunity. He has the chance to become a leader in Florida and show them how to make it to the post season – and succeed.
One promising note on Bolland is that in 23 games played last year, he scored eight goals and added four assists. That makes his point per game average above .500. If he can play like that in Florida, he should have no problems maintaining a solid spot in the lineup.
Derek MacKenzie
Derek Mackenzie spent last season playing with the Columbus Blue Jackets. He is average sized at 5'11" and 180 pounds however he uses it very well. With 241 hits last season he was eleventh out of all players in the league in that category. That's a solid player to use in the fourth line role.
For a fourth line centre his stats are actually relatively good. He had 18 points last season, nine of which were goals. He will be playing with Shawn Thornton and the two of these guys wil put the hurting on the opposition.
Along with his ability to put up points, as few as they are, he is not afraid to drop the gloves. He had five fighting majors last season and has proven he can hold his own.
Mackenzie will be a nice addition to this Florida team and will most likely hold his spot on the fourth line for the full season.
Brandon Pirri
Pirri is a player that I would love to see make the Panthers lineup. There does not appear to be room for him in the lineup, unless Florida is going to bump Bolland down the lineup and make the third line a more offensive threesome. I don't think this will happen unless Florida is seriously struggling to get their offense going.
Pirri had a good season in the NHL last season with twenty-five points in 49 NHL games between Florida and Chicago. In Florida he had fourteen points in twenty-one games at a rate of 0.666 points per game. Not only did he put up good point totals, he was also a 49.9% possession player.
I believe Pirri deserves a spot with the Panthers this season. He has proven he can put up points and can help drive possession. One thing that could work out is if Florida moves a current top four centre to a winger, making room for Pirri at centre in the top six. It should be interesting to see how Pirri is handled during the season and whether or not he gets his full opportunity with the Panthers.
Drew Shore
Shore is another young player that Florida has at their disposal to utilize as a depth player. If the injury bug hits the Panthers centre core this upcoming season, Shore is a good option to help soften the blow. With both Barkov and Bolland coming off of injury plagued seasons it is possible that Shore could be used more frequently than wanted.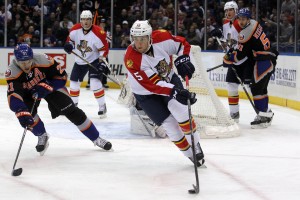 In twenty-four games played last season Shore put up seven points and was a positive possession player. All are positive, and at twenty three years of age Shore should be ready to get a few more NHL games under his belt before stepping into the game full time.
Conclusion
The Florida Panthers are ready for a bounce back season with their centre position filled with young talented players thirsty to fill the net. To start the season they will their lines set up evenly with two scoring lines, a two-way line, followed up by a grinding line. Barkov and Bjugstad will be perfect for the top two centre spots and will lead the team offensively. Bolland will help on both ends of the ice and be looked at to help lead the team on and off the ice. Finally, Derek MacKenzie will inject a feeling of intimidation and physicality into the lineup.
If anything goes wrong with one of these four centres, Florida can be confident that they have the depth players necessary to fill in the lineup seamlessly.
Look for Florida's centre group to have a big influence on the make-up of the lines and the success of the team as a whole.
Avid fan of hockey at all levels. Writing for The Hockey Writers covering the Florida Panthers and Habs Addict covering the Montreal Canadiens. Follow him at @Darrinharmy on twitter.