The Buffalo Sabres wrapped up another disappointing season, that fell well short of expectations. This was supposed to be the season they took a step forward to become playoff contenders in the Eastern Conference. Instead, they finished with 78 points, last in the Atlantic Division and three points below their point total of the 2015-16 season.
The Sabres' fan base is a loyal and passionate group. They've dealt with a lot of lows over the past few years. They had historically bad teams in the 2013-14 and 2014-15 seasons. Not to mention, the organization hasn't seen the playoffs since 2011, which is now the second longest playoff drought in the NHL behind only the Carolina Hurricanes.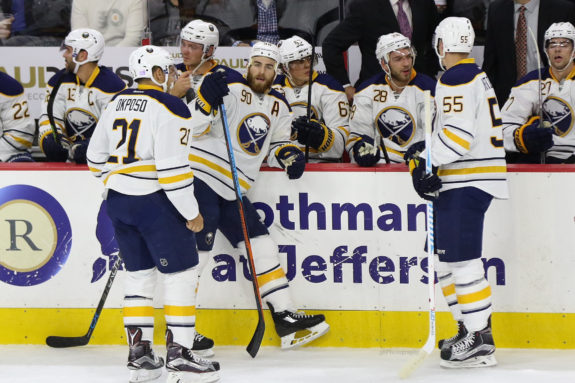 After a promising campaign last year with a new core group, more growth was expected in 2016-17. The outcome, however, was a season of the Sabres spinning their tires, and even taking a step backwards. Patience is wearing thin among fans.
Losing Faith?
When General Manager Tim Murray took over he stated that he had a plan to get the Sabres back to being a perennial playoff team.  Fans bought into the plan, that included sinking to the bottom of the standings in order to, in turn, pick up assets and move them to acquire talented players. Theoretically, they'd  also be able to draft franchise-altering players at the top of the drafts. The rewards of this process were Sam Reinhart, Jack Eichel, Evander Kane and Ryan O'Reilly.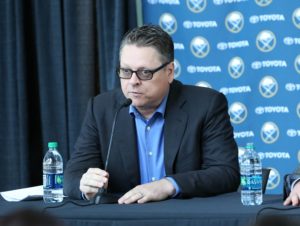 With the core pieces in place, the club was supposed to begin its climb back to legitimacy, but that hasn't happened yet. Murray was a favorite among the majority of Sabres followers for the past few years, but that may be changing.
"My confidence has wavered in Murray," said Sabres fan Joe Lancellotti. He went on to say that he believes in the Sabres general manager, "has enough objectivity about him that he will be able to pull off the right trades, unemotionally."
Though that majority hasn't completely lost trust in Murray, a shift to uncertainty is prevalent when talking to the fan base. When I asked about his faith in Murray, fan Curtis Schwartzkopf said, "I have a hard time answering this, to be honest."
Failure of the Defense
Like many, Curtis, struggled with evaluating Murray after this season. He has made great moves, but the defense group he assembled is a black eye that has removed some of the general manager's credibility.
[miptheme_quote author="Sabres fan Curtis Schwartzkopf" style="text-center"]I think it is the underlying issue that is making GMTMs roster look bad.[/miptheme_quote]
The Sabres were arguably the worst defensive team in the NHL this season. It was an area the club needed to address in the summer of 2016 and didn't. Yes, Dmitry Kulikov was brought in, but that didn't work out. Some blame can be given to the bench door that injured Kulikov in the preseason and nagged him all season. Outside of the injury, though, there were troubling aspects of the Russian's game that had nothing to do with an injured back. Combine that struggle with regression from Cody Franson, Josh Gorges and Zach Bogosian, you can see why the defense struggled.
Next Year or Else
Everyone knows the old saying "there's always next year." Well, for most fans it's next year or bust. If the team isn't, at least, in the playoff race at the end of the season, fan approval will dip to an all-time low. Not just against Murry, but the owners as well.
"The Pegulas say they're all about winning championships and being in contention each and every year, but his decisions don't show that," said Buffalo sports fan Joe Darin. He went on to say "nothing good has come to Buffalo sports since he has been there." While the Pegulas have done a lot for the City of Buffalo, it's hard to disagree with Darin's opinion. The Sabres and Buffalo Bills have not won anything under the guidance of the Pegulas — or even been a playoff team for that matter.
[miptheme_quote author="Buffalo sports fan Scott McMahon" style="text-center"]Really disappointed, like being a Buffalo sports fan all my life.[/miptheme_quote]
Sabres season ticket holder Justin Gerardi summed it up pretty well for me: "This fan base deserves better and a winner and the tension is starting to boil over." I did follow up with Gerardi and asked him if another poor year would make him rethink being a season ticket holder. He replied: "Sadly no. I'll probably never get rid of them I love hockey and they have a stud in Eichel who's a joy to watch every night."
[miptheme_quote author="Sabres fan Curtis Schwartzkopf" style="text-center"]I think you will see season ticket percentages drop and approval ratings with Pegula will reach all-time lows since he bought the team.[/miptheme_quote]
His response is in line with the loyalty expected from Sabres fans, but for how much longer? This summer and next season are vital for the organization. Another failure like this past season and we could be back to how ugly things were a few years ago in the final days of the Darcy Regier regime.
The Sabres have built their plan to get back to being a winner for the fans who deserve it. Now, it's time for them to live up to their end of the bargain. Another underperforming season will likely result in changes from the top down, resulting in another period of uncertainty. That's a scenario I don't believe many fans are prepared to go through again so quickly.