True number one centers don't just drop out of the Canadian wilderness. Or in the case of the Kings' Anze Kopitar, the rolling hills of Jesenice, Slovenia.
Selected #11 overall in the 2005 entry draft, Kopitar was rated the top European skater by the NHL Central Scouting Bureau. It was a very good draft class, headlined by Sidney Crosby, Bobby Ryan, Jack Johnson, and of course Anze Kopitar. The Kings took a minor gamble by selecting him, as no Slovenian player had previously been chosen that high. In fact, only five have ever been drafted by an NHL team, with just two (Kopitar and Jan Muršak) ever playing in the league.
The gamble paid off. Still just 27 years old, Kopitar has been in the NHL for eight full seasons, registering 207 goals and 349 assists in 623 regular season games. He also has 60 points in 70 playoff games, with two Cups to show for his efforts.
In 2008, he signed a seven-year contract extension with a cap hit of $6.8 million. That contract expires at the end of the 2015-16 season.
He's got it all: size (6'3″, 224 pounds), skating speed, soft hands, hockey sense, terrific vision and a pinpoint wrist shot. He's extremely creative on the shootout, as evidenced by the following clip:
Anze Kopitar is a nearly point-per-game center and by all measures, a solid top-line center. As mentioned above, his contract is coming due at the end of next season. There's virtually no question the Kings and he will work out a new deal by then, one which could exceed $10 million per year. It begs the question: is he a $10 million a year player?
With #1 centers, the standards are high
It's easy to focus solely on statistics, and easier still to take intangibles for granted. After all, Kopitar is a dedicated two-way player, and thus more valuable than a simple point producer.
That being said, Kopitar finished ninth amongst centermen in total points last year with 70. He was seventh in goals scored (29) and 13th in assists (41), as well as third in +/- (+34). Among all skaters, he was within the top 26 in every major offensive category. From an advanced stats perspective, his ranking falls back a bit. His his iFenwick of 183 was 83rd in the league and his iCorsi of 234 was 107th overall.
Nevertheless, taken as a whole, his overall production is in the upper-tier of NHL centers. Does that equate to a $10 million per year salary?
How does Kopitar compare to other centers?
Let's look at three potential examples.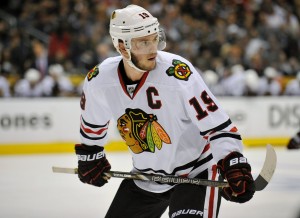 Jonathan Toews
recently
signed a huge eight year, $84 million deal
that will likely keep him in Chicago for the remainder of his career. In 506 career games, he's put up 459 points, including 205 goals. Like Kopitar, he has two Stanley Cup championships.
Claude Giroux inked an eight-year, $66.2 million ($8.275 million cap hit) contract extension in July, 2013. He's put up 403 points in 436 games, and although he hasn't won anything yet, already has seasons of 76, 93 and 86 points under his belt. His 2013-14 iFenwick was 188 and his iCorsi was 264, slightly ahead of Kopitar's numbers.
Ryan Getzlaf signed an eight-year pact with the Anaheim Ducks in March, 2013 for a total of $66 million, or $8.25 million per year. More physical of a player than the others, Getzlaf has 627 points in 655 career games. His advanced stats numbers are somewhat lower than Kopitar's.
Kopitar is great, but he's not a $10 million center
As compared to the other centers, Kopitar isn't a $10 million player. Not yet, anyway.
He has averaged .89 points per game over his career, lower than Towes (.91), Giroux (.92) and Getzlaf (.96). His defensive skills are outstanding, but Toews' are (arguably) superior, even though both were Selke finalists last season. Overall, Kopitar gets high marks in almost every category, but doesn't quite rise to the level of elite.
Kings fans have expressed frustration with one aspect of Kopitar's game, the one thing that separates him from the very best centers in the game: consistency:
In 2013-14, Kopitar had two periods of ten straight games (October 3rd to October 21st and January 2nd to January 31st) where he was unable to score a goal. In 2012-13, he did not light the lamp in the final 16 games of the year, and in 20111-12, he had stretches of 17 and nine games without a goal. As good as he is, he has a documented history of going through long dry spells, and not just in goals scored. At times, he's all but invisible out there on the ice.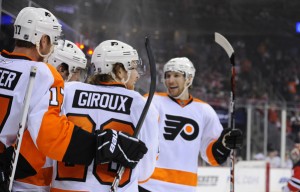 Jonathan Toews' worst streak last year was eight games. Getzlaf's longest dry spell was also eight games. Giroux started poorly (no goals in his first 15 games), but came on strong after that. Point being, Kopitar's goal-less streaks were more pronounced than the others, and that is what keeps him from being considered 'elite'.
How Anze Kopitar could help himself and the Kings
If Anze Kopitar could find that one extra gear and became more consistent, he would likely rise to the level of elite and therefore deserve a top-tier $10 million contract. What would it take?
I addressed the subject a little over nine months ago in this post. Simply put, too often he just doesn't shoot the puck enough. He's got a great shot, and God knows the Kings could use his scoring touch early and often in games. Yet, for reasons unknown, he can be reticent to fire it on net. Joe Thornton knows the feeling.
It's not too late. Kopitar is still in the early part of his prime, with plenty of years of hockey left in him. It's a simple thing, really — if Sidney Crosby can put 259 shots on net, Kopitar can, too. Or at least something greater than his downward-trending 200 from last season.
What do you think? Is Kopitar too unselfish, or is there something else he needs to do to become an elite NHL center? Give your opinions below, or message me @McLaughlinWalt.
Walter McLaughlin is a Los Angeles Kings correspondent for The Hockey Writers. He is an avid sports fan, having followed the Kings since living in L.A. in the mid-1970's, as well as suffering through Seattle sports teams' general futility. He has a Bachelor's degree in Finance and has worked in community banking for over 25 years, specializing in SBA loans. He is married and has two daughters.