LEAFS DAILY:
The Leafs went 0-2 this weekend, but managed to pick up two overtime points. Not that points even matter for the Leafs, but at least they add somewhat to a sense of achievement. And the team should be  proud of how they have been playing. Even though they are currently tied for last place.
Only an unlucky bounce in Friday's game against Detroit prevented a James Reimer shutout, and on Saturday, even if the Leafs didn't play a very good game, it took the Capitals getting a goal to beat the buzzer in the third period to force extra time. These things happen, but the Leafs can at least say that if they didn't do anything different they would have won those games most of the time. For a lot of people this is a tired refrain, but it is the reality a rebuilding season, and the Leafs should at least be happy they aren't being crushed 5-0 game in and game out.
Here's how Nazem Kadri played against Detroit:
While remaining point-less last night, Nazem Kadri finished with 5 shots, 70 per cent possession, 3 penalties drawn and 63% on the draw.

— Jonas Siegel (@jonassiegel) November 7, 2015
On Saturday he still didn't get any points, but he attempted 8 shots and was 50% possession, despite spending nearly half his ice-time against Nicklas Backstrom.  It's incredible that all everyone talks about is how the Leafs can't score, when clearly they can – Kadri is performing at a level that would have him near the league lead in points if things were going his way, and if he maintains it, the points will follow.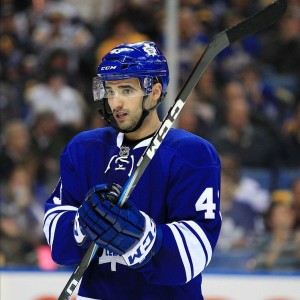 As a team Toronto continues to be a positive possession team (though their early season numbers are seeing a decline) with more starts in the oppositions offensive zone than their own, and the fifth worst shooting percentage in the NHL.
The Leafs do not need to worry about scoring. So far this season they are in the top ten in Scoring chances for, scoring chances percentage, scoring chance differential and scoring chances allowed. Is there a single follower of the NHL thought the Leafs would be a top ten team in both getting scoring chances and preventing them?
I mean, it's really easy to look at the raw numbers and conclude this team can't score. It's too easy, and the people complaining aren't looking deep enough. If you look at the team's numbers, it's quite clear that they'll eventually score at a higher rate than they will now for two reasons. 1) Almost all teams eventually score more, on average, than the Leafs have so far and 2) So many of their numbers either suggest they deserve to have scored more, or are so bad they can't help but improve with time.
The Leafs are 2-8-4, but it might just be the most respectable 2-12 record in NHL history.
Tomorrow night it is back home against Dallas, which on paper doesn't look like a good match-up for the Leafs, but certainly they will explode for five or six goals one of these games.
Thanks for reading.
Covering the Leafs for the Hockey Writers.