Washington Capitals goalie Braden Holtby has played the most games of any goaltender this season. His numbers are elite, as is his status as a net minder in the National Hockey League. He ranks fourth in save percentage (.925), fourth in goals against average (.214), second in shootouts (6) and sixth in wins (29).
His 28-year-old backup, Justin Peters (3.52 GAA, .875 SV %), has left a lot to be desired and has played in just ten games. He was even sent down to the Hershey Bears in the AHL earlier this year for a few starts in goal. Holtby will be relied upon by the Capitals and head coach Barry Trotz significantly if they plan on making a run deep into May and early June. A huge question regarding Holtby is whether the 25-year-old goaltender is being overworked. Russian Machine Never Breaks provides a history of goalies who faced a substantial workload in regular season and how they performed in the postseason.
https://twitter.com/alex_prewitt/status/567100790355947520
Washington's fourth round draftee from 2008 has already played a career high in regular season games (51) this season and will surpass 60 games played this season unquestionably. If the Capitals were to reach the Eastern Conference Finals an approximately 20 starts in net would be added to Holtby's workload this season.
Below is a chart of recent Stanley Cup winning goaltenders who were the starter for their team throughout the regular season prior to the Stanley Cup playoffs. On the right side is Holtby's on pace statistics on NHL.com, where he is the leader of this group. He's on pace for over 2,000 shots faced and over 4,000 minutes in net.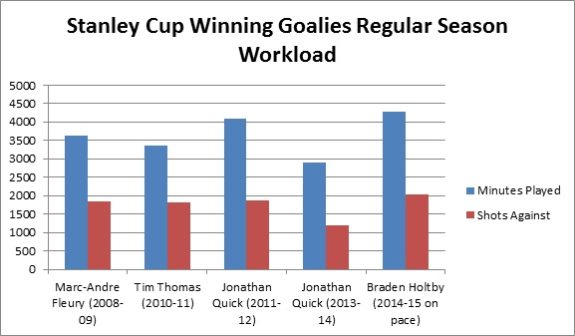 While the workload isn't all that concerning for just one single season, the long-term implications are important. Finding a reliable backup goaltender should be a priority list for first-year GM Brian MacLellan who's offseason signing of Justin Peters hasn't worked out albeit small sample size.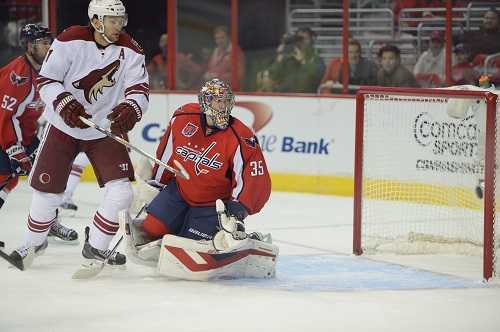 Moving Peters via trade and promoting German born goalie Philipp Grubauer (19-10-4, .924 SV %, 2.06 GAA) should be an option the Capitals' brass considers this summer. Grubauer already has NHL experience (20 GP, .924 SV %, 2.44 GAA) and should get an extended look to confirm that he belongs there. Although he doesn't have enormous physique, the Capitals 2010 fourth round draftee makes up for in athleticism and has become one of the top goalie prospects playing in the American Hockey League. Grubauer has definite potential to become an above averge backup goaltender in the NHL and possibly a frine starter.
Capitals Win in Shootout, Win Fourth Straight
Washington picked up their fourth consecutive victory for the first time this season, defeating the top seeded New York Islanders 3-2 in a shootout. Goaltender Braden Holtby (29-12-9) continued to play strong in net, recording 30 saves on 32 shots.
Defenseman Matt Niskanen netted his first even-strength goal as a Washington Capital, coming in from the blue line to blast a shot past Islanders net minder Chad Johnson (7-7-1). The Capitals third performance was less than sufficient, where they were outshot 18-7. Washington surrendered a tying goal from Ryan Strome with 48 seconds remaining, following a save by Holtby leaving Strome an easy chance near the net.
"[We] definitely feel confident. We don't want to be behind, but we're not a team that is scared to play from behind. I think we have a lot of skill and the way our D jumps back into the play, we're really hard to defend. So we know we are going to score a couple of goals every game, we just have to make sure that we keep playing the way we want to play and don't stray away from what's got us the wins." –Eric Fehr
Holtby then stopped every single shot he faced in the skills competition and Evgeny Kuznetsov scored in round one of the shootout, finding twine past Johnson.
"They've got a good team. I looked at that game as hopefully a playoff series at some point. Two very good hockey teams that mirror each other in a lot of ways in terms of some style. They have some dynamic people on both ends of the ice." –Barry Trotz
https://twitter.com/alex_prewitt/status/569239473122365440
Washington pulled within four points of the Metro Division leading Islanders and the two clubs have played the same amount of games. The Capitals aim to add another to win on their calendar Sunday afternoon in Philadelphia against the surging Philadelphia Flyers, who are still in the race for a wildcard race. A win could go a long way in removing a divisional foe from the playoffs.