On Tuesday, Arizona Coyotes head coach Rick Tocchet made a surprising announcement; the team will not be naming a captain to start the season. Instead, he decided he would name three alternate captains.
"The process of the captaincy, I'm not ready for that yet," Tocchet told the Arizona Republic. "I think it's important that players just worry about hockey. That thing will sort itself out."
Wednesday, the Coyotes named Oliver Ekman-Larsson and Niklas Hjalmarsson as alternate captains on the eve of their season opener in Anaheim. In addition, Derek Stepan, Brad Richardson, and Alex Goligoski will rotate as the third alternate captain.
OFFICIAL: #Coyotes Announce Leadership Group for 2017-18 Season https://t.co/gOgqhWa8YJ

— Arizona Coyotes (@ArizonaCoyotes) October 4, 2017
No "C" for Ekman-Larsson
Ekman-Larsson, who has been an alternate captain for Arizona since 2014, was widely expected to be named captain prior to the start of the season. When former captain Shane Doan was informed in June that he would not be returning for a 22nd season with the franchise, it was reported that Ekman-Larsson would be named captain during training camp.
The Coyotes organization has long groomed Ekman-Larsson to be their next leader on the ice. With two years left on his contract, Arizona is desperately looking to re-sign their star defenseman to a contract extension after this season. This past offseason, the Coyotes signed Ekman-Larsson's brother to their AHL team just down the road in Tucson and acquired fellow Swede Hjalmarsson to provide Ekman-Larsson with a top-quality defensive partner.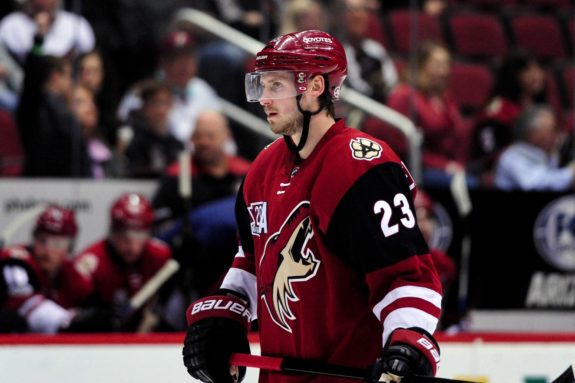 Ekman-Larsson said over the summer that being named captain, "would be a huge honor."
That was all before Tocchet was hired.
There is no indication of any friction between Tocchet and Ekman-Larsson. Tocchet may just want to get to know his players better before he decides to name a captain. The Arizona Coyotes/Winnipeg Jets franchise has never played a season without a designated captain.
"Maybe it's a month from now," Tocchet said. "Maybe it's four months. I don't know."
Ekman-Larsson is still by far the favorite to be named Arizona's next captain, if and when Tocchet decides to name one. He is their best player and is the only Coyote remaining from their 2012 Western Conference Final run. Ekman-Larsson has also started taking on a larger role off the ice and in the community since the departure of Doan.
One thing is for sure. The longer Arizona goes without a captain, specifically named Ekman-Larsson, the more questions will arise concerning his possible contract extension.
Hjalmarsson is No Surprise
Hjalmarsson came to the Coyotes in a trade over the summer from the Chicago Blackhawks and brings with him a winning pedigree. He has won three Stanley Cups and would fill in as an alternate captain on Chicago's championship teams stacked with veteran leaders.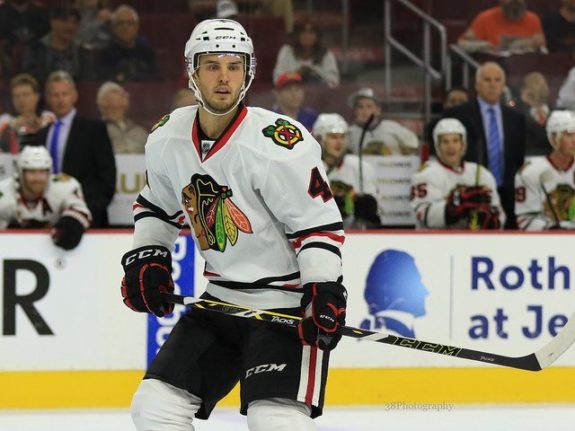 Hjalmarsson is expected to be partnered with Ekman-Larsson on Arizona's top defensive pairing. The two have previously played together internationally for Team Sweden.
Stepan, Goligoski & Richardson Will Continue to Lead
Stepan also came to the Coyotes this past summer in a trade but has wasted no time in becoming a vocal leader on the ice. He had been an alternate captain for the New York Rangers since 2014.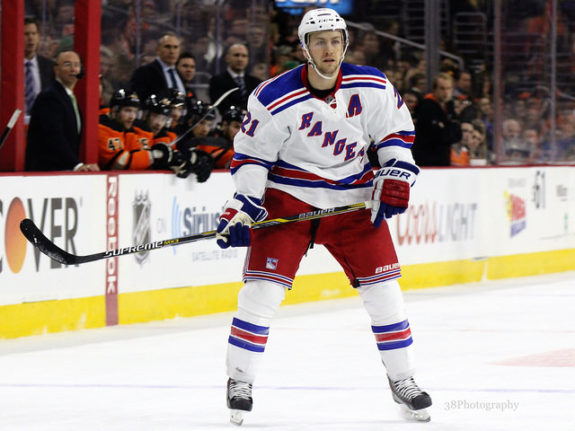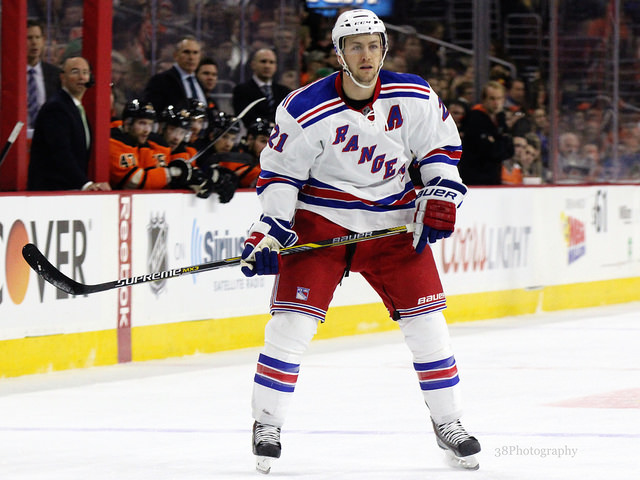 "Guys are calling me Tocch on the ice," Stepan has said, indicating his leadership initiative. "This is just who I am. This is how I operate."
Stepan has never missed the playoffs during his NHL career and will be relied upon to anchor Arizona's top line and help their young, skilled forwards mature.
Richardson and Goligoski are both returning players who have served as alternate captains before for the Coyotes on a fill-in basis. Both have won Stanley Cups with previous teams.
Arizona Coyotes season ticket holder since 2011.