Last week, we looked at the Metropolitan Division and how the eight teams stack up against each other after completing most of their offseason work. This week, we'll finish the other half of the Eastern Conference by reviewing the Atlantic Division. Atlantic teams were among the busiest in the NHL this summer, and it could lead to a very competitive battle for playoff spots in 2023-24. 
Boston Bruins
2022-23 season: 65-12-5, 135 points, Presidents' Trophy
Notable offseason moves:
Signed James van Riemsdyk (1 year)
Signed Kevin Shattenkirk (1 year)
Signed Milan Lucic (1 year)
Signed Morgan Geekie (2 years)
Signed Jesper Boqvist (1 year)
Key Departures:
Patrice Bergeron (retired), David Krejci (likely retirement), Taylor Hall, Tyler Bertuzzi, and Tomáš Nosek
Before getting into the Bruins' additions, we should probably mention the more noteworthy departures. After a stellar career that will make him a first-ballot hall of famer, Patrice Bergeron announced his retirement. He went out on top, having just won the Selke Trophy as the league's best defensive forward, so there's no doubt he's a significant loss for the Bruins. 
To make matters worse, their second-line center, David Krejčí, is likely heading for retirement too. That'll leave Pavel Zacha and Charlie Coyle as the Bruins' top two centers. Zacha had a solid 2022-23, his first with the Bruins, but it mostly came on the wing. Coyle is a decent player good for 15-20 goals and 45 points a season, but is he capable of more in a second-line role? 
Replacing Bergeron and Krejčí are the two biggest question marks the Bruins have. General manager Don Sweeney did what he could with minimal cap space to improve the team's center depth by signing Jesper Boqvist and Morgan Geekie. But they're obviously no Bergeron and Krejčí replacements.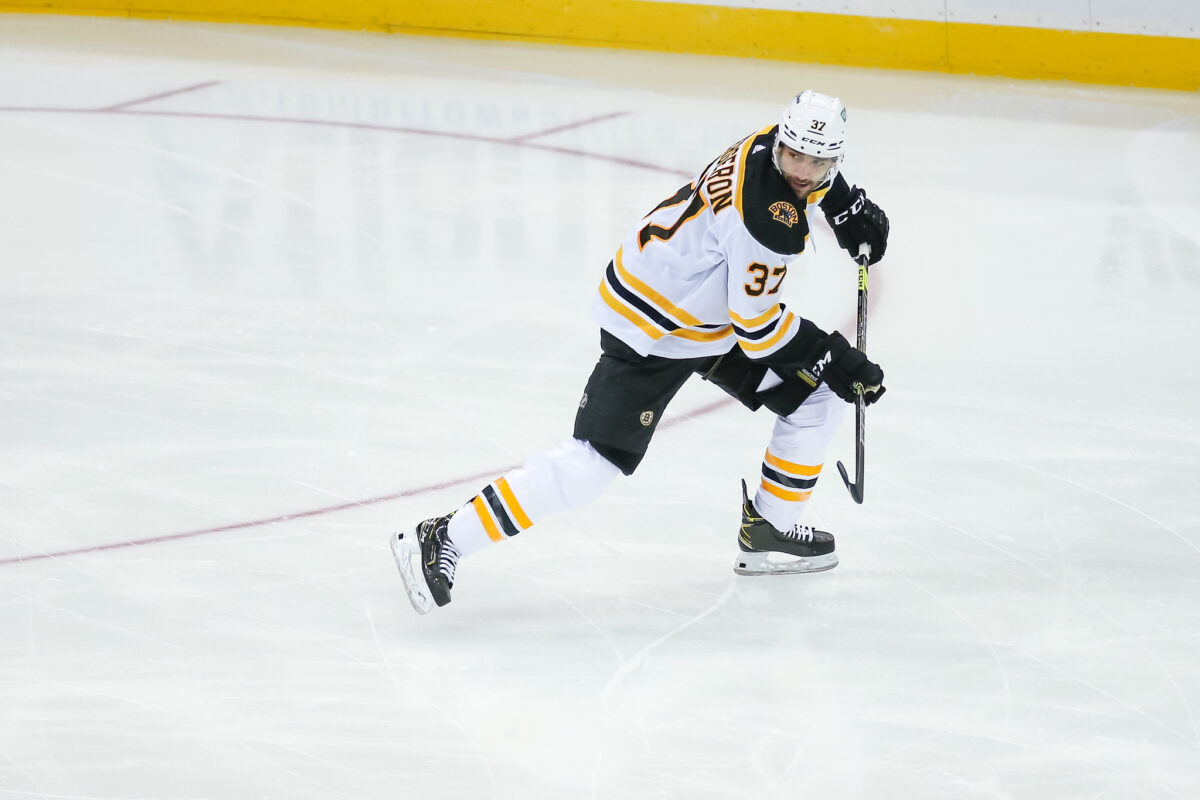 Because the Bruins couldn't afford to keep Taylor Hall and Tyler Bertuzzi departed for the Toronto Maple Leafs, they signed James van Riemsdyk and Milan Lucic to give them some depth in the middle and bottom-six. Van Riemsdyk is a solid player who might still be capable of a 20-goal season, but he's not what Hall is. 
Another factor working against the Bruins is Linus Ullmark, who posted a .938 save percentage and won the Vezina Trophy, is due for regression. That doesn't mean he'll turn into a pumpkin, but he should fall closer to his .919 career SV%. That's obviously still excellent, but that will lead to the Bruins dropping in the standings. 
The question is, how much will the Bruins regress? Even a 40-point drop leaves them at 95 and in a position to secure a wild-card spot. But there's no doubt this is a significantly worse team than a season ago, given all they've lost this summer. Factor in some young, up-and-coming teams in the Atlantic (more on them in a bit), and the Bruins' window seems to be closing if it isn't closed already. 
Toronto Maple Leafs
2022-23 season: 50-21-11, 111 points, 2nd in the Atlantic
Notable offseason moves
Signed Ryan Reaves (3 years)
Signed John Klingberg (1 year)
Signed Tyler Bertuzzi (1 year)
Signed Max Domi (1 year)
Key Departures:
Justin Holl, Alex Kerfoot, Noel Acciari, Ryan O'Reilly, and Michael Bunting, Kyle Dubas
The Maple Leafs have had an interesting offseason, starting with Kyle Dubas not getting retained as GM. President of Hockey Operations Brendan Shanahan ended up hiring Brad Treliving to replace Dubas, and he wasted no time getting to work and making some additions to the team's roster. 
It started with signing Ryan Reaves to a three-year deal worth $1.35 million annually. The cap hit isn't the issue, but giving three years to a player like Reaves, who doesn't add much on-ice value, was questionable at best. 
Fortunately, that wasn't Treliving's only move, and his work should help the Maple Leafs, at least offensively. There are questions about Bertuzzi's health, but he's a capable scorer when on the ice, having averaged 28 goals and 64 points per 82 games over the last three seasons. 
Likewise, Max Domi is a solid middle-six addition, having averaged 16 goals and 47 points per 82 games over the last three years. Though John Klingberg is a defenseman, his value comes offensively, especially on the power play. The biggest concern with both players is their defensive impacts, which are extreme net negatives: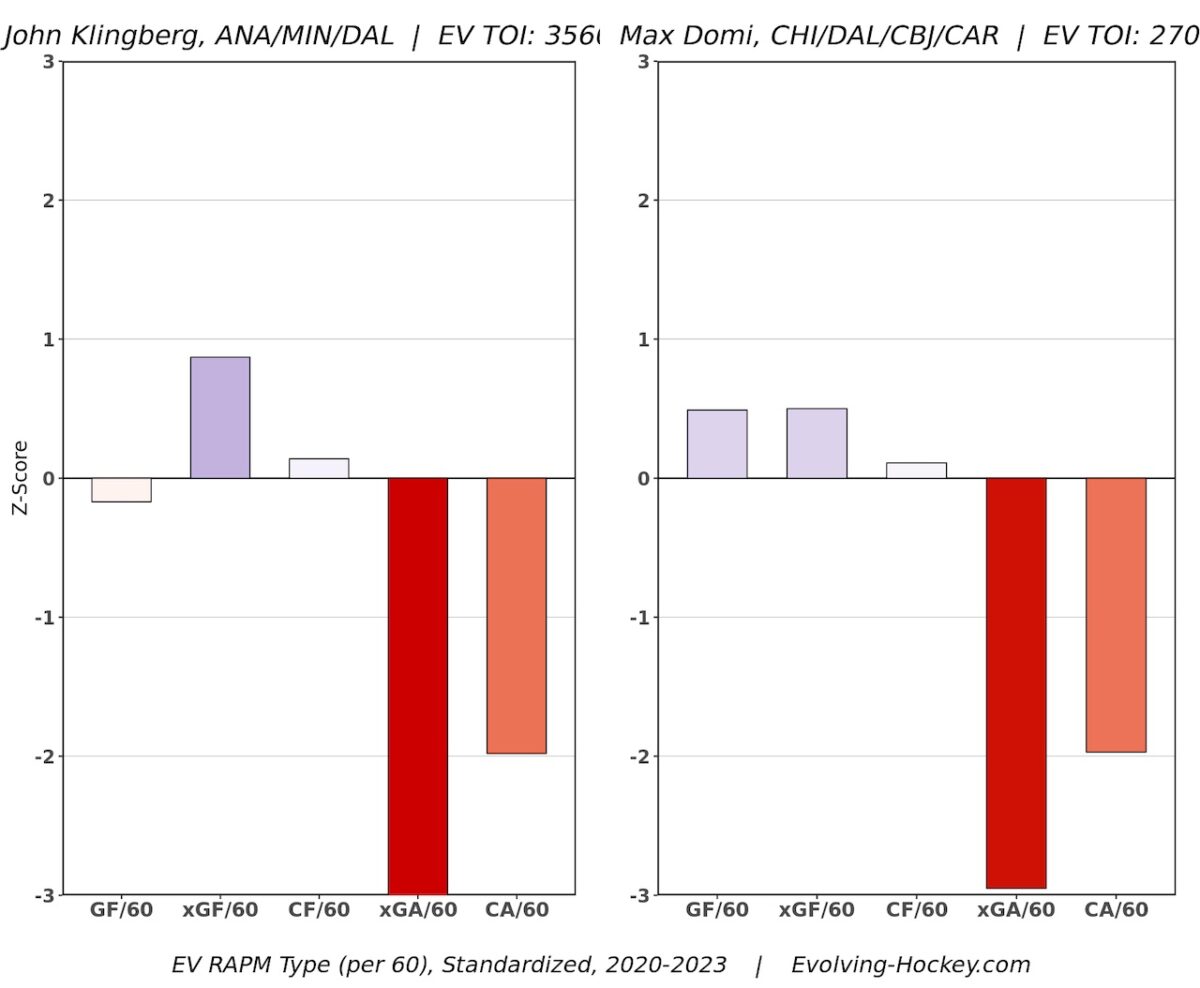 Klingberg and Domi are on one-year deals (Domi at $3 million and Klingberg at $4.15 million), but their defensive struggles are a major concern this coming season. Plus, Bertuzzi and Reaves are also net negatives defensively, which doesn't help. For a Maple Leafs team that had some defensive question marks heading into the offseason, they're now a significantly worse defensive team than a season ago. 
How will that affect their goaltending in Ilya Samsonov, who's coming off a career year, and Joseph Woll, who will be a rookie taking on his first full-time role in the NHL? The Maple Leafs are still a safe bet to make the playoffs and should win the division because of their high-powered offense that will score plenty of goals. But it's difficult to argue they're a better team than they were a season ago. 
Tampa Bay Lightning
2022-23 season: 46-30-8, 98 points, 3rd in the Atlantic
Notable offseason moves:
Signed Conor Sheary (3 years)
Signed Josh Archibald (2 years)
Signed Luke Glendening (2 years)
Signed Calvin de Haan (1 year)
Key Departures
Alex Killorn, Ross Colton (Traded to COL), Ian Cole, Patrick Maroon (Traded to MIN), Corey Perry (Traded to CHI)
The Lightning have been among the best teams in the NHL over the last five years. But like most powerhouses, the salary cap seems to be getting to them, especially with the ceiling remaining flat in the low 80s over the last few years. 
Like the Bruins, their departures are more notable than their additions. Gone is Alex Killorn, who signed a lucrative four-year deal with the Anaheim Ducks in free agency worth $6.25 million. He had long been one of the Lightning's top complementary players and is coming off a 64-point season. 
In addition to losing Killorn, the Lightning traded Ross Colton to the Colorado Avalanche for a second-round pick in the 2023 draft. Colton didn't have the best 2022-23 season, but he's a capable third-line forward who can chip in close to 20 goals and 40 points. Both those losses will hurt the Lightning's depth, which has gotten depleted with players like Ondrej Palát, Blake Coleman and Yanni Gourde having departed in recent years.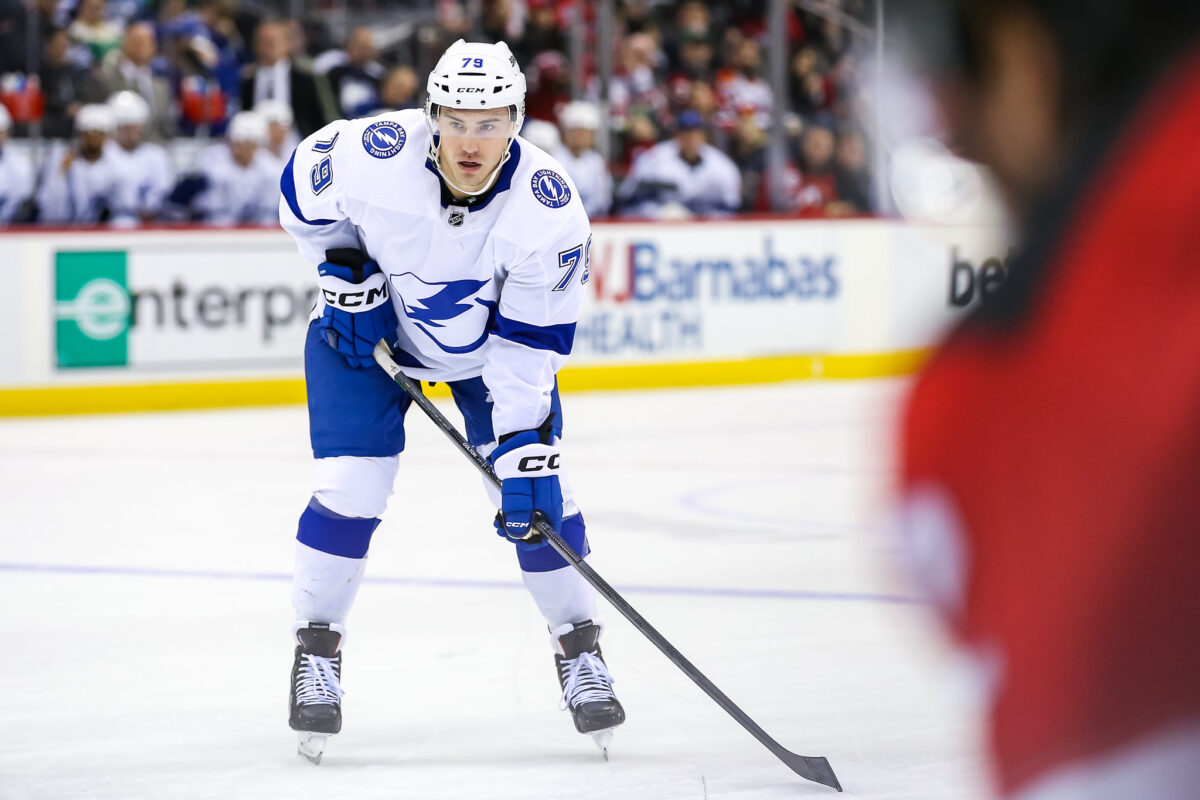 Because the Lightning were tight on cap space, GM Julien BriseBois had limited options to help improve the team's depth. Their most notable free-agent signing was Conor Sheary, who agreed to a three-year deal worth $2 million annually. He's a solid middle-six option who's averaged 19 goals and 41 points per 82 games over the last three seasons and will replace some of what they lost in Killorn, Colton and Corey Perry, though not all of it. 
Calvin de Haan is still a solid third-pair defenseman and should give them depth after losing Ian Cole in free agency. Otherwise, the Lightning will rely on internal candidates like Alex Barre-Boulet, Michael Eyssimont and Tanner Jeannot to step up and replace the depth they've lost. 
The Lightning are still a good team, but the salary cap has turned them into a top-heavy squad that will need to rely on their stars to keep pace in an improving Atlantic Division. They should get into the playoffs relatively comfortably, but they will have competition from teams who finished behind them in the standings in 2022-23. 
Florida Panthers
2022-23 season: 42-32-8, 92 points, 4th in Atlantic (WC2)
Notable offseason moves:
Signed Niko Mikkola (3 years)
Signed Evan Rodrigues (4 years)
Signed Oliver Ekman-Larsson (1 year)
Signed Mike Reilly (1 year)
Signed Anthony Stolarz (1 year)
Signed Dmitry Kulikov (1 year)
Key Departures:
Anthony Duclair (Traded to SJS), Radko Gudas, Alex Lyon, Marc and Eric Staal
The Panthers barely squeaked into the playoffs, but as they say, just get in, and who knows what'll happen. After coming back from a 3-1 series deficit against the Bruins in Round 1, they made it to the Stanley Cup Final, where they'd fall to the Vegas Golden Knights in five games. 
GM Bill Zito could've run it back with the same squad, but he made some changes, mostly in free agency, to help his team try and improve upon the 92 points they ended up with, which may not be enough to make the playoffs this coming season. 
While Zito didn't add any big names in free agency, he signed an underrated Evan Rodrigues to a four-year deal at a cap hit of $3 million. He's averaged 19 goals and 44 points per 82 games over the last three seasons and is one of the more underrated play drivers in the NHL. He should replace what they lose in Anthony Duclair, who they traded to the San Jose Sharks to clear some cap space.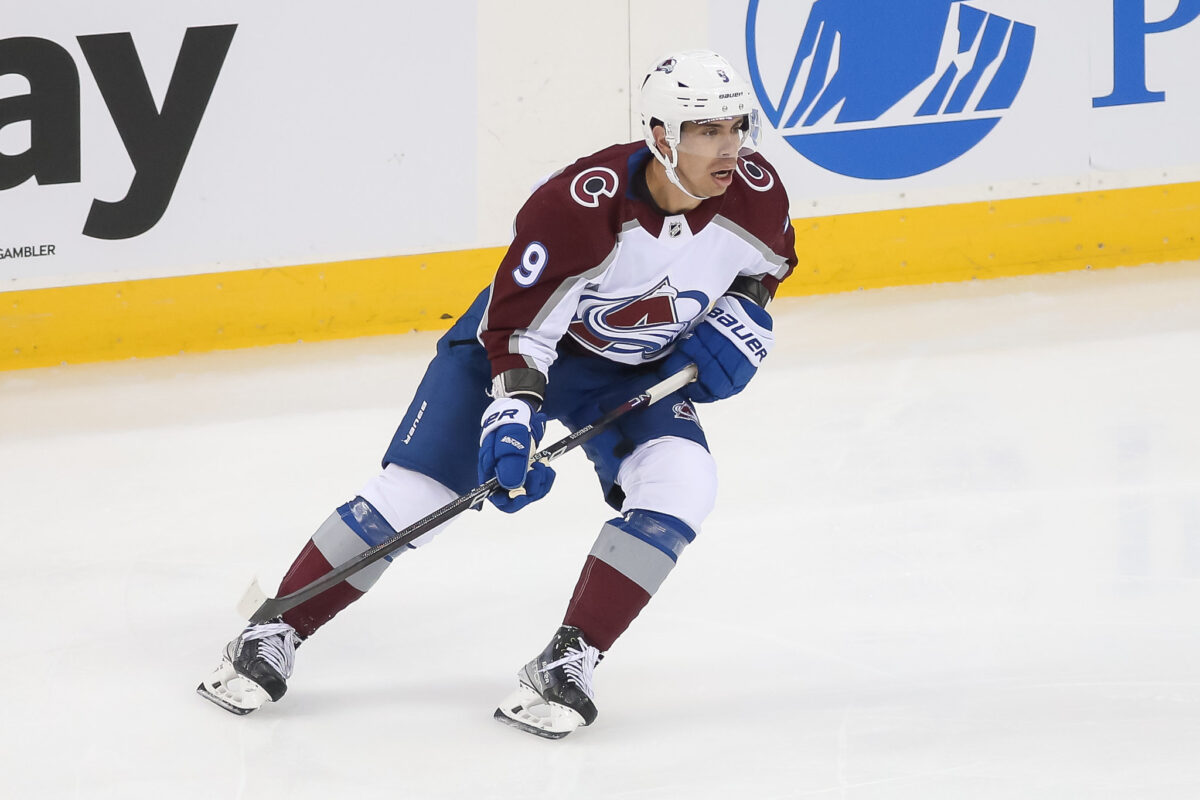 Rodrigues was the only move Zito made for scoring, and understandably so. Brandon Montour and Aaron Ekblad had surgery on significant injuries this summer and may miss the first couple of months of the 2023-24 season. In to provide insurance are Oliver Ekman-Larsson, Dmitry Kulikov, Mike Reilly and Niko Mikkola until Montour and Ekblad return. 
All four players have plenty of NHL experience, but how much of an impact will they have on the Panthers? Ekman-Larsson has declined substantially and is not the defenseman he used to be, while Kulikov and Mikkola were significant net negatives for their teams a season ago. Reilly could benefit from a change of scenery, but there are still questions if he can bounce back after falling out of favor in Boston. 
Related: Maple Leafs News & Rumors: SDA, Domi, Malinoski & Karlsson
---
Latest News & Highlight
---
And while Sergei Bobrovsky was fantastic in the playoffs, he's been a league-average to slightly above-league-average netminder in the regular season for a few seasons. He will likely regress from his playoff form with a worse defense in front of him to start the season. Having Anthony Stolarz as a No. 3 and Spencer Knight returning helps, but the Panthers will have their work cut out to return to the playoffs. 
Buffalo Sabres
2022-23 season: 42-33-7, 91 points, 5th in the Atlantic
Notable offseason moves:
Signed Erik Johnson (1 year)
Signed Connor Clifton (3 years)
Key Departures
This is the part of the Atlantic Division where things get interesting, and it's not just the Sabres. We'll start with them because they finished fifth in the division and missed the playoffs by one point, but the teams that placed under them will be looking to knock someone out of a playoff spot too. 
The biggest concern for the Sabres heading into the offseason was shoring up the right side of their blue line, which GM Kevyn Adams addressed. Their most notable pickup was signing Connor Clifton to a three-year deal worth $3,333,333 million annually. 
Though Clifton had a somewhat down year defensively in 2022-23, he's still one of the more reliable third-pair defenders in the NHL. He showed a bit more offensive upside this past season, though the Sabres have enough firepower on their blue line with Rasmus Dahlin and Owen Power. They won't need Clifton to put up points. They just need him to be sound defensively.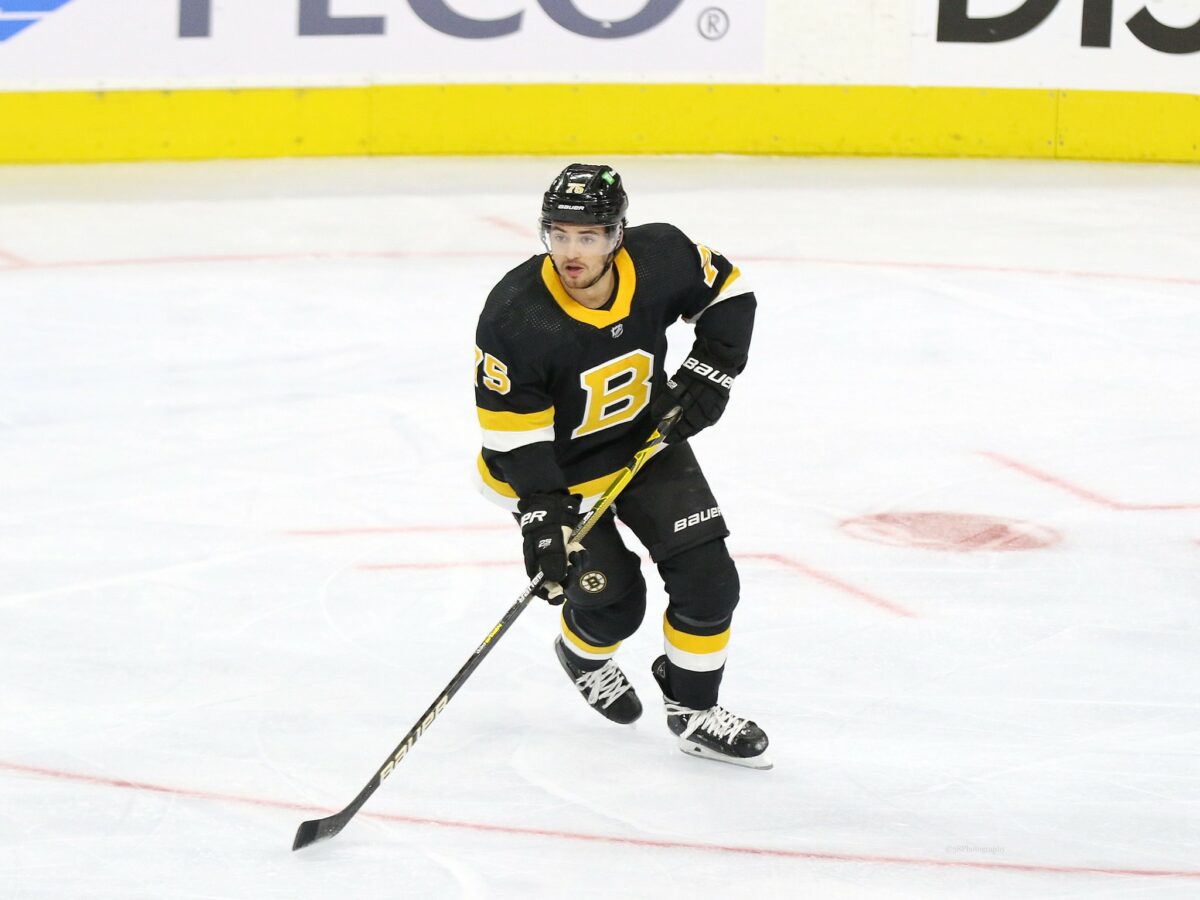 Once upon a time, signing Erik Johnson via free agency would've made headlines. At 35 years old, his best days are behind him. But part of the reason Adams signed him is to give his young team a veteran voice in the locker room. The Sabres will push for a playoff spot this year, and having someone like Johnson, who won a Stanley Cup with the Avalanche in 2022, can't hurt for a team looking to break their 12-year playoff drought. 
The biggest question mark for the Sabres is in net, but it's not because they don't have talent. Devon Levi is one of the top netminding prospects in the NHL and showed his potential in his brief NHL stint to close 2022-23. But is he ready to handle a 1A's workload? 
There's also Eric Comrie and Ukko-Pekka Luukkonen, but both goalies finished with save percentages below .900 and allowed a combined 11.9 more goals than expected in 2022-23. Levi should be a league-average netminder, at worst. But one of Comrie and Luukkonen has to step up and give the team a solid 1B to ease Levi's workload as a rookie. If so, they have good odds of ending their playoff drought and shaking up the Atlantic standings. 
Ottawa Senators
2022-23 season: 39-35-8, 86 points, 6th in the Atlantic
Notable offseason moves:
Signed Joonas Korpisalo (5 years)
Signed Vladimir Tarasenko (1 year)
Acquired Dominik Kubalík 
Key Departures:
The Senators dug themselves a hole too deep to crawl out of over their first 20 games, going 7-12-1 over that stretch. But they had a good close to the season, finishing with a 32-23-7 record over their final 62 games. That's a 94-point pace over 82 games, which would've put them in a wild-card spot. 
Unfortunately for the Senators, Alex DeBrincat had no interest in signing long-term, forcing GM Pierre Dorion to trade him. He did so to DeBrincat's hometown team, the Detroit Red Wings, in exchange for Dominik Kubalík, prospect Donovan Sebrango and a couple of draft picks. He did have a down season in his one year with the Senators, but losing one of the top goal-scorers in the NHL stings no matter what.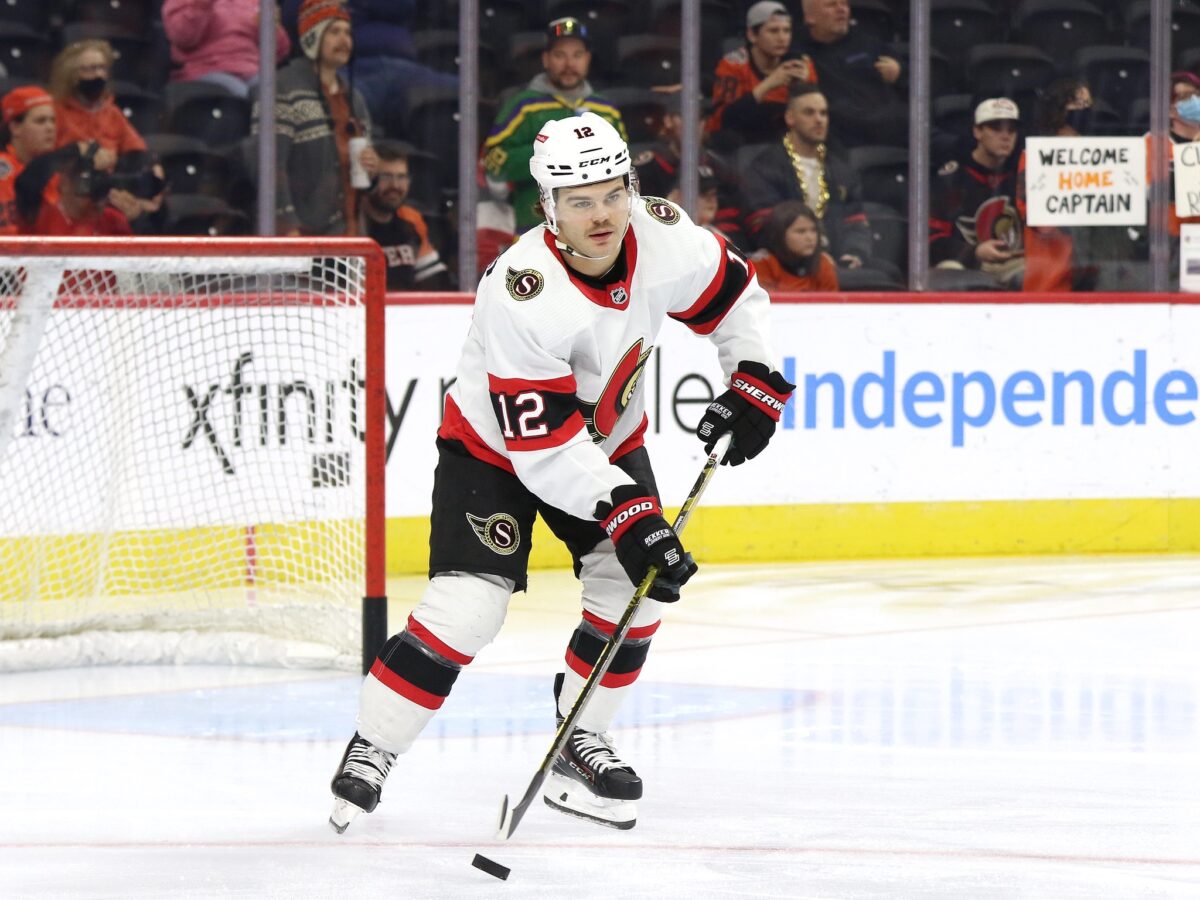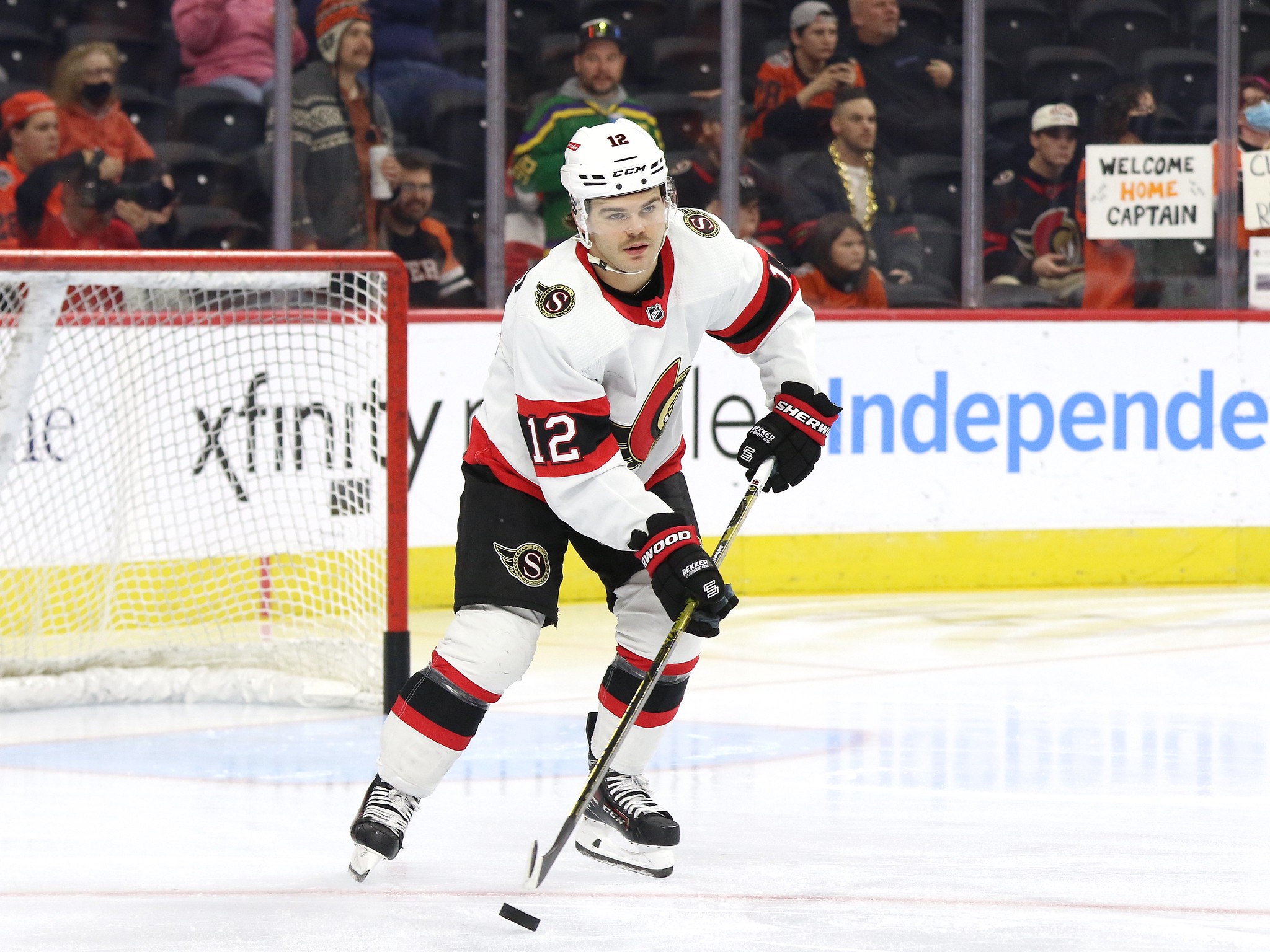 Kubalík is not DeBrincat, but he is coming off a 20-goal, 45-point season with the Red Wings. His impacts aren't great, and he's not a play driver. But he can shoot the puck and has averaged 20 goals and 44 points per 82 games over the last three seasons, so he will make up for some of what they lost in DeBrincat. 
In an effort to add more scoring, Dorion signed Vladimir Tarasenko to a one-year deal worth $5 million. He's coming off a season in which he produced at a 22-goal, 59-point pace between the St. Louis Blues and New York Rangers. He still has something to offer offensively and could be a good fit alongside a rising star in Tim Stützle. 
But perhaps the biggest gamble taken by Dorion was signing goaltender Joonas Koripisalo to a five-year deal at a cap hit of $4 million. Korpisalo is coming off the best season of his career, finishing with a .914 SV% while saving 12.7 goals above expected. If he gives the Senators that type of goaltending, they'll be in the playoff hunt. But he is the definition of goalies are voodoo, so it's hard to know how he'll perform.  
The Senators have a good, young team. And a healthy Josh Norris and Anton Forsberg will go a long way. Their defense is still a bit of a question mark, but it should be good enough to keep them among the contenders in the Atlantic. 
Detroit Red Wings
2022-23 season: 35-37-10, 80 points, 7th in the Atlantic
Notable offseason moves:
Signed Justin Holl (3 years)
Signed Shayne Gostisbehere (1 year)
Signed James Reimer (1 year)
Signed Daniel Sprong (1 year)
Signed J.T. Compher (5 years)
Signed Christian Fischer (1 year)
Acquired and signed Klim Kostin (2 years)
Acquired DeBrincat
Key Departures:
Kubalík, Alex Nedeljkovic, and Pius Suter
Red Wings GM Steve Yzerman was quite active for the second offseason in a row, but there were some questionable moves to say the least. We'll start with the good, which was acquiring DeBrincat. He's a good rebound candidate, and if he plays alongside Dylan Larkin, he's a good bet to finish with 30-plus goals and maybe even get close to 40 again. 
Yzerman's next big move was signing J.T. Compher to a five-year deal at a cap hit of $5.1 million. He's coming off a career year that saw him finish with 17 goals and 52 points in 82 games as the Avalanche's second-line center. His defensive impacts have always been excellent, but can he continue the offensive production this coming season?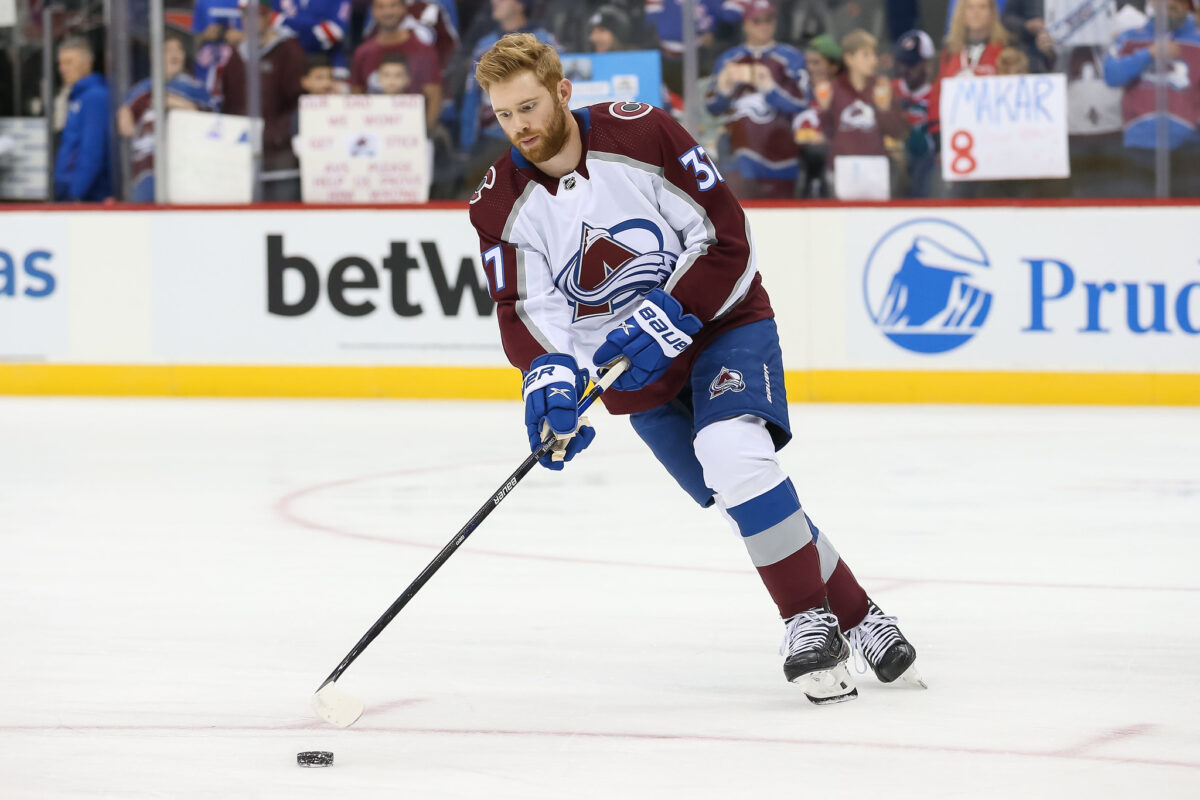 One of the best value pickups of free agency may have been the Red Wings signing Daniel Sprong to a one-year deal for $2 million. He finished with 21 goals and 46 points in 66 games in 2022-23 — a 26-goal, 57-point pace over 82 games. This is while playing a bottom-six role for the Seattle Kraken, but based on his five-on-five scoring rates, he should be able to play higher up the lineup. 
The biggest question marks for the Red Wings are on defense and in net. Yzerman signed Justin Holl to a three-year deal worth $3.4 million a year and Shayne Gostisbehere to a one-year contract worth $4.125 million. Gostisbehere will put up points and help the power play, but he needs to be in a sheltered role. 
Related: Grading Penguins' Blockbuster Trade for Erik Karlsson
Holl is fine defensively, but it could be problematic if he's playing higher up the lineup. It's more about how the Red Wings have constructed their blue line over the last couple of years that makes you wonder what the plan is until some of their prospects are ready:
Jake Walman – Moritz Seider
Olli Maatta – Holl
Ben Chiarot – Gostisbehere 
That's not a defensive group that inspires much confidence. Add in that Ville Husso struggled in his first year with the Red Wings and new backup James Reimer is coming off the worst season of his career, and it's hard to see the Red Wings making a Sabres or Senators-like jump with the defense and goaltending they have. They will be better, but they're probably still a year away from being a serious contender in the Atlantic. 
Montreal Canadiens
2022-23 season: 31-45-6, 68 points, 8th in the Atlantic
Notable offseason moves:
Acquired and signed Alex Newhook
Acquired Jeff Petry
Acquired Casey DeSmith
Key departures
Jonathan Drouin, Denis Gurianov, Joel Edmundson, Mike Hoffman
The Montreal Canadiens were having a relatively quiet offseason until they were the third team involved in the Erik Karlsson trade. As part of that deal, the Canadiens received Jeff Petry and Casey DeSmith from the Pittsburgh Penguins while shipping Mike Hoffman to the San Jose Sharks. 
Only a year after trading Petry to the Penguins, he's back for another go-around with the Canadiens. Though he is showing some signs of decline, he's still a reliable top-four defenseman who'll give the Canadiens a stop-gap until prospects like David Reinbacher are ready to handle minutes on the right side of the blue line. 
Though the Canadiens have Sam Montembault and Jake Allen in net, running a three-goalie rotation seems to be turning into a popular trend. In acquiring DeSmith from the Penguins, the Canadiens have three capable NHL goalies; he has a .912 SV% for his career. Allen has had injury problems throughout his career, so having DeSmith for the 2023-24 season (he'll be a UFA next summer) shores up their goaltending depth.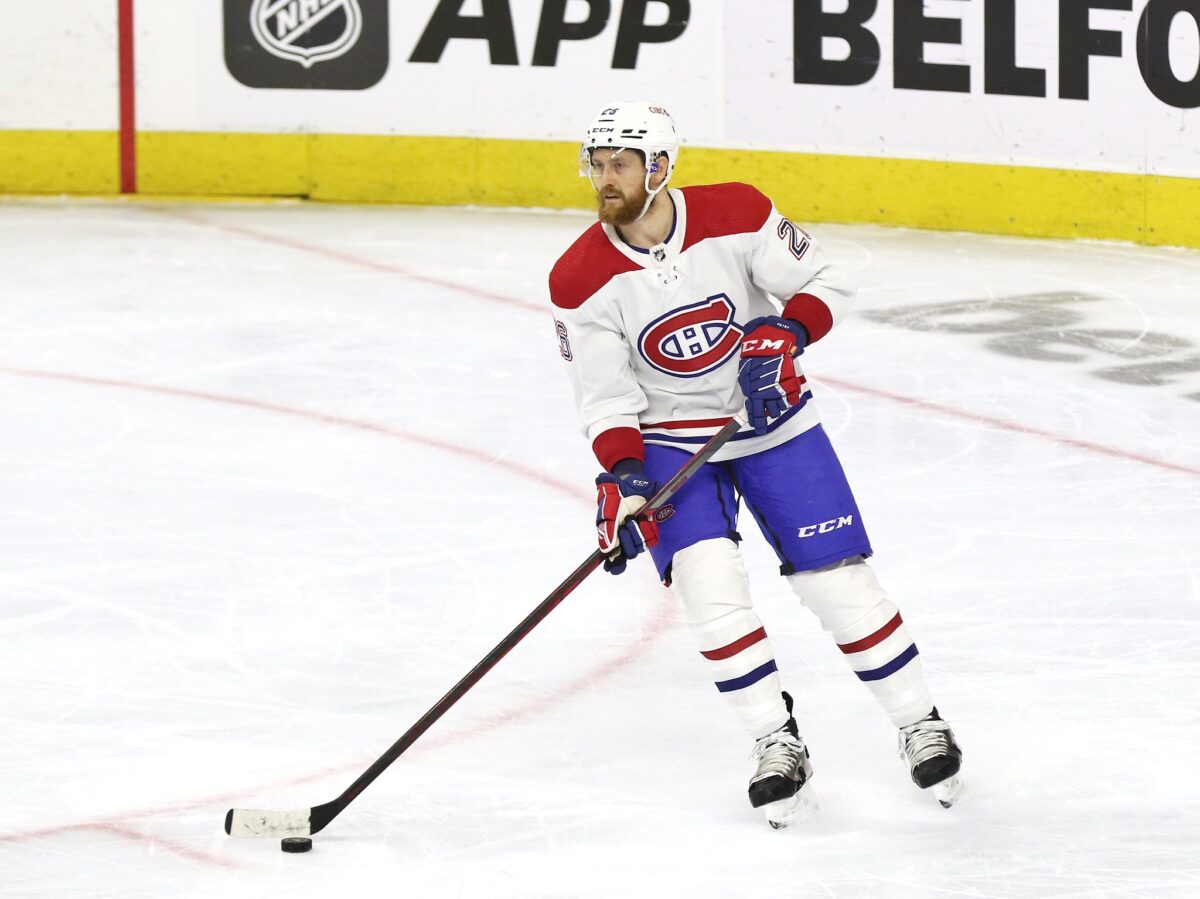 Before yesterday's big trade, the Canadiens' lone notable addition was acquiring Alex Newhook from the Avalanche for the 31st and 37th overall picks in the 2023 draft. It was a high price to pay for the former first-round pick who hasn't lived up to expectations yet. But the Canadiens are hoping a change of scenery will benefit Newhook, as it did with Kirby Dach a year ago. 
The Canadiens still have a ways to go before competing for a playoff spot in the Atlantic, but this team shouldn't be a doormat this coming season. Petry and DeSmith improve them defensively and in net. And if Newhook makes strides in his development, the Canadiens should at least have an entertaining team to watch, even if they're still likely to finish at the bottom of the Atlantic.
Atlantic Division Predictions for 2023-24
Maple Leafs: 107 points
Lightning: 99 points
Sabres: 96 points
Bruins: 94 points (WC2)
Senators: 91 points
Panthers: 90 points 
Red Wings: 85 points
Canadiens: 74 points
There's been plenty of turnover in the Atlantic Division this offseason. The Bruins will likely regress, perhaps significantly, since Bergeron has retired and Krejci is probably heading for the same. Add that Ullmark probably won't post a .938 SV% again, and they may find themselves in a battle for a wild-card spot. 
I have the Bruins in the second wild-card slot, mainly because they have an elite talent in David Pastrnak, and their goaltending should still be more than good enough to get them in. But it's not hard to imagine the Senators or Panthers taking that spot, especially if Florida gets Montour and Ekblad back from injury sooner than expected and Ottawa gets quality netminding from Korpisalo.  
The Red Wings are getting closer, but their blue line has more than a few question marks, aside from Seider, and their goaltending is suspect. They'll be better, but not enough to challenge for a wild-card spot.
With the bottom half of the division improving and the top of it getting weaker, the door is open for some teams to shake up the Atlantic Division standings. And even if that doesn't happen, it should be a tight battle through spots 1-6 to try and secure a postseason berth. 
* * *
Advanced stats from Money Puck