The Toronto Maple Leafs' Auston Matthews tied the team's record for 2nd fastest player to reach 300 points. He is tied the Charlie Conacher after recording a point against the Vancouver Canucks on Monday night. It was his 294th game, ten behind Syl Apps who holds the record at 284. Matthews is also the second-youngest player in Toronto history to record 300 points. Matthews is 23 years and 144 days old. Vincent Damphousse holds the mark for the youngest player as he got to 300 at 23 years, 47 days.
Leafs' Nation has following Matthews every move since Toronto drafted him. Have you been keeping up? The quiz will test your Matthews on and off the ice knowledge.
1. Matthews wears #34 because it was his favourite player's number. Who was this player?
a) Bo Jackson
b) Bryan Berard
c) Shaquille O'Neal
d) David Ortiz
2. Matthews scored four goals in his NHL debut. How many shots on goal did he register?
a) 4
b) 6
c) 8
d) 10
3. When Matthews was drafted in 2016, he became just the __ American player to be selected with the first overall pick.
a) 5
b) 7
c) 9
d) 11
4. When Matthews played in Zurich he was coached by Marc Crawford. The coach compared Matthews to this NHL Hall of Fame player.
a) Sergei Fedorov
b) Mike Modano
c) Joe Sakic
d) Steve Yzerman
5. In a recent interview with GQ, Matthews listed his dog as a must have, life essential. His dog shares the same name or nickname as a former Maple Leafs player. The dog's name is?
a) Cujo
b) Eddie (the Eagle)
c) (Uncle) Leo
d) Felix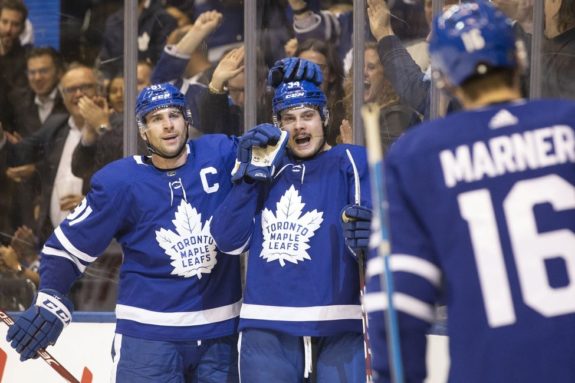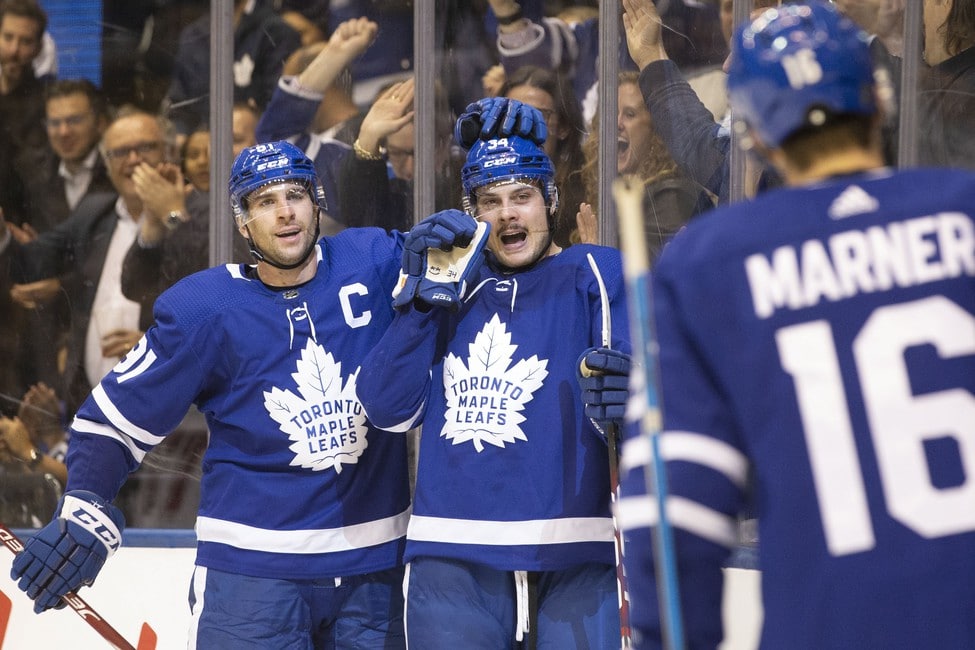 6. True of False. Two other Maple Leafs' rookies received votes for the Calder Memorial Trophy in the same year Matthews won it?
a) True
b) False
7. Matthews was a Lady Byng Memorial Trophy Finalist last season. At the end of the 2019-20 season, his fourth season, how many career penalty minutes did he have?
a) 32 minutes
b) 46 minutes
c) 58 minutes
d) 70 minutes
8. What hockey movie does Matthews say he has watched a million times?
a) Youngblood
b) The Mighty Ducks
c) The Goon
d) Miracle
9. Who was the first assist on Matthews first NHL goal?
a) William Nylander
b) Mitch Marner
c) Zach Hyman
d) Unassisted
10. Matthews lists Russel Westbrook and this celebrity as influences for his fashion sense.
a) Leonardo DiCaprio
b) Justin Timberlake
c) Jude Law
d) David Beckham
Answers
1. Answer: (d) David Ortiz
Auston's nickname is "Papi," after David Ortiz of the Boston Red Sox, his favourite baseball player growing up and the inspiration for wearing No. 34. Matthews' father, Brian, was a college baseball player and thought Auston was better at baseball than hockey. But Auston picked the stick over the bat.
2. Answer: (b) 6
In his first NHL game, October 12, 2016, Matthews took six shots on net, four went in. Toronto lost to the Ottawa Senators 5-4 in overtime.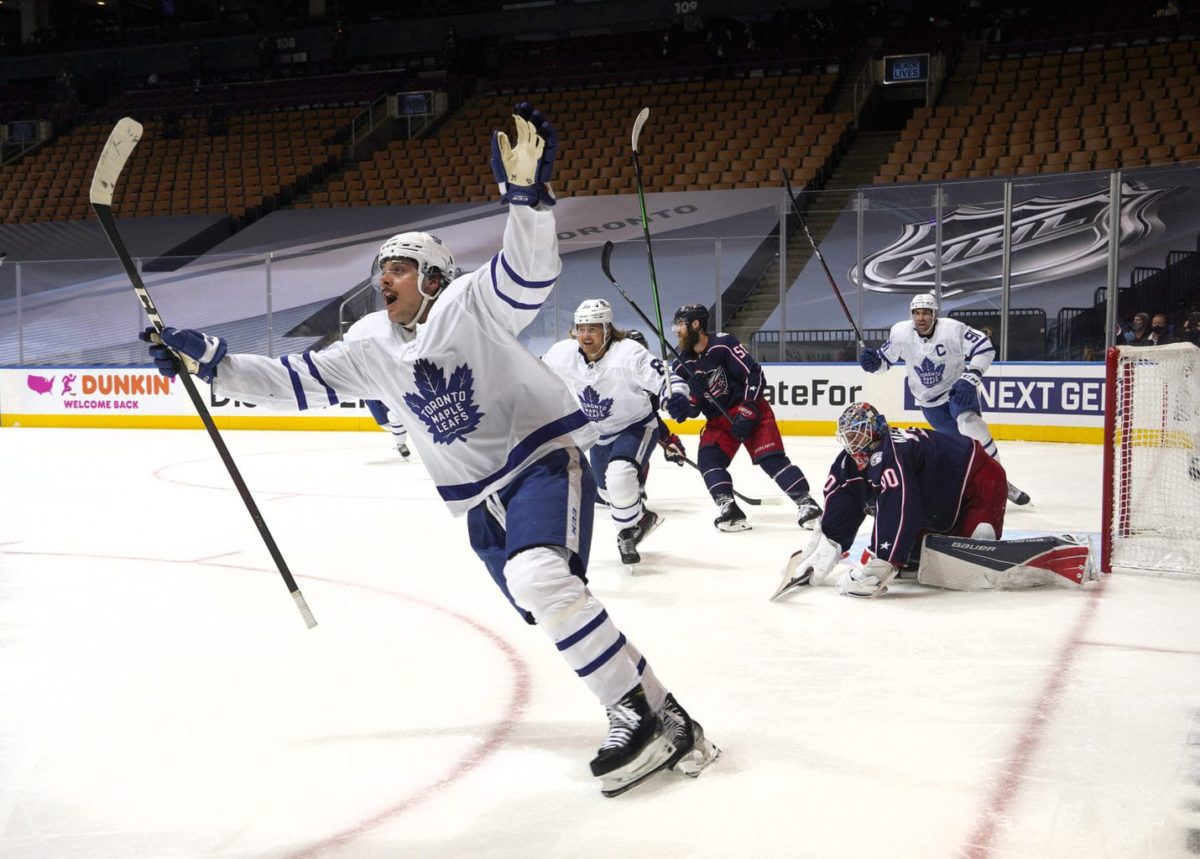 3. Answer: (b) 7
Matthews was the seventh American player taken with the first overall pick. To date, there have been eight U.S.-born players go number one, the lastest was Jack Hughes in 2019. The other first overall pick Americans are, Patrick Kane (2007), Erik Johnson (2006), Rick DiPietro (2000), Bryan Berard (1995), Mike Modano (1988) and Brian Lawton (1983).
4. Answer: (c) Joe Sakic
Crawford not only compared a young Matthews to Sakic, he also said Matthews might be the best puck-handling centre he had seen. Sakic finished his 20-season career with 625 goals and 1,641 points in 1,378 games played.
5. Answer: (d) Felix
Matthews has never confirmed, or denied, that his dog is named after Felix "The Cat" Potvin. In a different kind of interview, Matthews listed his stick, clubs, shoes, slides, watch, video games, phone, ladies deodorant as his must-have items.
6. Answer: (a) True
Yes, Matthews beat out two Maple Leafs' teammates for the Calder Memorial Trophy. Both Mitch Marner and William Nylander also received votes for the Rookie of the Year.
7. Answer: (b) 46 minutes
He has recorded just 46 minutes in the sin bin in his first four seasons. He was given his first penalty of the 2020-21 season during the game that he scored his 300th point.
8. Answer: (b) The Mighty Ducks
In another off-beat interview with GQ, Matthews watched movies with an interviewer who had clearly never watched a game. Matthews said he has watched the Mighty Ducks millions of times. It's likely an exaggeration, and it likely includes the entire series of movies, but he is known to bring out the Flying V.
9. Answer: (c) Zach Hyman
While, William Nylander had two assists that night in Ottawa, Zach Hyman was the first assist on Matthews first ever NHL goal.
10. Answer: (a) Leonardo DiCaprio
Yet another GQ interview revealed a lot of off-the-ice information about the Toronto superstar centre. In a 2018 interview, he said that hockey was fashion conservative and he was going to bring more his own sense of style to the game. He also noted DiCaprio's hat choices and indicated he was going to be wearing more stylish hats.

Kevin Armstrong is an award-winning journalist with more than two decades of experience. He's been rink side for World Juniors, Memorial Cups, Calder Cups and Stanley Cups. Like many Canadian kids, his earliest memories include hockey. Kevin has spent countless hours in arenas throughout the country watching all levels of the game.