The Toronto Maple Leafs are going to have to update the record book – again. After scoring two goals during Saturday's 5-1 defeat of the Vancouver Canucks, Auston Matthews has 299 points. That was his 293rd game. He plays game number 294 on Monday against Vancouver. If he gets one point, he will tie a record set back in 1936. 85 years ago, Maple Leafs legend, and a man on the NHL's 100 Greatest Players list, Charlie Conacher recorded his 300th point in his 294th game, the fastest Leafs player to reach 300. That record stood for ten years before Syl Apps, another Toronto legend and member of the NHL's 100 Greatest Players list, nabbed his 300th point in 284 games.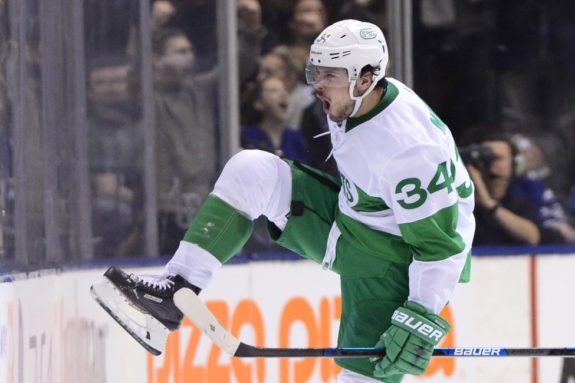 Matthews is on a historic streak. When he scored on Saturday, he became the first Leafs' player to score in seven straight games played since Dave Andreychuk in 1994. So, what's the secret? "I just try to keep the same mindset whether the puck is going in or not, every time I shoot it, I just believing the next one it going to go in, the next one is going to go in," said Matthews.
Matthews Keeps Working on his Craft
Mindset is one thing. It also helps that Matthews is incredibly talented, and he continues to works on his skills. In fact, his work ethic had people talking earlier this week. Sportsnet's Chris Johnston tweeted a picture Friday morning, showing Matthews working with the development staff on his shot. It was the morning after scoring two goals.

The Leafs' head coach, Sheldon Keefe, believes the superstar could have more goals if it wasn't for Keefe. "If anything, I've probably gotten in his way a little bit here just with us getting in the lead," explained Keefe. "I'm holding him back and getting more of a one to four type of rotation, disrupting his flow a bit. I think in both these games that we've played here, he could have had four or five."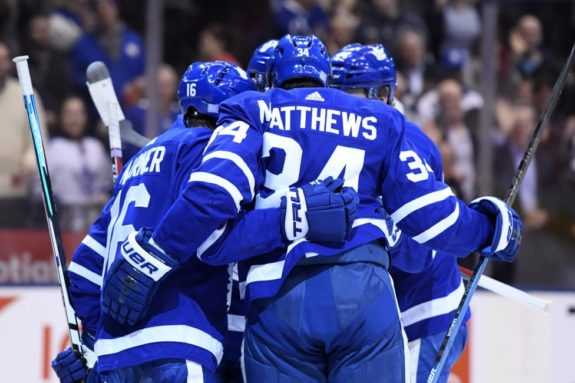 Mitch Marner, who recently recorded his 300th point in his 307th game, says his linemate is getting more dangerous, "when you give him time and space, it's usually a goal." Marner currently is the third-fastest Leafs player to get to 300 points. He will likely soon be dropped to fourth behind Matthews. "He's been playing great. He's been getting himself in scoring areas. He's working below the puck in our d-zone especially coming out of our zone, mostly with the puck in the middle of the ice. When you give him that much space and time, he's going to make something happen."
Team Support Benefitting Matthews
Matthews is the first to credit his teammates with his strong start. However, Morgan Rielly says it's up to the team to keep pace with Matthews, "he is playing with a lot of confidence, he is a dangerous player he knows what he needs to put the puck in the net, and he has been doing that, and obviously, that is incredibly important to our team, and ours wins, and we hope he keeps going and support him. But he is certainly in a groove right now."
That groove has been fun to watch from Frederik Anderson's angle, "just how powerful he can be and how crafty he is, it is fun to watch. I think it takes everyone to do well. It's nice to see how dominant he is, and the guys are supporting him and doing their part as well."
Keefe, can't help but rave about Matthews, "he does surprise me still, yet you just expect something special because he's capable of that and watching him in practice every day is a pleasure. He's certainly special and unique. A unique talent."
Matthews has been rewriting the Toronto and the NHL record books since his first game. You may recall he became the first player in the modern era to score four goals in his first game. In his fifth season, you get the sense that Matthews may change a few more records need to be changed.
---
---

Kevin Armstrong is an award-winning journalist with more than two decades of experience. He's been rink side for World Juniors, Memorial Cups, Calder Cups and Stanley Cups. Like many Canadian kids, his earliest memories include hockey. Kevin has spent countless hours in arenas throughout the country watching all levels of the game.