The Colorado Avalanche are back in action after the All-Star Break tonight, with a road game against the Pittsburgh Penguins. They will be boosted by the return of two players, forward Valeri Nichushkin and defenseman Bowen Byram. Of course, Nichushkin is a huge addition, but in terms of where the team needs help right now, the return of Byram is arguably just as important, if not bigger.

With Byram in the lineup, the Avalanche have an NHL-quality defenseman added to their group, relying less on the likes of Andreas Englund and Brad Hunt. On top of that, his return allows minutes to be spread more evenly on the blue line, taking the pressure off Cale Makar and Devon Toews.
How Will the Avalanche Defensive Group Look with Byram Back?
The Avs are expected to go with seven defensemen for now, a look they have been running with due to a lack of help in the forward group. This means they can manage Byram's ice time during his first few games back if they want to.
However, Byram has said he's 100 percent ready to go, and coach Jared Bednar said he was ready before the All-Star Break, but the team didn't want to risk re-injury. Byram was initially injured in Finland on Nov. 4, with the hope he could return sooner rather than later, but when that wasn't possible, he was placed on injured reserve (IR) in early December.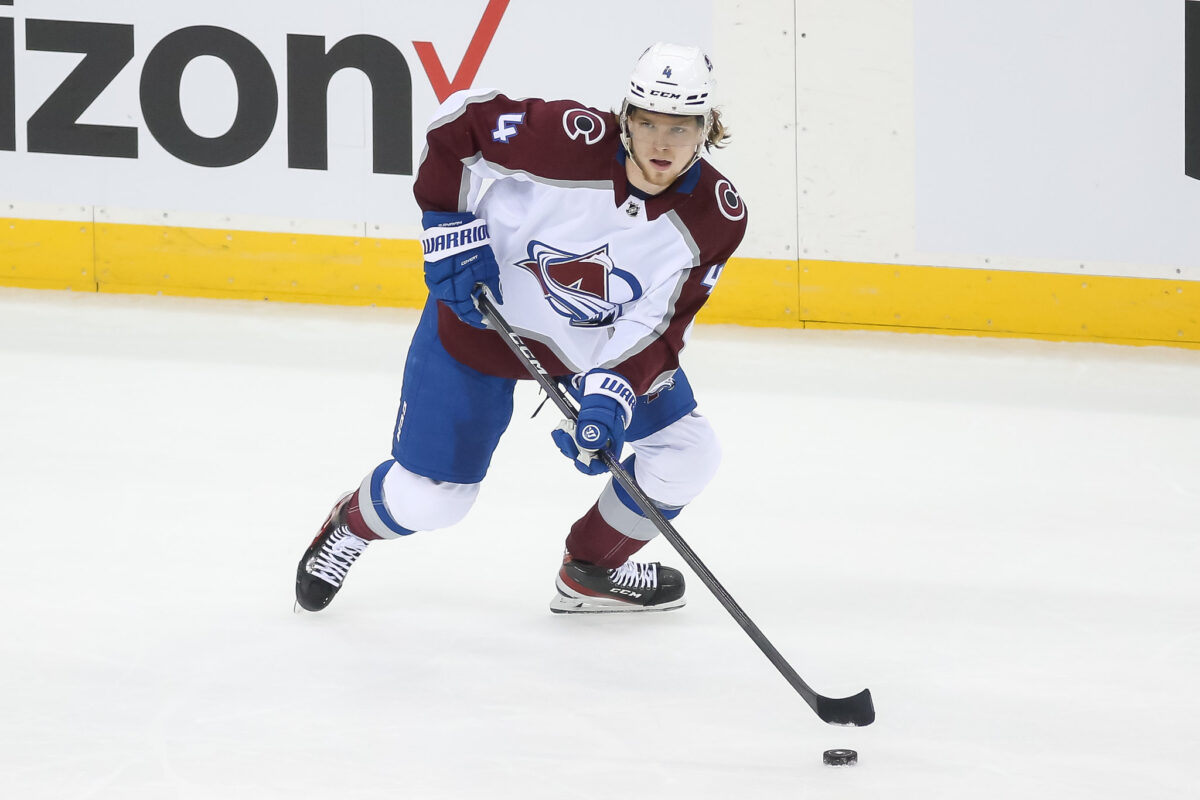 With that in mind, the expectation is that Byram will play a regular shift on a third pairing with Hunt, meaning Englund will be the seventh guy, filling in when needed. Given how well Sam Girard is playing right now, he will stick with Johnson, and the top pair will of course remain together; Makar and Toews.
Where Byram will really help is with his ability to jump up and give others a rest. He can play on the powerplay, penalty kill, or even on the top unit when needed. In the past we have seen Bednar do this on situations such as offensive zone faceoffs, putting a pairing of Makar and Byram out, to give Toews a rest.
Avalanche Can Take the Pressure Off Makar and Toews
The Avalanche have been forced to push their stars to the limit recently, due to injuries elsewhere on the roster. They didn't want to but had no choice, and from a defensive point of view, that resulted in Makar and Toews regularly playing more than 25 minutes per game – sometimes that figure was very close to 30 minutes per game.
---
Latest News & Highlights
---
Across December and January, the Avalanche went on a losing streak, where they lost five games in a row before beating the Edmonton Oilers to end their skid. That losing streak was tough, but it was an indication the team was getting tired, especially on defense. No longer were injuries the only reason for defeat.
RELATED: Avalanche Get Healthier, But Woes Continue
This shouldn't happen anymore, and long term, that's great for the team. The last thing fans need to see is Makar and Toews tired before the playoffs even begin, given how important they are going to be – assuming the Avs get there of course.
From here until the end of the season, the coaching staff should be able to manage Makar and Toews' ice time properly, without fear of burnout before the playoffs. The return of Byram and fellow defenseman Josh Manson, who should be back shortly, also allows the Avalanche to focus their trade deadline plans elsewhere, with a trade for a forward being what they need to focus on.
Key Moment for Byram
While the focus right now is on the team, let's not forget Byram personally and what a big moment this is for him. A year that was supposed to see him on the ice regularly has seen him play just 10 games so far. His skill and ability are no longer up for debate, but his health remains a concern.
If Byram wants to become a big contributor for the team in a regular top-four spot, then he has to prove he can play a large part of the season. That begins now. He needs to remain healthy for the rest of the season and the playoffs, which would ultimately be a huge boost for the organization.