Another veteran defenceman will be hitting the free agent market sooner than expected as the Colorado Avalanche bought out the final year of Francois Beauchemin's contract.
The Avalanche will buy out the remaining year of Francois Beauchemin's contract. https://t.co/ZNU8l1ZzTe

— Colorado Avalanche (@Avalanche) June 15, 2017
At 37, Beauchemin was heading into the final year of a three-year deal he signed with the club in 2015. The deal came with an annual salary of $4.5 million and carried a no-move clause (NMC).
Having been a power play specialist earlier in his career, Beauchemin once added an offensive touch to blue lines in Anaheim and Toronto, but has tailed off in recent years with age and playing time becoming factors for the veteran defenceman.
In 836 career regular season games he has 73 goals and 271 points for an average of 0.32 points per game. Over the past two seasons with the Avalanche, he's maintained that average with 52 points in 163 regular season games.
RELATED: Francois Beauchemin: Once (Thrice) a Duck, Always a Duck
Protecting Space for Expansion
While the buyout doesn't give Colorado any sort of cap relief – with Beauchemin having signed after the age of 35 – it does allow the Avs to focus on protecting younger players as the deadline for their protected list for the Expansion Draft looms. Because of the NMC, the Avs would've had to protect the 37-year-old defenceman over a player that would help them in their development as the Avalanche look to rebuild after finishing last overall in the NHL in 2016-17.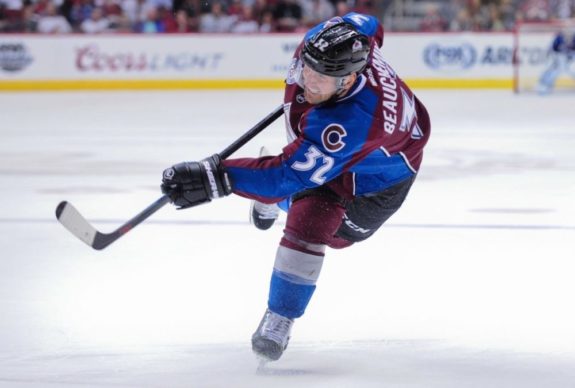 Beauchemin is coming off a season where he averaged just over 21 minutes of ice-time with five goals and 18 points in 81 games for the Avs. That's his lowest point total since 2013-14 with the Ducks. His minus-14 rating is also his worst plus-minus number since 2011-12 hit his first full season back in Anaheim following a two-year stint with the Maple Leafs.
The Avalanche could've asked the veteran to waive his NMC which would've eventually landed him on waivers and made him available in the Expansion Draft, but the team decided to go a different route in buying him out, according to TSN.
Beauchemin's agent, Bob Sauve, also told TSN Insider Pierre LeBrun that after not being asked to waive his clause, his client found out about the buy out Wednesday night.
A Look at Beauchemin's Career
Originally drafted in the third round of the 1998 NHL Entry Draft, 75th overall, by the Montreal Canadiens, Beauchemin played just one game with the Habs. He eventually landed in Columbus to start the 2005-06 season before being traded to the Ducks as part of the Sergei Fedorov that same season.
Anaheim is where he really found his success recording 179 points (53 goals and 126 assists) in 525 regular season games. He also has a Stanley Cup to his name as he was a part of the 2007 Cup-winning Ducks team.
It remains to be seen whether or not there will be a team willing to sign a defenceman of his age clearly on the down slope of his career, but Beauchemin's veteran presence and experience around the league could be enticing for a team looking for a bottom-pairing blue liner with a little bit of offensive potential.