On Tuesday, Jan. 19, the Colorado Avalanche traded veteran defenseman Ian Cole to the Minnesota Wild for defenseman Greg Pateryn. The trade was first reported by Wild reporter Michael Russo and then verified by the teams' accounts on Twitter.
The trade allows the Avalanche to have a little more flexibility with both their cap space and with their lineup. Cole's place on the roster created a logjam once Erik Johnson and Bowen Byram were cleared to return to the team. It appears that Dennis Gilbert will slot in for Cole for tonight's game, with Johnson being the seventh defender. It is now even more likely that Byram will make his NHL debut in the near future.
Cole was acquired by the Avalanche at the 2018 trade deadline, along with forward Matt Calvert. The pair were brought into the organization to serve as sturdy and dependable pieces on a young Avalanche team that had just gone from last in the league to securing a playoff bid. The American has collected 138 points (26 goals, 112 assists) in 543 regular-season games with the Avalanche, Columbus Blue Jackets, Pittsburgh Penguins and St. Louis Blues. He has posted 24 points (one goal, 23 assists) in 89 Stanley Cup Playoff contests.
Ian Cole
Cole was a two-time Cup winner with the Penguins, playing a big role in their 2017 Cup run when Kris Letang went down with an injury. That poise and leadership earned him a place on the Avs, where he largely lived up to his $4.25M cap hit for the next couple of seasons. He will offer a similar level of play to the Wild.
The veteran defenseman's sudden expendability is a testament to the Avalanche's defensive depth, rather than his own play. Cole helped the Avs reach the second round of the Stanley Cup Playoffs in both seasons he spent with the team, being dependable on the blue line and occasionally making a big-time play:
But his role on the team started to diminish and speculation of his possible departure started swirling following Byram's impressive World Junior Championship performance. The Avalanche were suddenly a team right on the edge of the salary cap and paying Cole $4 million to be a third-pairing defenseman or a healthy scratch became no longer viable.
Greg Pateryn
Thus, the Avalanche swapped Cole with the Wild for 30-year-old defenseman Greg Pateryn. Pateryn has a $2.25 million cap hit, saving the Avalanche $1.2 million (they retained $800,000 of Cole's salary). The Avalanche acquired Pateryn to provide depth on defense in anticipation of injuries, essentially a replacement for Cole but at a lower cost. GM Joe Sakic commented on the team's new defenseman:
"Greg is a strong, veteran defenseman who plays a heavy game… He's a hard-nosed, competitive player who can kill penalties, block shots and brings some additional grit to our back line."
Pateryn notched two assists in three games so far this season. The 30-year-old defenseman has scored 41 points (four goals, 37 assists) in 270 regular-season games with the Wild, Dallas Stars and Montreal Canadiens. He's posted three assists in three playoff contests.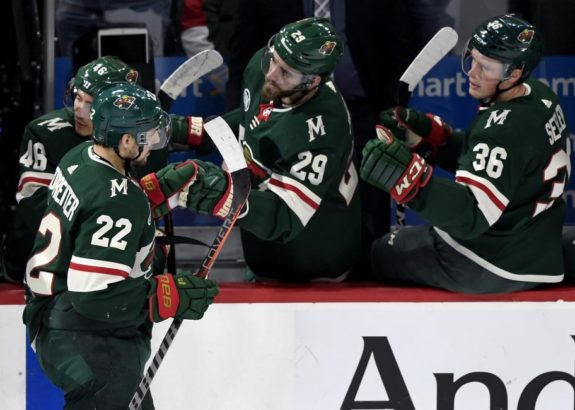 But Byram is really the center of this trade for the Avalanche. While having a veteran like Cole on the team is far from a bad situation, the potential Byram has shown in the various stages he's gotten to play on is simply too enticing. He needs a place on the team where he can further develop and flourish, not one where he sits on the bench or in the press box on a nightly basis.
Ian Cole (and his impressive beard) brought a positive impact during his tenure with Colorado. His presence on the Wild will make them a better club. Pateryn will bring his own value to Colorado, with his own play when he's in games and with the flexibility he'll bring to the team. Most trades in the NHL aren't win-wins, but for the Avalanche and Wild, this may turn out to be an exception.
---
---
Avery is a writer covering the Colorado Avalanche. He is graduating in April with a B.A. in English and Mass Communication. He has previously worked for The Puck Authority covering the Rapid City Rush and for NGU Vision Media as their News Editor. He is a board game enthusiast and enjoys spending time with others.