The puck has dropped and the 2020-21 hockey season is underway.
For hockey card collectors, all eyes are on the boxscores to see which rookies are making their NHL debuts. When a player makes his debut, he becomes eligible to be in an NHL/NHLPA licensed hockey card product.
But while collectors are going to have to wait several weeks for the first cards of players like Ottawa Senators rookie Tim Stützle, Minnesota Wild rookie Kirill Kaprizov, Buffalo Sabres World Juniors standout Dylan Cozens and others, they can already get their hands on the most anticipated rookie of the season.
Exemption for Lafrenière
The Upper Deck Company got an exemption from the licensing rules to include first overall draft pick Alexis Lafrenière of the New York Rangers in its 2020-21 NHL trading card sets. There was a redemption card for a Lafrenière card in the 2020-21 Upper Deck Tim Horton's promotional set, and he was included in the Upper Deck Series 1 Young Guns shortprinted subset released in November. The exemption has helped drive the sales of Upper Deck's hockey cards while hockey fans waited patiently for the season to begin.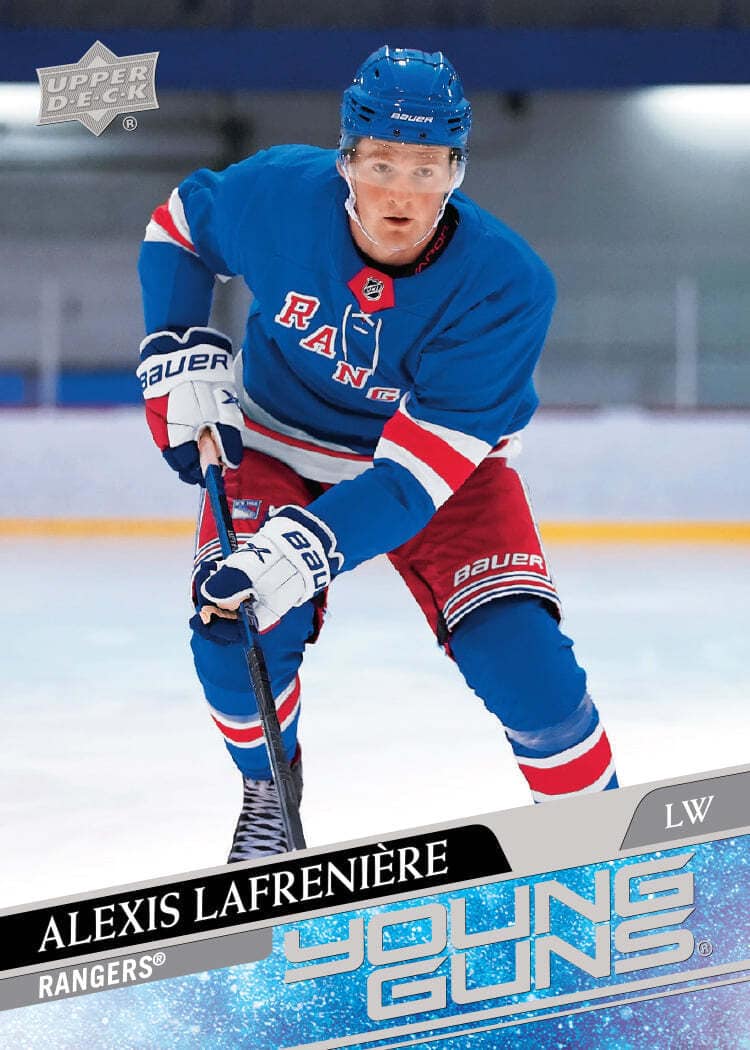 In March 2019, Upper Deck signed Lafrenière to an exclusive trading card and memorabilia deal. Leading up to the 2020 NHL Draft, they launched the #CollectAlexis promotional campaign with a contest where fans entered by sending in creative captions to photos posted to Upper Deck's Instagram account. Three winners each week won a prize pack valued at $100 that included an oversized Alexis Lafrenière trading card, a #CollectAlexis shirt, a #CollectAlexis drink tumbler, an Upper Deck face mask, and Upper Deck trading cards. One of the nine winners won a grand prize, an Alexis Lafrenière authenticated autographed memorabilia piece from Upper Deck.
"We are happy to have him in our spokesperson family," said Upper Deck Hockey Brand Manager Paul Zickler. "As most Upper Deck fans and consumers know, our spokespeople are part of a very special group from Michael Jordan to Wayne Gretzky, Bobby Orr, Tiger Woods…and we have welcomed Alexis into that family," said Zickler.
Lafrenière RCs Highly Anticipated
Lafrenière has drawn more anticipation in the hobby than any other rookie since Connor McDavid was selected first overall by the Edmonton Oilers at the 2015 NHL Draft. After being the QMJHL and CHL Player of the Year and leading Canada to gold as the MVP at the 2020 World Juniors, there was little doubt that Lafrenière would be picked first overall.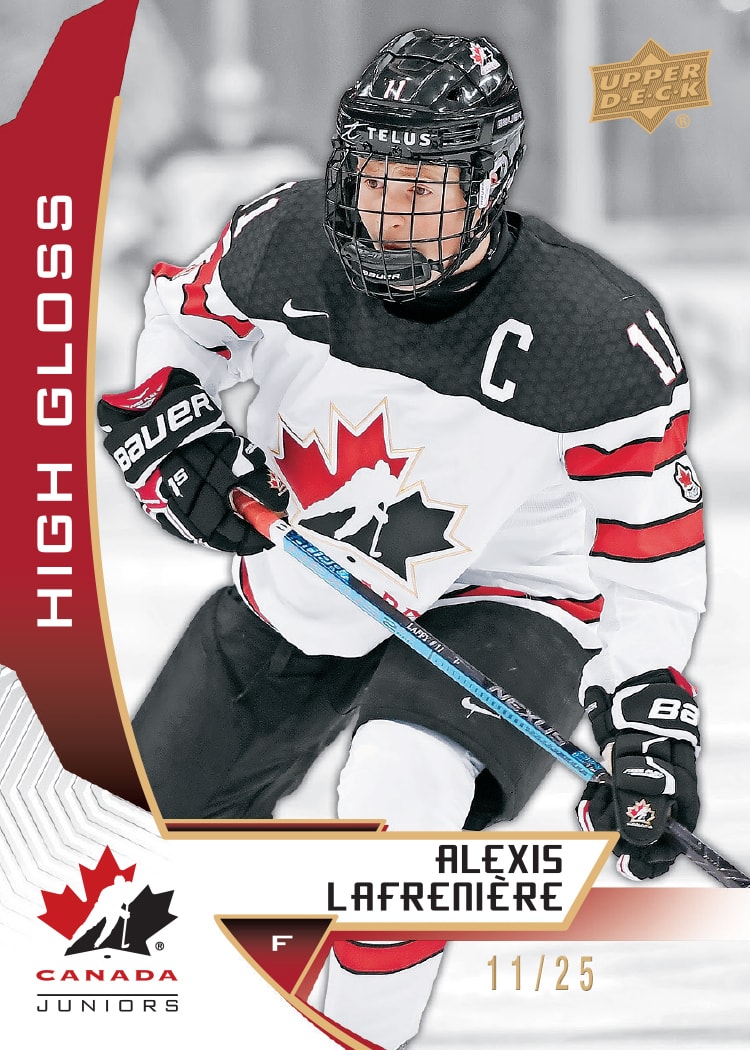 "He went into the draft as a franchise player," Zickler said. "He was selected by the New York Rangers, a popular and high profile team. There are only a few instances over the past 15 years, where high-scoring Canadian forwards who are drafted as number one overall picks play for American teams: you have Sidney Crosby in Pittsburgh, Steven Stamkos in Tampa, Nathan MacKinnon in Colorado, John Tavares and the New York Islanders, and, obviously, Alexis. It transcends the entire trading card market when an A-list prospect joins a storied franchise like that."
Lafrenière Signs Exclusive Deal With Upper Deck
Upper Deck's multi-year agreement grants the company exclusive rights to produce trading cards and memorabilia with authentic Lafrenière autographs. As part of the portfolio of Lafrenière products, fans can find signed and inscribed pucks, Oceanic Rimouski (QMJHL) jerseys, and Team Canada jerseys. The collection also features several never-before-seen images, including a framed acrylic stick blade hand-signed by Lafrenière. His first official NHL autographed items are expected to release later this year and will be available at Upper Deck's online store.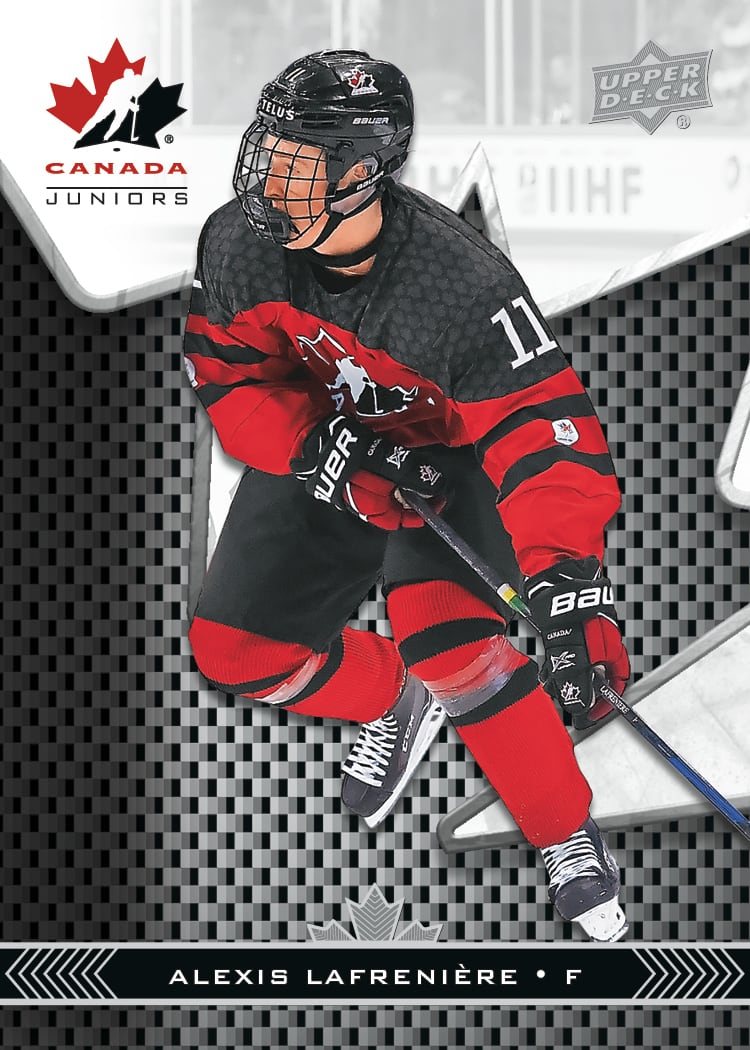 Lafrenière has appeared in Upper Deck's CHL and Team Canada trading card sets in the past, but his Upper Deck Series 1 Young Guns card #201 is the one that is generating excitement in the hobby right now. The card is selling in the $250-$350 (USD) range, and cards graded PSA9 or BGS9.5 have been selling for between double and triple the value of their ungraded counterparts. He is also featured on the Young Guns checklist card, which sells in a more modest range of $20.
Whether or not the value and popularity of Lafrenière's 2020-21 rookie cards rise or fall depends on the immediate success he has as a rookie. And he won't be the only highly anticipated rookie in Upper Deck's upcoming NHL hockey card releases. But for now, Alexis Lafrenière is driving the early-season hockey card market.
---
---