The annual Upper Deck Tim Hortons NHL Trading Cards program was launched across Canada in November. Guests at the quick service restaurant or drive-thru can purchase a pack of cards for just $1 with the purchase of any beverage excluding espresso shots or Coca-Cola products, or for $1.99 without a beverage.
Each three-card pack gives fans and collectors the chance to receive one of 87 special limited-edition cards signed by Sidney Crosby, one of 100 signed by Nathan MacKinnon, or one of 100 TimBits cards signed by Brayden Point. This year's set also includes a Wayne Gretzky tribute card that commemorates his final season with the Edmonton Oilers.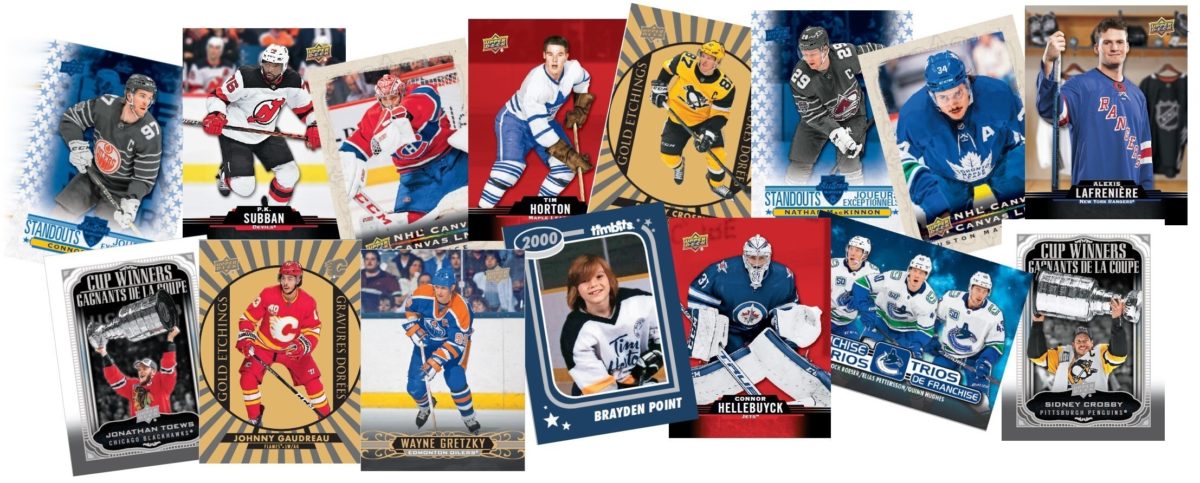 "We're so excited that Tim Hortons NHL Trading Cards season is upon us and can't wait for collectors and fans to get a peek at this season's set," said Hope Bagozzi, Chief Marketing Officer for Tim Hortons. "We know hockey fans can't wait for the return of NHL hockey and our trading cards are a great way to learn more about your favourite players and get excited for the season ahead."
Lafreniere Rookie Card
Perhaps the most intriguing thing about this year's Upper Deck Tim Hortons set is that it includes an NHL hockey card of the first-overall pick in the 2020 NHL Draft, Alexis Lafreniere of the New York Rangers.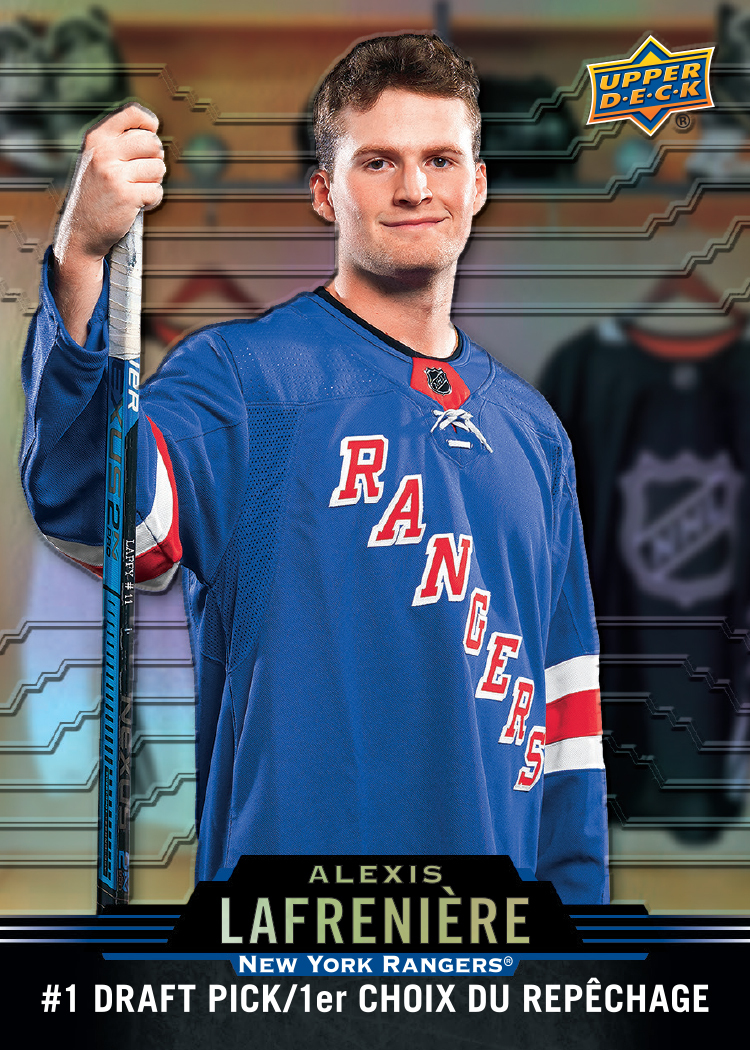 "The Alexis Lafreniere card is available by redemption which is consistent with the #1 overall draft pick card that has been included in previous years," said Upper Deck Hockey Brand Manager Paul Zickler.
The base set features 125 NHL stars, led off by card No. 1, NHL legend Tim Horton. Fifty of those cards are also available in a red parallel insert set.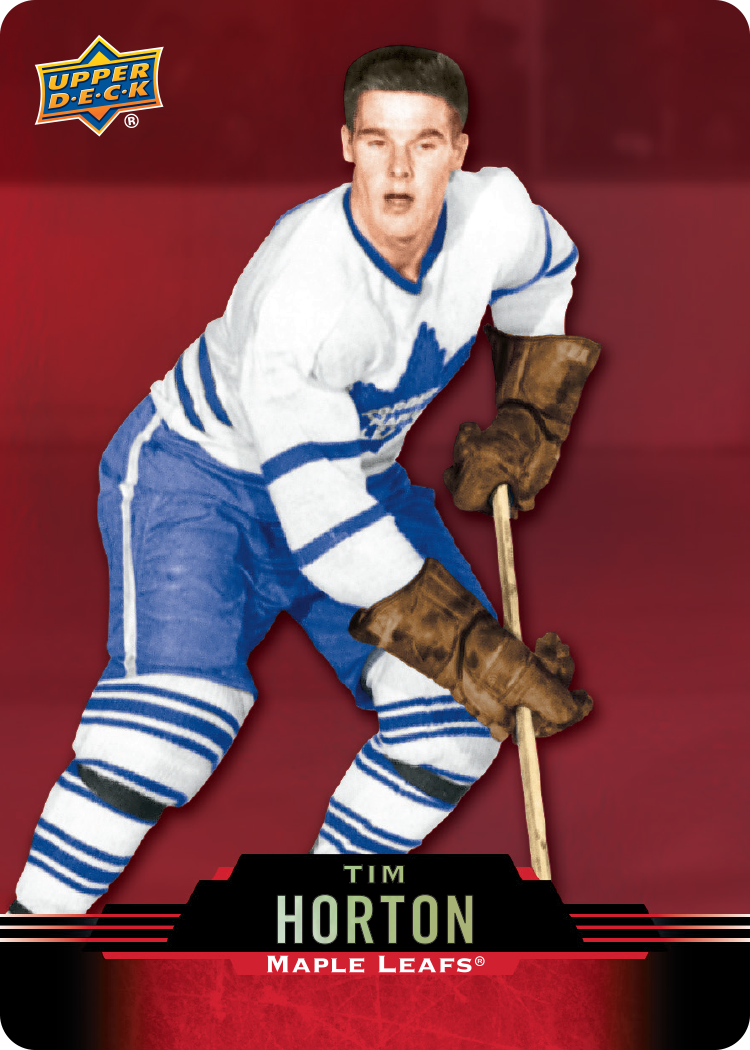 Other insert sets are All-Star Standouts, NHL Canvas, Clear Cut Phenoms, Gold Etchings, Cup Winners, and Franchise Trios, which include three players from the same team on one card.
Autographs, Game-Worn Jersey Cards
There are also autographed and game-worn jersey cards available. Signing cards for the set were Adam Lowry, Brady Tkachuk, Cale Makar, Viktor Arvidsson, Filip Zadina, Jimmy Vesey, Mark Scheifele, Max Pacioretty, Micheal Ferland, Aaron Ekblad, Noah Hanifin, Phillip Danault, Quinn Hughes, Ryan Poehling and Tanner Pearson.
The authentic game-worn jersey cards include a piece of fabric from a jersey worn by one of Auston Matthews, Alex Ovechkin, Artemi Panarin, Brad Marchand, Tkachuk, Connor Hellebuyck, Connor McDavid, Carey Price, David Pastrnak, Elias Pettersson, Jack Eichel, Johnny Gaudreau, Leon Draisaitl, Mitch Marner, Scheifele, Ryan O'Reilly, Sidney Crosby or Steven Stamkos.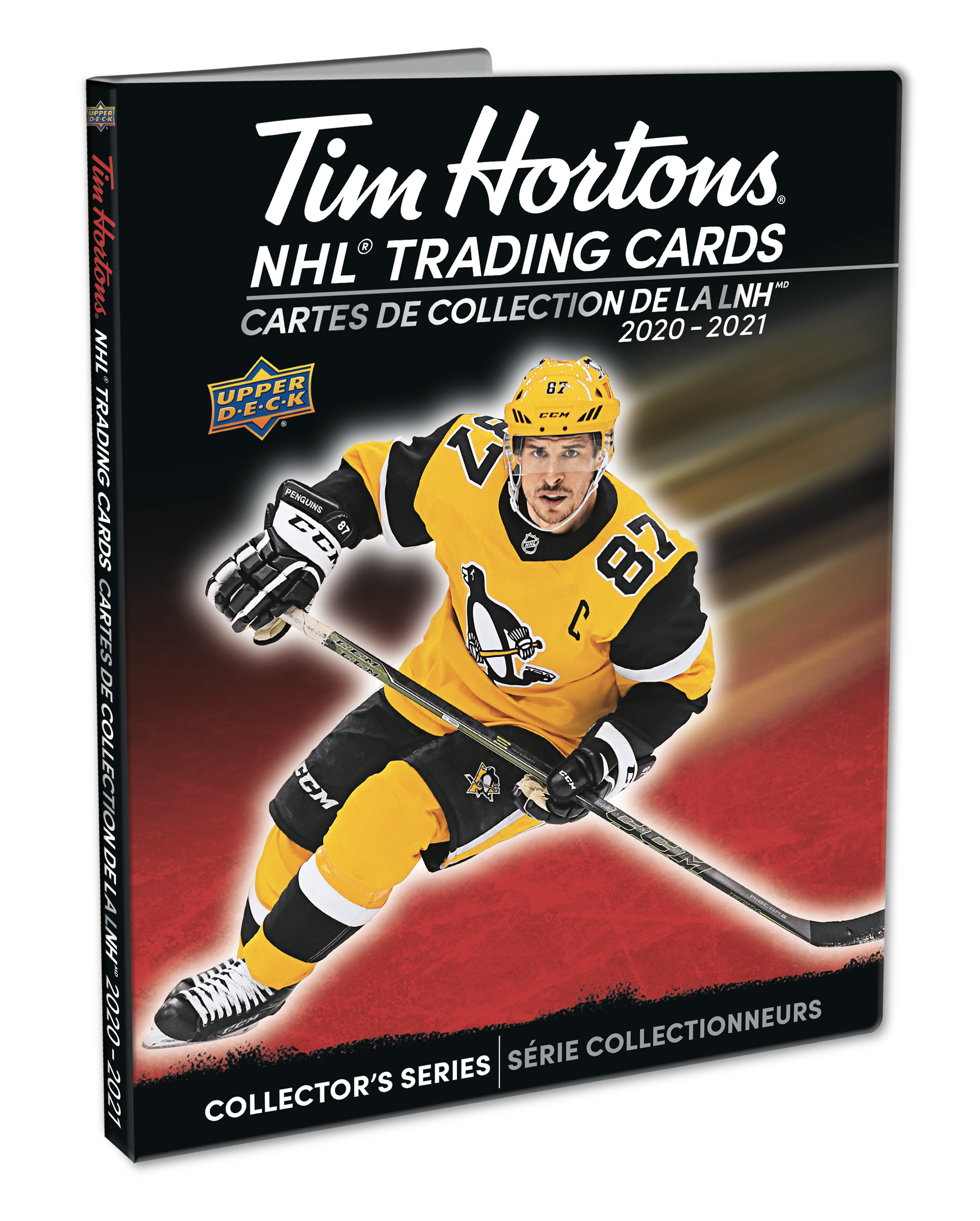 Cards featuring a piece of an authentic, game-worn jersey that has also been autographed by one of Tkachuk, Price, Pettersson, Draisaitl, Marner or Monahan.
One of the most highly sought-after cards is one of 100 Timbits cards autographed by Tampa Bay Lightning star Brayden Point. The photo on the card features Point as a nine-year-old in his Timbits Hockey uniform. Timbits Hockey is Hockey Canada's introductory program for children, and most Canadian NHL players are graduates of the Timbits program.
Collectors can store all of their Tim Hortons hockey cards for safe keeping in a specially designed binder available for purchase for $16.99.
Crosby and MacKinnon in Commercials
The hockey card program has been supported on national television in Canada with a TV commercial featuring Crosby and MacKinnon. The two NHL stars, both from Cole Harbour, NS, go through a Tim Hortons drive-thru in a Zamboni and order coffee and packs of hockey cards. Crosby and MacKinnon have also taken part in other videos promoting Tim Hortons, including one on YouTube where they work the drive-thru in Dartmouth, NS.
"Tim Hortons has developed a great relationship with Sidney Crosby and Nathan MacKinnon," Zickler said. "They have great chemistry together and they have been a big factor in promoting the trading card program."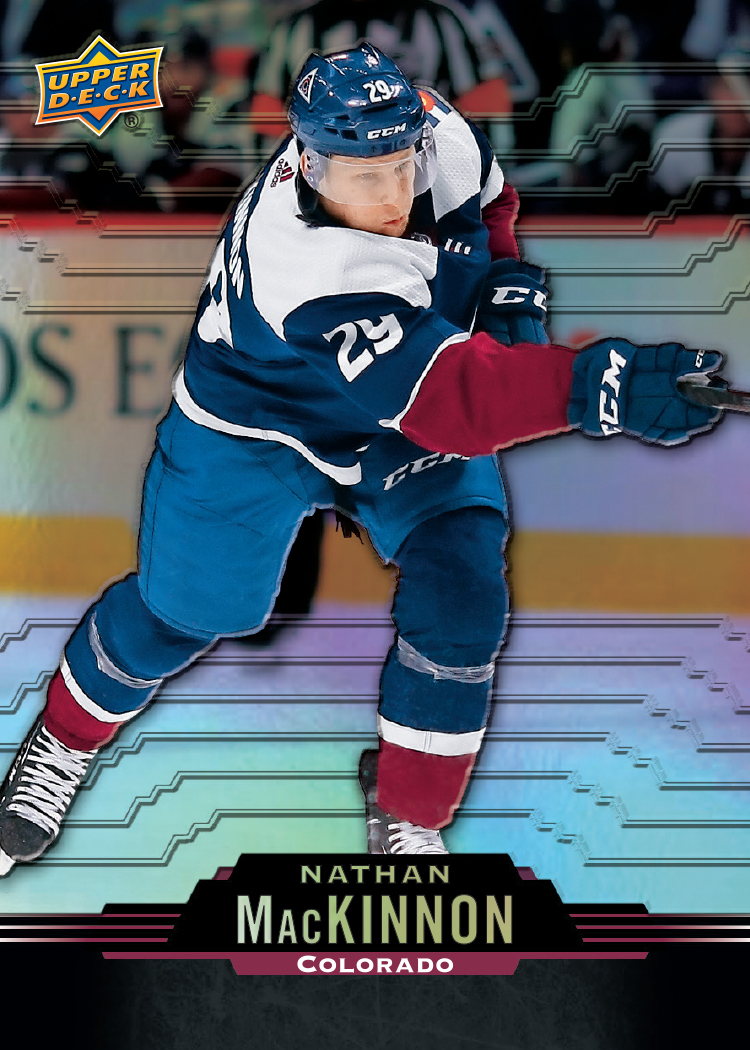 Zickler added that the relationship between Tim Hortons and Upper Deck solidifies both brands in the hockey market.
"In Canada, Tim Hortons is synonymous with hockey," said Zickler, a Vancouver native. "Tim Horton was an NHL star, and the Timbits Hockey program has really helped them at the grass roots level. Upper Deck is an international company, and the Upper Deck Tim Hortons hockey card promotion every year only strengthens their brand in hockey."
A Showcase for Upper Deck
The promotion is equally important to Upper Deck, as it keeps hockey card collecting in the mainstream.
"The promotion with Tim Hortons gives us a great opportunity to introduce hockey cards to Canadians who are hockey fans," Zickler said. "You may have adults who collected as kids, and they introduce their children to hockey card collecting through the promotion."
Zickler said that because it is a chance to showcase Upper Deck hockey cards, the company put its best foot forward with the Tim Hortons card set.
"There is a little bit of everything," Zickler said. "We have the hottest rookie in Alexis Lafreniere and the most collectible player of all-time in Wayne Gretzky. We included a lot of different technology. The base cards are all printed on foil, and we have a lot of technology-driven cards in our insert sets. For some collectors, it will be their first chance to get autographs and game-worn jersey cards."
While Upper Deck is offering purchasers of packs a lot of chances to get excited, so is Tim Hortons.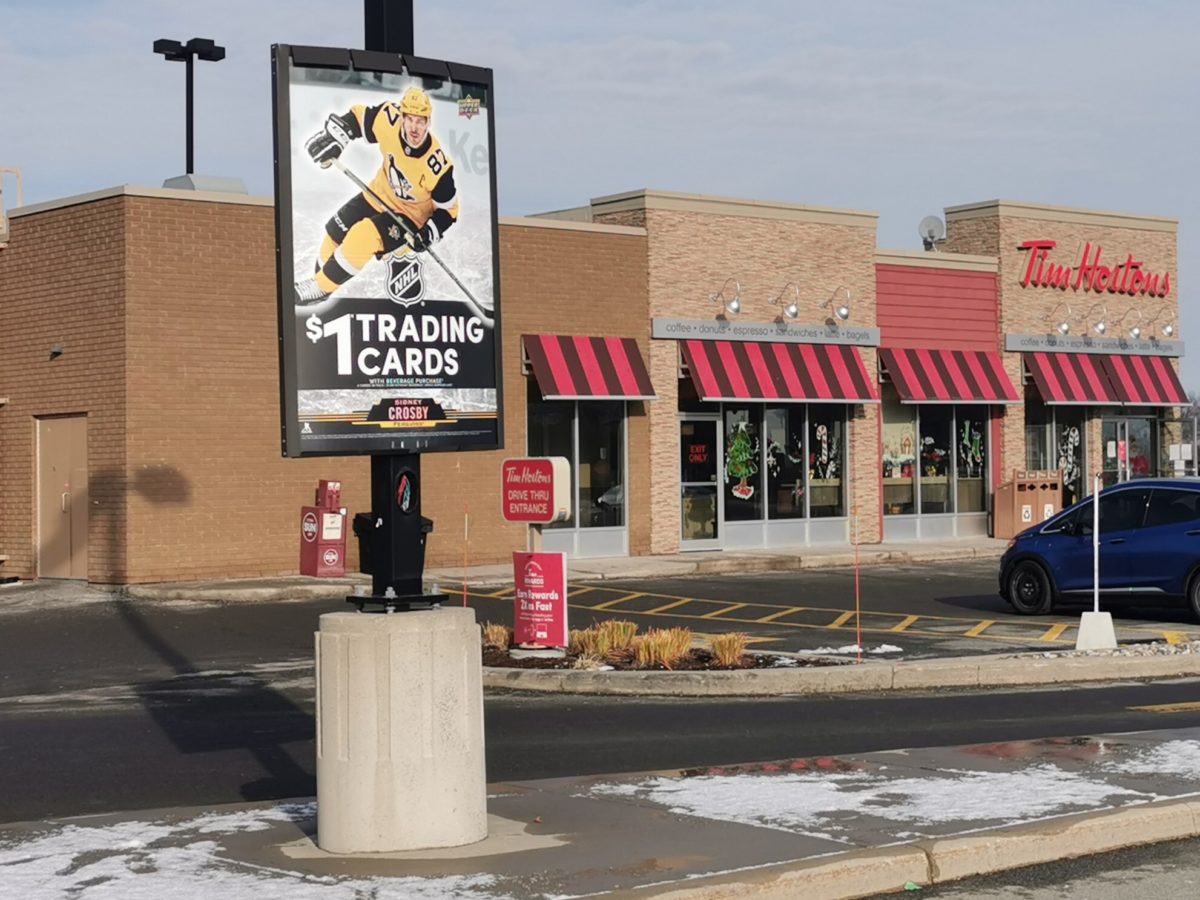 With this year's Collect to Win program, registered Tims Rewards members can play on the Tim Hortons app and have a chance to win prizes with every eligible purchase of a pack of NHL Trading Cards, including a free hot beverage, $50 Tim Cards, NHL LIVE subscriptions, free coffee for a year, a trip for two to the 2021 Stanley Cup Final, or a VIP trip for two to watch an NHL game and meet Crosby.
While Canadian hockey fans are waiting with anticipation for the 2020-21 NHL season to start, Tim Hortons and Upper Deck have given them something to tide them over.
---
---