Adam Lowry's valuable traits — his truculence, grit, tenacity, ability to make life miserable for his opponents by throwing his 6-foot-5 frame around, and his adeptness in the dot — are obvious to anyone who has watched the ferocious forward in his four seasons and 281 games in a Winnipeg Jets jersey.
What wasn't as obvious until last week, when Lowry signed a brand-new three-year deal worth a hair under $9 million, were his "team first" priorities, how deeply he understands the Jets' salary cap situation, and how lucky the team is to have someone with a "winning trumps all" attitude and a love for the franchise locked up through 2021.
Lowry Put Team Ahead of Individual Concerns
It must have been refreshing for the Jets to deal with a player who understands their money and salary cap situation, which are both growing concerns.
"It's no secret the small-market Jets are on the verge of a salary-cap crisis that is likely going to force Cheveldayoff to make some cold, hard decisions that could change the look of the team in the very near future," The Winnipeg Free Press' Mike McIntyre wrote in a recent article entitled Draft, develop… distress. "That's the price to pay for drafting well and then trying to keep the homegrown core intact."
Lowry was accommodating; willing to compromise to come to terms on a mutually beneficial contract.
Three more years of this from @ALowsyPlayer17! pic.twitter.com/LsnZPJNAIv

— Winnipeg Jets (@NHLJets) July 19, 2018
Comments he's made over the past few days to a variety of media outlets illuminate a rare and unspeakably valuable loyalty to the team that drafted him 67th overall in 2011.
When asked how the sides arrived at three-year term by Andrew Paterson and Rick Ralph of TSN 1290 in Winnipeg, he said:
"I think three years is a good length for both sides. It's hard to predict what happens with unrestricted free agent values. I think at three years, it keeps my cap hit at a manageable numbers as well for Winnipeg. Coming up here, we have a lot of important pieces that need to be re-signed… I think three years was a comfortable number for both sides."
Just the fact Lowry used the term "we" when referring to the Jets' negotiations with other players speaks volumes and shows he sees himself as just one part of something larger.
His tone was similar when he spoke with the Winnipeg Free Press' Jason Bell.
"I'm really excited to be back in Winnipeg for three more years," he said. "I really believe in this team and the opportunity we have to win. Building off what we started to accomplish last year and moving forward, I'm really looking forward to being able to be a part of it."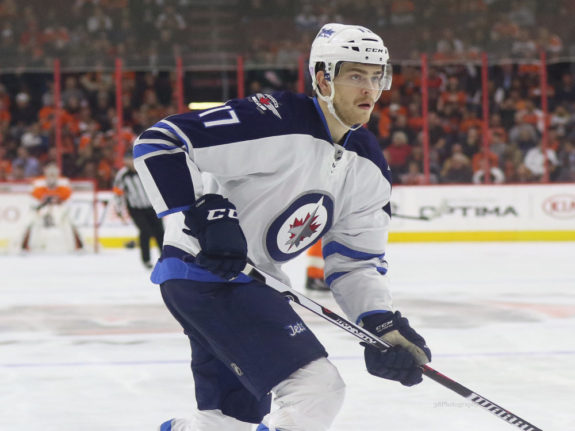 "Both sides wanted it nailed down. Neither of us wanted to go to arbitration," he continued.
Not every player takes their team's needs and financial landscape into account during negotiations. Even though it's management that makes them millionaires, players' claims of loyalty often dissipate as soon as discussions start revolving around dollars.
Case in point: as the Jets easily inked a deal with Lowry, they were simultaneously trying and failing to reach a long-term deal with stubborn defensemen Jacob Trouba, who became the first Jet to ever take his team to arbitration and refused to budge from his untenable request for $7 million per year.
While the relationship between Jets' management and Trouba is becoming increasingly irreparable, the relationship between Jets' brass and Lowry is stronger than ever thanks to his accommodating nature. While calling anyone making nearly $3 million a year 'selfless' may be a bit of a stretch, it's not one to call him 'unselfish'.
Lowry Wants to Win
Some players may be tempted to go to bottom-feeding clubs to get a big payday, but not Lowry. Underpinning his choice to re-up with the Jets is his burning desire for victory. He believes his team is on the cusp of hoisting the Cup and wants to win so badly that he wants as many of the Jets' weapons to stay in Winnipeg as possible.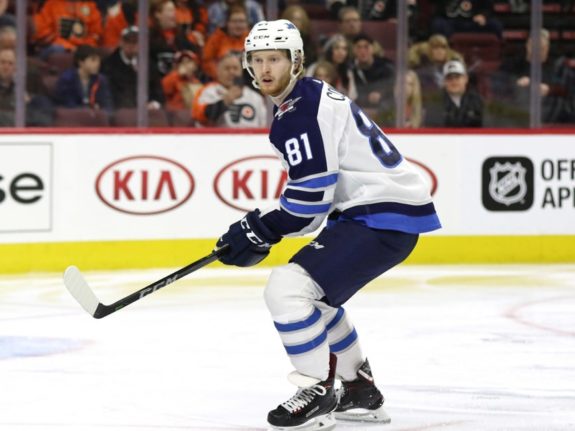 "I'm really excited to be back in Winnipeg for three more years," Lowry told Bell. "I really believe in this team and the opportunity we have to win. Building off what we started to accomplish last year and moving forward, I'm really looking forward to being able to be a part of it."
Lowry's been a big part, both in stature and impact. He's the type of pugnacious power forward every team needs. In his four years, he has dished out 783 hits and more than 200 in a single year twice. He's logged nearly 15 minutes per game and won a career-high 55.9 percent of his face-offs last year. The St. Louis product loomed especially large in the Jets' deep playoff run. With the role of fighting and enforcers waning, he embodies the new type of toughness the Jets have in spades — nasty and intimidating without resorting to frequent fisticuffs.
https://twitter.com/pflynnhockey/status/1020044714735800321
While Lowry isn't an offensive threat like Patrik Laine, Kyle Connor, Mark Scheifele, or Blake Wheeler, his offensive abilities appear to be on the rise. Despite playing only 45 games last year, he logged 21 points, and if healthy all year, would have easily topped his career-best 29-point 2016-17. If he can improve his output to near the 40-point mark, his already good contract will look like a steal.
Lowry's Value Goes Beyond the Numbers
Lowry is valuable because he puts the team before himself and values maximizing the chances to win a Cup more than the chance to maximize his paycheque. The same claim can't be made of every player. The Jets are lucky to have someone with that type of attitude.
"I love playing in Winnipeg. It's where I broke in and it's an organization that gave me an opportunity when they drafted me. I'm excited to be sticking around," Lowry told Jason Bell. "Moving forward, we are still a young team with a good mix of veteran players. We have a lot of belief in this group that we're close, and we have high expectations."
High expectations Lowry will have a big role in helping fulfill over the next trio of seasons.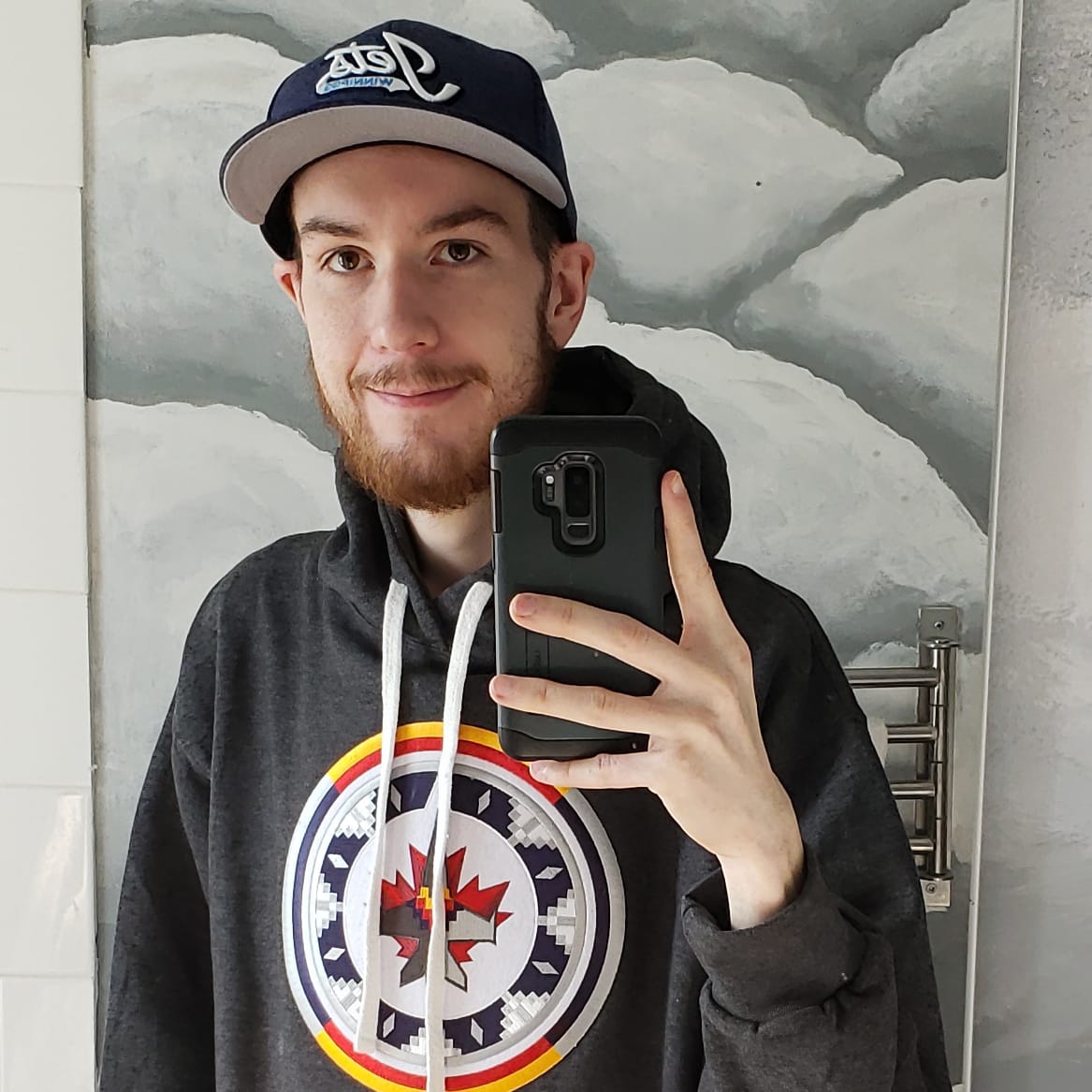 Declan Schroeder is a 27-year-old communications specialist and freelance journalist in Winnipeg, Manitoba. He holds a diploma in Creative Communications with a major in journalism from Red River College and a bachelors in Rhetoric and Communications from the University of Winnipeg.
Deeply rooted in the city's hockey culture, the original Jets skipped town when he was two and the 2.0 version came onto the scene when he was 17.