For the second time this season, the Colorado Avalanche won a game on the road but had bigger things to worry about.
Avs star Nathan MacKinnon left the game with 11:51 left the third period after a nasty check to the head from San Jose Sharks defenseman Joachim Blichfeld. Colorado went on to win the game 4-0, but MacKinnon didn't return.
It was a similar situation to the Jan. 31 game against the Minnesota Wild, where MacKinnon didn't come out for the third period with an upper-body injury. MacKinnon missed one game from that injury, but it remains to be seen if he'll miss any time after Wednesday's collision.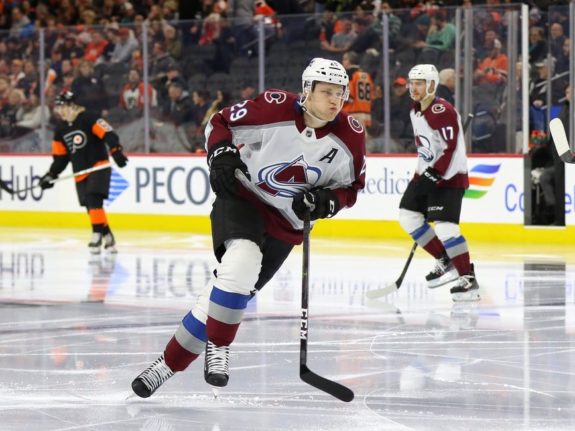 The injury also cast a shadow over a game that featured Philipp Grubauer's third shutout of the season. He made 25 saves in the victory. It was his second shutout in four starts against San Jose this season. He also blanked the Sharks in a 3-0 victory on Jan. 28 in Denver.
The 25 saves on Wednesday were the most Grubauer has had to make in any of his shutouts so far this season. He needed just 21 saves in each of his previous two.
Mikko Rantanen was involved in all four of Colorado's goals, notching two goals and two assists in the win. It was his first multi-goal game of the year, and his 10 goals on the season lead the team. Samuel Girard and Gabriel Landeskog scored the other goals, and Landeskog added three assists.
Top Line Rolls on Road Trip
The injury put a damper on a great road trip for Colorado's top line.
The trio of MacKinnon, Landeskog and Rantanen combined for three goals and six assists on Wednesday. Landeskog led the way in the victory with a goal and three assists. Over the last four games, those three have combined for a whopping seven goals and 11 assists.
Rantanen scored three goals and added five assists in the four games, which was a welcome sight for Avs fans. Entering the four-game stretch away from home, Rantanen hadn't scored a goal in seven games – and had just four assists over that span. He had at least two points in three of the four games.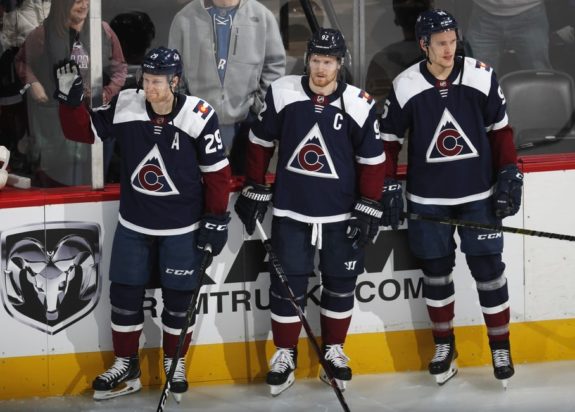 The four-point night on Wednesday tied Rantanen with MacKinnon for the team lead in points with 22. While his 10 goals lead the team, Rantanen now is third on the team with 12 assists behind MacKinnon (17) and Cale Makar (13).
Landeskog has also been electric, scoring a goal for the third consecutive game. All three goals were on the power play.
MacKinnon assisted on Rantanen's first goal on Wednesday, giving him two goals and two assists in his last four games. He also has a four-game point scoring streak, notching a point in every game of the road swing.
Girard Steps Up for Makar
Who says Makar is the top offensive defenseman for the Avalanche? It looks like Girard wants to throw his hat in the ring.
Girard tallied a third-period goal, giving him a goal in back-to-back games for the first time in his career. It gave him four goals on the season, tying a career-high. Girard has topped out at four goals in all three of his NHL seasons, and he's likely to eclipse that number with 36 games to go this season.
Makar played in the first game of the road trip – notching an assist in Colorado's 3-2 win in Arizona – but missed the last three games with an upper-body injury.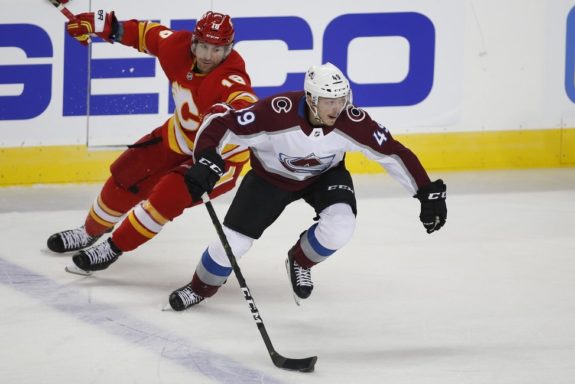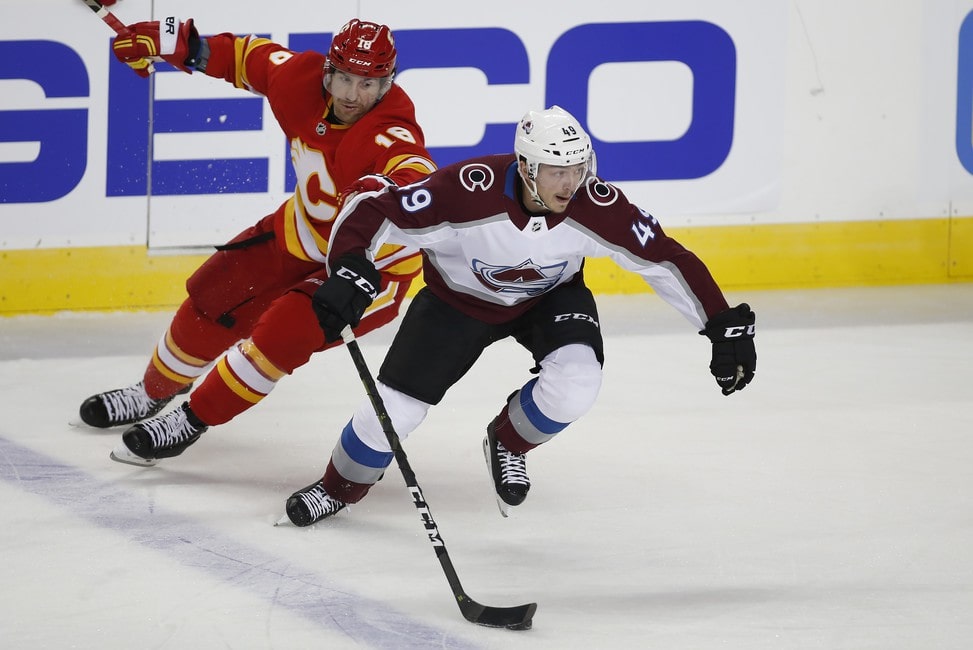 Girard stepped in splendidly. In the last three games, Girard racked up two goals and two assists while averaging more than 25 minutes of ice time.
On the season, Girard now has four goals and 15 points, putting him on pace for a career-high in points – despite the shortened season. The highest point total of his career came last season, where he notched 34 points.
Colorado, which doesn't have consecutive days off for the rest of the season, hosts the Anaheim Ducks for a pair of back-to-back games on Friday and Saturday. The next nine games for the Avalanche are all at home.
---
---
Lifelong storyteller and experienced hockey reporter that has covered everything from major juniors to the NHL. Worked for various newspapers across Minnesota and North Dakota, and now covering the Colorado Avalanche for THW.