Welcome to the Barracuda Brief, your weekly one-stop shop for updates on the San Jose Barracuda. The Barracuda Brief will feature recaps, team news, quotes and other features to keep you up to date on the American Hockey League affiliate of the San Jose Sharks. 
The Week That Was: San Jose Barracuda in First Place
No matter what type of hockey you are a fan of, the San Jose Barracuda played it all this week.
[miptheme_quote author="Head coach Roy Sommer on the bounce-back weekend effort by the Barracuda" style="boxquote text-right"]They're resilient. Everyone in there is a real coachable bunch. Everyone has that fever, no one in there wants to get a loss under their belt, which is good this time of year.[/miptheme_quote]
Are you a fan of optional defense and goaltending that reminds you of 1985? Check. In the mood for a nail-biting contest in which both goalies carry a shutout into the shootout and it comes down to the last shooter? Got one of those, too. Maybe just an old-fashioned shutout for the home team en route to a big win over the team right behind them in the standings? Yeah, the Barracuda can hook you up.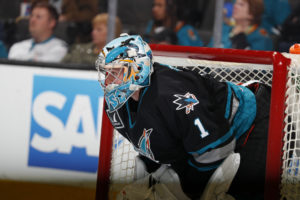 Most importantly, Troy Grosenick had a bounce-back week. After giving up six of the seven goals the Barracuda allowed in San Diego, the reigning AHL Goaltender of the Month pitched a pair of shutouts when the team returned to San Jose.
The Barracuda ended the week with a .722 winning percentage, the best in the entire AHL.
March 8: San Diego Gulls 7 – San Jose Barracuda 6 (OT)
The Barracuda played two of their three games this week against the team hot on their heels in the standings. Most would have thought it would be a close, tough contest with two talented teams on top of their games doing battle. Well, it did not work out that way.
The scoring chances were plentiful, they were excellent and they were converted with alarming frequency after Kevin Labanc's power play goal.
The Labanc goal seemed to supercharge the Gulls' bench when the referees refused to blow the whistle with Nic Kerdiles unable to get back on his skates after blocking a shot. It was painful to watch and the shot of adrenaline for the Gulls was palpable.
.@NicKerdiles sacrificing his body twice on the penalty kill in the first period. #LetsGoGulls pic.twitter.com/x3UET9i4nE

— San Diego Gulls (@SDGullsAHL) March 9, 2017
Over the next 10:04 of game time, the Barracuda and Gulls combined for seven goals. Tim Heed and Colin Blackwell got the other San Jose goals but the Gulls used two goals from Antoine Laganiere as well as markers from Sam Carrick and Corey Tropp to bring a 5-3 lead to the first intermission.
The two teams traded goals in the middle period. Nikita Jevpalovs potted his 12th of the year and Kerdiles amazingly was able to continue after his injury in the first to record his fifth of an injury-plagued year.
San Jose had been in this position before. Just three days earlier, they used a pair of third-period goals to force overtime before Danny O'Regan scored the overtime winner at SAP Center. Now down in San Diego, Barclay Goodrow and Timo Meier scored early in the third and Mantas Armalis, who came in for Grosenick to start the second period, shut the door in regulation, stealing a point for San Jose. In overtime, Tyler Morley's winner with 10 seconds left finally ended the comeback hopes of the Barracuda.
March 11: San Jose Barracuda 1 – Grand Rapid Griffins 0
The meeting between the Central and Pacific Division leaders did not disappoint. While there wasn't much scoring to be had with both Grosenick and Jared Coreau turning in stellar performances, both teams had solid looks on net but the two netminders were the story. Coreau took the hard-luck loss with 32 saves in regulation and one in the shootout on John McCarthy. The Griffins' goaltender gave up shootout goals to Kevin Labanc and Danny O'Regan, and only Matt Lorito could solve Grosenick, who made 22 saves in the shutout.
The game had the feel of a playoff match and the players noticed. "It was pretty tight, not many chances either way," said Grosenick. "All the credit goes to our defense and our forwards are getting back. When we play defense like that, we're tough to beat."
Quote of the game: "[Tonight's game] had everything, it was fast, the penalty kill was big, Grosenick was solid when he needed to be. Goaltending was good on both sides," said Sommer. "If you really look at it, both teams won tonight. It was that kind of a game. Those are the kind of games that show character."
March 12: San Jose Barracuda 3 – San Diego Gulls 0
Another day, another goose egg for @TGrose1 #SDvsSJ pic.twitter.com/LQ5cewHBIH

— American Hockey League (@TheAHL) March 12, 2017
The Tweet from the AHL says it all. Grosenick, just 15 hours after denying every shot on goal against the Griffins except a single shootout goal, kept the scoresheet completely clean coming as he blanked the Gulls after a rough outing against them in San Diego earlier in the week.
"It was a great effort tonight. That was a team waiting here to play us," said Sommer. "I like how we stuck with it for 60 minutes."
The Barracuda got second-period special team goals to build a 2-0 lead after 40 minutes of play. Danny O'Regan one-timed home a power-play goal to get the Barracuda out to an early lead. Fellow rookies Timo Meier and Kevin Labanc added the helpers as head coach Roy Sommer rolled on with a talent-laden 'kid' line. Just 65 seconds later, Buddy Robinson notched his 12th of the season, this one an unassisted breakaway shorthanded to beat Kevin Boyle.
https://twitter.com/zakkthebear/status/841043504935530496
"We were backchecking and 'Mids' [defenseman Jacob Middleton] made a good play on the blueline," said Robinson of his shorthanded goal. "We talked about holding the line today against these guys today, who have a lot of speed. Mids held the line and Rourke [Chartier] got a piece of it, he knocked it out to me. I saw an open lane, put my head down and skated hard. It was good to get rewarded there."
Barclay Goodrow added an empty-net goal to seal the victory and Grosenick made 25 saves and did not allow a goal at SAP Center all weekend.
Quote of the Game: "I broke them up for a few games and that's when we weren't playing well. I put them back together and three guys just know where each other are. They've been real steady for us, they have a high compete level and they can score. It's a line that just gets it done. They can play against anyone's big line, they can play against [any line] and get it done," Sommer said about the line of Adam Helewka, Chartier and Robinson.
The Playoff Picture
The Barracuda still are at the top of the AHL's Pacific Division table both in points (78) and winning percentage (.722). If the playoffs started today, San Jose would face the Bakersfield Condors in the opening round.
As teams jockey for position over the last 14 games, the end of the regular season is close at hand. The Barracuda look to be in command with only four games against teams currently in the playoffs: two against Bakersfield and one each against the Gulls and Ontario Reign. San Jose will play seven on the road and seven at home and conclude the season on April 15 in Bakersfield.

On the Schedule: Best Coast Hockey on Tap
The Barracuda stay in California for the week. Tuesday night's game will be down I-5 in Bakersfield to take on Jesse Puljujarvi and the Condors. San Jose is 5-1-0-1 this year against Bakersfield and could have a nearly-full roster as Tim Heed and Ryan Carpenter were returned to the Barracuda following their weekend with the Sharks. The Stockton Heat then arrive in San Jose for Friday night's tilt, then both teams will head east for a Saturday night game in Stockton.