The San Jose Barracuda begin their Western Conference Final match-up against the Grand Rapids Griffins this Saturday at the SAP Center in San Jose. Below are news and notes from around the Barracuda's practice this week.
Ghost of Draft's Past
The decisions made during the 2013 NHL Entry Draft are an interesting storyline to watch as the Barracuda and Grand Rapids Griffins face each other in the AHL's Western Conference Final. The San Jose Sharks and Detroit Red Wings made a trade in the bottom half of the first round as San Jose sent their 20th overall selection to Detroit for the 18th pick as well as a second rounder (58th overall) obtained from the Pittsburgh Penguins in the Douglas Murray deal. It was a steep price to move up just a couple of slots.
PIT's acquisition price on Douglas Murray is two second-round picks.

— Bob McKenzie (@TSNBobMcKenzie) March 25, 2013
The Sharks, of course, selected Mirco Mueller from the WHL's Everett Silvertips. Mueller in his three seasons as a professional appeared in 54 games for the Sharks with two goals and six assists. He's been a mainstay with the Barracuda the last two seasons with 112 games to his credit.
On the other side, the Detroit Red Wings used their selections to pluck Anthony Mantha from the QMJHL who posted 17 goals and 19 assists in 60 games with the Red Wings this year.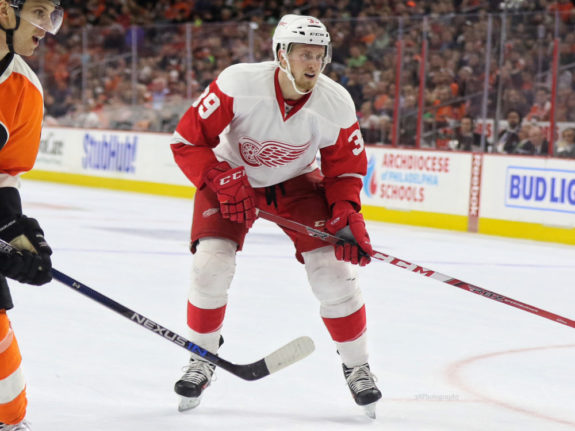 With the second-round pick, Detroit selected Tyler Bertuzzi from the OHL's Guelph Storm. Bertuzzi is the leading scorer this postseason with the Griffins, registering five goals and five assists in eight games and 30 points in 31 playoff contests over the last three seasons.
It is easy to armchair GM a move years later but remains a reminder of how history impacts an AHL Western Conference Final matchup three years later.
Ryan Linked to SHL's Malmo Redhawks
A recent story in Sweden caused a stir among Barracuda fans and those that follow the Sharks' prospect pool. Swedish reporter Johan Svensson spoke with Joakim Ryan about returning to Sweden to play in the SHL. According to the article, the Malmo Redhawks reached out to Ryan's agent about opportunities with the Redhawks next season.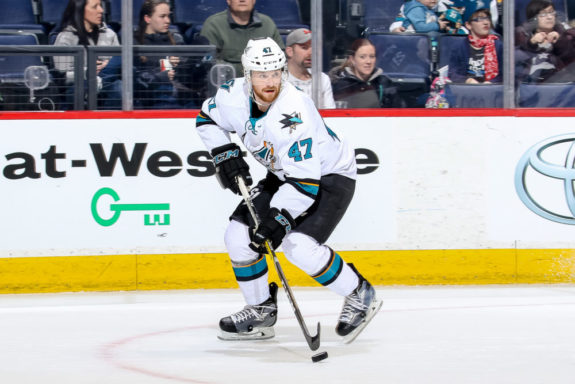 Ryan, tied for the scoring lead among Barracuda defenders this postseason, said that he plans to be in North America for the 2017-18 season.
"That's where I used to play when I lived in Sweden. So it's definitely something I'd be interested in. I've always wanted to do that at some point in my career, but probably not next year. I don't think that's the time. I feel like I'm close to maybe getting a shot in the NHL, so I don't really want to skip over to Europe right now."
Special Teams Key
In a not-so-shocking development, special teams play are essential for any level of hockey. For the Barracuda it will be which units show up against the Griffins that will impact the series.
In the opening round against the Stockton Heat, the power play was just about powerless with a single goal in Game 2 the only successful power play opportunity in 17 chances during the series. It was a mixture of the influx of players to the lineup, throwing off the cohesion that is an oft-forgotten part of the success on the man advantage. Add to the stellar play of Stockton's penalty killers, and commitment to blocking shots from the point and much of the struggles of the first round are explained.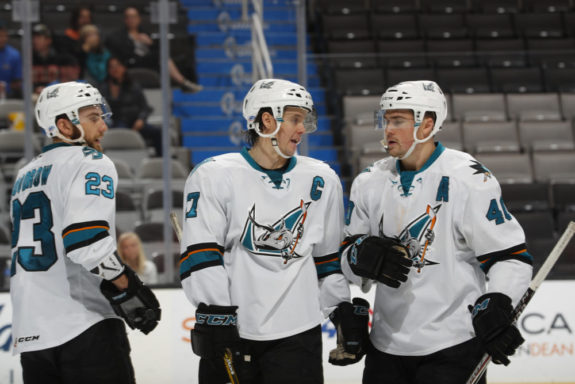 "I thought they did a really good job killing penalties they were super committed to blocking shots. It's hard to get shots through when guys are all over you like that. I think it was a product of Stockton being really good at blocking shots and us maybe not clicking as we'd like. We also had trouble in the break-ins against Stockton getting set-up but the last series it felt our break-ins were a lot more smooth and we just executed better against San Diego."
However, against the Gulls the goals flowed with six power-play goals in, yet again, 17 opportunities. The Barracuda certainly wouldn't mind the recent success continuing.
"Our power play got back to where it needs to be [against the Gulls]," Ryan continued. "Hopefully, we can keep that success against Grand Rapids."
The penalty kill has been stable at 88-percent with two shorthanded goals, the most important of which was Ryan Carpenter's series-winning shortie in overtime against Stockton.
"They're pretty similar to us. Actually, [the Griffins] put five forwards on it, so they have a lot of skill on their power play," said Barracuda captain John McCarthy. I think they best way to kill a power play like that is not even let it get set up in the first place. We have to work in the face-off circle to get clears, and our forecheck has to be good, so they can't hit the zone with any speed."
The Barracuda were perfect against the Griffins on the penalty kill in their two-game series this season. McCarthy said that while it will be helpful to review their game tapes, there are other things to look for as well.
Playoff Preview: #SJBarracuda's penalty kill went a perfect 7/7 in the two previous matchups against the Griffins pic.twitter.com/6J49T6p4RS

— San Jose Barracuda (@sjbarracuda) May 17, 2017
"We'll take a look at [the game tapes], we'll take a look at the last series they had because a lot of times things will change over the course of a season," McCarthy said of preparation that will happen before Saturday. "We'll take a look at their tendencies and how they like to set up and come up with a plan to defend it."
Injury Update
Marcus Sorensen skated with the Barracuda during an optional practice on Tuesday in a red no-contact jersey. He did not participate in the small ice drills at the end of practice and lacked some jump in his step. Both forwards took to the ice after Wednesday's practice in red sweaters and went through some skating drills. Head coach Roy Sommer categorized both as probable for Game 1 this Saturday. The full week off before the start of the third round is helping as well.
"We could have the full compliment of people by the weekend. That's why I'm glad we had a little bit of rest," Sommer said.
Covering all manner of hockey on the West Coast, including the San Jose Sharks, San Jose Barracuda, Stockton Heat, WHL, and random prospect news and notes with random SM-Liiga coverage tossed in as well.