Let's talk about the big fight that was on everybody's minds Tuesday night. No, not that one. And not the Johansen/Kesler beef either (which was inconsequential in this game). Let's talk about the McLeod/Boll scrap in the 2nd period, shall we?
In the midst of a 0-0 game, where the hometown Predators had control over everything but the scoreboard (or maybe they had control over that too), Ducks forward Jared Boll laid into Preds winger Harry Zolnierczyk for a hard but clean hit in the neutral zone that left Zolnierczyk in a crumpled heap on the ice. This was after Zolnierczyk was the victim of another hard but high hit earlier in the game from Ducks player Nate Thompson.
Seeing his teammate in that state, Cody McLeod immediately approached Boll and the two players dropped their gloves, each landing a few solid punches. Unfortunately for McLeod, he received an extra two minutes for instigating and a 10 minute misconduct. The penalties handed down by the referees ended up giving the Ducks a glimmer of life, as Corey Perry beat a shaky Pekka Rinne on a bad-angle shot to take a 1-0 lead.
Smart or Stupid?
It's easy to say that what McLeod did was stupid, especially while his team was in control, but it's a slippery slope and if he does nothing, maybe Boll and the gang continue to take liberties. Yet, there was no reason to give the Ducks any sort of momentum. At that point in the 2nd period, the Ducks were being out-shot 23-9, but goaltender John Gibson was keeping the game within reach.
It's a tale as old as time: one team gets grossly out-shot but hangs in there to keep the game close and take the lead. Sometimes all it takes is one shot to go in, and as Perry silenced the notoriously raucous Nashville crowd, it felt like the game was heading in that direction.
The refs may have given the Ducks a bit of a gift with that instigator call, which in a physical playoff series like this doesn't need to be made, but it's technically the right one. As NBCSN commentator Jeremy Roenick pointed out between periods, McLeod made an irrelevant player like Boll relevant in the game. Just look at Boll's reaction to the goal. He knew he did his job and McLeod took the bait.
The questionable hit and the ensuing fight marked a major shift in the game's narrative, but to their credit, the Predators never lost their grip on the game. If anything, it's as if Boll's hit led the Preds to shift their attention towards the other end of the ice where Gibson stood.
Ruffling Duck Feathers
One of the lingering questions from Game 2 in Anaheim was how Rinne would respond after a lackluster performance in which he looked shaky at best. Would he fare better in between his familiar Nashville pipes? For most of the game, Rinne didn't have to do much (chalk that up to good defense, which has been an absolute pleasure to watch this playoff season), but when Rinne had to work, he still looked a little flustered.
The goal by Perry is one he'd like to have back. His positioning wasn't solid, and he never quite found his footing in time before letting the puck slide under his right skate. Rinne had flashes of brilliance, however, including the two incredible (and frankly, underrated) leg pad saves that prevented the puck from crossing the goal line before the net came unhinged.
Huge that the on-ice call was no goal, because boy is that close. #Preds #ANAvsNSH pic.twitter.com/dqiFQqXfLF

— Thomas Willis (@TomAWillis) May 17, 2017
But it was Gibson who became the story of the night. He was clearly the better goaltender up to that point, and the best player in a Ducks sweater. While his team broke down and gave up quality scoring chances, Gibson made key saves, like this one, to keep the Ducks above water. He was the reason the Predators power play was indecisive and stagnant. When the goaltender's play can make shooters second guess themselves, he's doing his job.
For the third period, the Predators game plan was obvious (painfully obvious, if you're Gibson): crash the net at all costs. On the game-tying goal by Philip Forsberg, Viktor Arvidsson went to Gibson's blue paint and was pushed on top of him by Ducks defenseman Sami Vatanen. The Ducks weren't happy, but the goal was correctly allowed. When a goalie is playing as well as Gibson, sometimes you have to get a little ugly to force the puck in the net.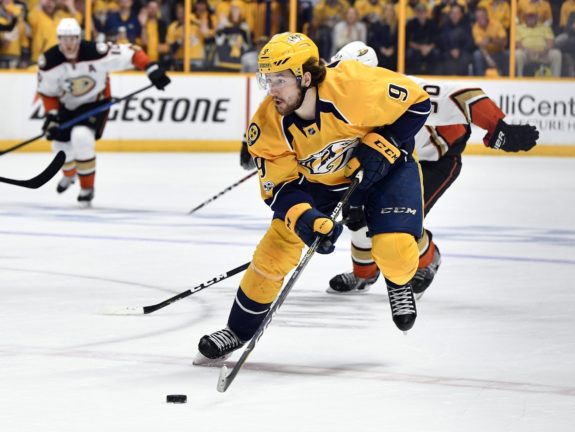 From there, the Predators, especially the high-flying Johansen line, became Gibson's worst nightmare. Their shots came in high and hard, and their skaters stormed their way into Gibson's grill. Two straight goals were waived off because the Predators came into contact with Gibson. While it wasn't the Preds' intention to injure Gibson with collar-high shots or the constant plays to the net, it rattled the 23-year-old goaltender. Between that and the rising crowd noise, Nashville wasn't going to let Gibson get comfortable.
Defense Shines Once Again
In the third period, the tables finally turned, and the Predators were in Gibson's head due to their hard-nosed play. Now that they knew they could beat Gibson, the Preds were playing with a scary confidence that had the Ducks on their heels.
Give Assistant Coach Phil Housley all the credit (and promotions) he deserves for Nashville's defense. He's coached his defensive corps to buy into a solid two-way game. Ekholm, Subban, Josi, Ellis… all of these players were dictating the play. Ekholm, in particular, was flying all night, creating space with his skating. The Predators' defense is like the rear wheels of a car propelling it forward, and when everything clicks and the offensive lines start pouring on the pressure, the team becomes more like a monster truck and there's little you can do to stop it.
On the game-wining PP goal, it was Mattias Ekholm who ripped a shot on net, which Gibson never really saw due to Arvidsson's net-presence, and his defensive partner Roman Josi was there to will the puck into the yawning net.
That's just a smart read by Josi and the result of even smarter coaching by Housley. The Predators did their job. They didn't panic. They stayed patient, adjusted their game plan and forced the issue.
"We're a confident team," Josi said. "We know what we can do in the room … Nobody panicked. We knew we played a good game, and we had a lot of chances, a lot of shots. We need to play the same way, and they're going to go in some time."
The Predators outshot the ducks 40-20 to earn their 10th straight playoff win at home, dating back to 2016, and their lethargic power play, which was 0 for 11 until Josi's goal, finally figured out a way past Gibson. Sometimes all you need is one.
Jeff Yerger covers the Nashville Predators for THW. He once accidentally drew on one of Henrik Lundqvist's suits (just don't tell Hank). He is also a sucker for IPAs and saxophone solos. Find him on Twitter @jyergs.