Barry Trotz will make his first return to the Music City as head coach of the Washington Capitals Friday, in what is promising to be an emotional game. After spending 15 seasons as bench boss of the Nashville Predators, general manager David Poile announced shortly after last season, the organization would not offer Trotz a contract extension. The Predators missed the playoffs for the second consecutive year, which ultimately led to organization's decision.
Trotz, who was with the Predators since Day 1, has a 557-479-60-100 (W-L-T-OT) regular season record with the club. The native of Winnipeg, Manitoba also led the team to six playoff appearances since 2004 but has only advanced to the second round twice (2011 and 2012).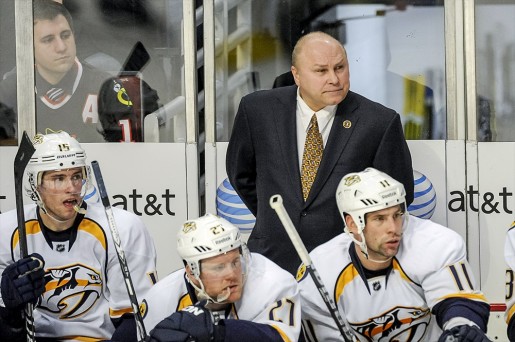 Peter Laviolette replaced Trotz as head coach for the 2014-15 season. Laviolette has quickly turned a team that last season narrowly missed the playoffs into the best team in the NHL this season and on pace for 121 points, a club record. The turnaround was expected, but not of this magnitude and certainly not as fast as it occurred.
Meanwhile in his first year at the United States' capital, Trotz has led the Capitals to a 23-11-8 record, stting in a playoff spot at third in the Metropolitan Division. It was expected that Trotz's defensive mentality would clash with Capitals' captain Alexander Ovechkin's offensive mentality. Instead, their relationship has been a non-issue and Trotz has been quoted saying the two have a good relationship.
Ovechkin is fifth in the League in goals (22), has 37 points and a +10 rating. Last year, Ovechkin had a -35 rating, despite 79 points.
As of Wednesday morning, Nashville is ahead of Washington in the standings by just eight points.
Tuesday afternoon, the Capitals hosted a conference call with Trotz.
On returning to Nashville: 
"I'm excited to get back home and see some friends and family. I'm excited. It's good to go back home."
On whether or not old routines will take over heading into Bridgestone Arena:
"I think I'm okay now. Looking at [David Legwand's incident], those natural instincts took over. We are going to be at game 44 when we get to Nashville, so I'm pretty acclimatized that I'm a Washington Capital and we're the visitors. I laughed at that when I saw Leggy go into the wrong penalty box. It's just habit. When I first got here, I would fumble and say 'Nashville' instead of 'Washington' in some of my interviews. I think I'm past that [now].
"It will be a full circle for me."
On how much Trotz meant to the city and franchise:
"Being a rookie head coach in a non-traditional market, when I look back on it now, it was crazy. David [Poile] had a lot of faith in me and I have to give a lot of credit to Dave. When I went there, I was just trying to survive through the first year. I never thought in a million years I'd be there that long. I found a home in Nashville."
On transition from Nashville to Washington, D.C.:
"Originally, it was a bit difficult. Big change; a different type of city. I live in Arlington, a great community just past the Potomac. I've never been over here. I'm a lot closer and it is easier to get to the city and Verizon Center than it was to get to Bridgestone Arena, believe it or not. I can walk to work. The transition at first was difficult with being up-rooted but has actually been quite exciting. Meeting new people, new area, different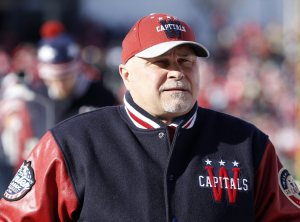 lifestyle, being in the Eastern Conference is different than being in the Western Conference, all those things. I've got great people to work with on a team that is embracing what we're trying to do here."
On whether or not coaching philosophy has changed:
"A lot of the cultural things are Pred-like. We've always done things in a first class way and have a family atmosphere. A lot of the stuff we built in Nashville evolved to Washington. I hired a little different coaching staff. Obviously, I brought Mitch Korn (goaltending coach) and Lane Lambert (assistant coach) from Nashville. I brought in Todd Reirden, a defensive specialist from Pittsburgh. I retained Blaine Forsythe, who's been running the Caps' power play for years.
"A lot of the concepts are the same. Adding new staff, you get new and fresh ideas. You try to take what you like and have done in the past and what they suggest is needed on this team and you create a hybrid of Nashville-Washington-Pittsburgh."
On Filip Forsberg's emergence:
"He's a terrific player. We knew he was a terrific player when we first saw him. Last year, and Filip will tell you, he was very weak physically. A lot of stand still in his game. A year older, a year more mature. He's very similar to Andre Burakovsky. They'll have good stretches and have bad stretches. It is a man's game and is sometimes hard to deal with. I watch Filip now, he's moving his feet well. He plays with a lot of confidence. You can see how much stronger he is. That great release is still there. His scoring skills are off the chart. I'm really happy for him. That one extra year, just knowing what they need to do, is so important as a player."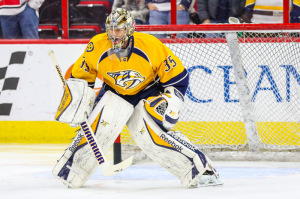 On Pekka Rinne's success:
"I'm so happy for Peks. There are a lot of people you come across in this business that you love as your own child, and Pekka is one of them. I don't know how close he was to not playing again since he had not performed at the level he was capable of. It was very concerning. He got the chance to play in the World Championship and had some success, then has the whole summer to feel confident and get that hip strong and flexible.
"To me, he is the MVP of the League. I haven't seen a goaltender better in the League. I haven't watched as much as I should, so I may be disrespecting a couple goaltenders. But to me, he's been the best game-changer in the League this year. He should get a lot of Vezina Trophy and MVP votes."
On clarification of how close Rinne was to no longer playing again:
"Well, you had the hip surgery then the infection. The infection is lethal. It chews up the bone. The doctors gave him first class treatment. There is a mental block you have to get through, and he was able to get through it. You don't know if a player is going to be quite the same. There are a number of goalies who have had hip surgery and are never the same. Pekka had the surgery and he might be having his best season ever right now."