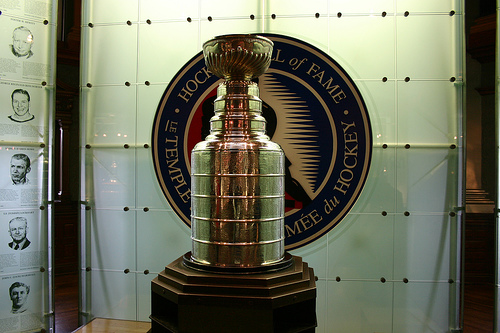 Two years ago, the NHL marketing team took sports commercials to a new level by introducing the "History Will Be Made" ad campaign. Combining some of hockey's most famous moments with the iMovie "reverse" effect, the commercials highlighted everything that makes playoff hockey what it is.
Last year, the History Will Be Made theme continued. This time, the ads didn't have the reverse effect, but they introduced an awesome piano melody that more than made up for it. These commercials, similar to their 2010 counterparts, showcased historic moments and memorable calls, but also showcased more recent NHL wonders. See the Flyers commercial below.
Perhaps the best part of these commercials were the parodies they inspired. The Puck Daddy blog compiled the best of them and some are being made still to this day.
But now that it's 2012, the NHL has (understandably) chosen to go in a new direction with its playoff ads. Trying to target the "casual fan,"  who apparently can't recognize historic moments but can recognize the Stanley Cup, this year's commercials feature a dry narrator, generic shots of teams and players, and the tagline "Because It's The Cup."
Wow. Exciting.
No.
Let's examine the content of the Henrik Lundqvist commercial posted above.
Lundqvist enters an arena in a suit and signs some autographs. It's mentioned that Lundqvist looks better in pads, a fact which many women will surely be willing to argue against. Then he puts on his goalie pads, as if the ad is trying to say, "SEE!?"
He makes a bunch of saves, while the narrator talks about how beautiful "butterflies" are. Transition to the goalie coming out of the tunnel. "Because he's famous in the world's most famous arena." Really, you don't say?
Lundqvist makes more saves and then gives an emphatic fist pump. "Because it's good to be king." I get it. Because his nickname is "King Henrik." Clever. I'm sure the casual fan picked up on that.
More generic shots of the goalie skating around and saluting the crowd. Cut to a shot of him during the anthem. "Because King Henrik only has one more thing to conquer."
"Because it's the Cup."
End. 
Every ad – whether it features the Sedins, the Boston Bruins, or even the inexplicable "two halftimes" – contains these seemingly generic, emotionless images and narratives. There is no passion, no feeling, no excitement. The ads evoke nothing.
Part of the appeal of History Will Be Made is that it showed that the games we were about to watch truly meant something and that these once-in-a-lifetime images were possibly taking place right before our eyes.
Because It's The Cup does not illustrate these points, nor do I think it will grab the attention of a casual viewer. The average basketball fan isn't going to watch that Lundqvist commercial and suddenly realize that he wants to watch the playoffs because King Henrik looks better in pads than in a suit. (Again, this is ridiculous. Also: I have a girlfriend.)
You know what would have grabbed that casual fan's attention?
The ridiculousness of "MAY DAY!" "MAY DAY!" "MAY DAY!" 
Emotion: that's what the Stanley Cup Playoffs are about. It's the longest, most arduous two-month journey in professional sports.
Why? Because it's the Cup.
Too bad this year's commercials won't let you know about that.
Geoff Rosenthal is a junior at Cornell University majoring in Industrial and Labor Relations. Blogging about the Avalanche since 2007, he has been a fan since the beginning.