One season ago, the signing of Matt Beleskey generated a positive buzz throughout the Boston Bruins' loyal fanbase, but as the B's progress through the 2016-17 season, fans seem to have forgotten he is still on the roster.
Beleskey has escaped the minds of Bruins' fans due to a knee injury he suffered against the Buffalo Sabres which has sidelined him since Dec. 3. On Friday, he participated in his first practice with the team since the injury and will travel with the Bruins to Detroit on Wednesday. He recently stated:
"It's kind of hard when you come to the rink, guys are gone, you're just here by yourself. It's good to see some faces and be around the team. The healing process went pretty well, the trainers did a great job."
From Career Year to Ugly Start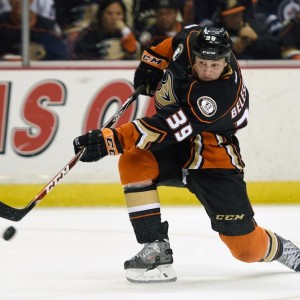 Positive vibes surrounded the signing of Beleskey because he plays aggressively, was coming off a career year with the Anaheim Ducks where he scored 22 goals and was signed to a healthy cap hit of $3.8 million. In 2015-16, his first season as a Bruin, Beleskey recorded 15 goals and a career-high of 37 points. Although more was expected, fans were still optimistic about what he could bring to the team.
However, he got off to a rocky start this season when he did not register a point through the first 10 games. On top of not scoring, Beleskey appeared sluggish and was not playing well. After being benched, he stepped up his game through the next 14 contests by scoring two goals and five points but was not at the top of his game.
Roster Move Coming
Since Beleskey's injury, forwards Frank Vatrano and Anton Blidh have joined the Bruins roster, leaving GM Don Sweeney with an interesting decision to make because Beleskey's return will put the Bruins over the 23-man roster limit.
Sweeney has numerous options when it comes to making room for Beleskey, but one stands out as making the most sense. The most likely scenario is for Sweeney to reassign Blidh to the Bruins' AHL affiliate team in Providence.
Blidh, a 21-year old rookie, has played in 18 NHL games this season registering one goal and one assist. He has played well in his fourth-line role, but he could benefit from some more ice time in the AHL to refine his overall game. Playing in the AHL will be much better for his development than sitting in the press box watching the big club most nights.
Fitting In
The big question when Beleskey returns is, where will he fit into the Bruins' lineup?
At the start of the season, Beleskey was placed on the third line with Riley Nash and Jimmy Hayes, a combination that hurt the Bruins far more than it helped. Eventually, he received new linemates in the form of Austin Czarnik and Ryan Spooner. While this trio had more success there was still a significant lack of production from the third line.
Tim Schaller occupies Beleskey's former spot on line three and has registered 12 points in 41 games this season. It would not be surprising to see Beleskey join Dominic Moore and Czarnik on the fourth line in his first handful of games, but he will be looking to reclaim his spot as a top-nine forward.
His spot in the lineup ultimately comes down to which version of Beleskey shows up. If we see the player that looked slow, lost and could not score in the first 10 games, he will have a hard time wrestling his spot back from Schaller. However, if the Beleskey that plays physically and shoots well emerges, then he will have no problem nailing down his former third-line position.
Moving Forward
Considering Beleskey has missed 22 games with the knee injury, he will need a few games to come up to speed. The Bruins are hoping he can find his stride quickly and start contributing at the rate he is expected to. The Bruins have 35 regular season games remaining. If Beleskey suits up for all 35 and registers 15 points, his return should be considered successful.
Claude Julien and the Bruins' faithful are hoping the 2015-16 version of Beleskey shows up to play because if he can get back to contributing offensively, the Bruins' chances of solidifying a playoff spot will improve.
Anthony Pagliarulo is a Boston Bruins contributor for The Hockey Writers. He is a Massachusetts native and a Worcester State University alumni. You can follow Anthony on Twitter @APags87.