When former Kings General Manager Dean Lombardi traded for Ben Bishop prior to the trade deadline, it created a buzz throughout the hockey world. The deal came just a day after their All-Star and two-time Stanley Cup Champion goaltender Jonathan Quick returned from a serious groin injury that cost him 59 games. The trade begged the question: why do the Kings need two All-Star caliber goaltenders?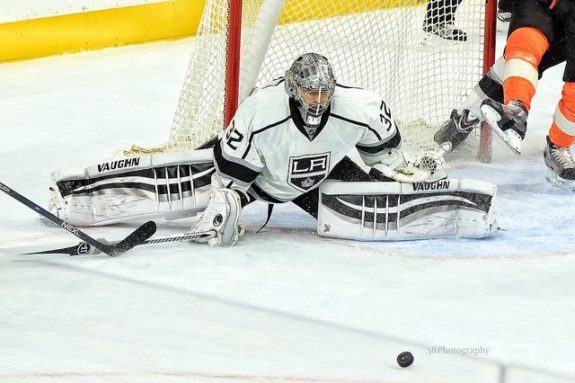 To an extent, the timing of the deal made sense. The Kings were just three points out of the second wild-card position and had a busy month and a half ahead of them with 21 games remaining, including four sets of back-to-back games.
With Quick returning from a serious injury that he has dealt with in the past, acquiring Bishop to lighten the load was justified. The issue with the trade is that Peter Budaj was phenomenal while filling in as the starter in Quick's absence. Budaj had also been statistically better than Bishop at that point of the season.
Budaj and Bishop Before the Trade
Budaj appeared in 53 games for the Kings prior to the February 26 trade, while starting 51 of those games. He compiled a 27-20-3 record with a 2.12 GAA and a .917 SV%. Tack on an impressive seven shutouts, and you're looking at an All-Star worthy season from a guy who spent the previous two seasons in the AHL. Sure, the Kings' defensive style of play helped his stats, but Budaj was impressive nonetheless.
Bishop, on the other hand, had started in 31 of his 32 appearances for the Lightning while splitting time with Andrei Vasilevskiy prior to being dealt. He had compiled a 16-12-3 record with a 2.55 GAA and a .911 SV% while posting a single shutout. Nothing can be taken away from Bishop, who had an 112-48-16 record over 186 appearances from 2013-2016. He also garnered two Vezina Trophy nominations during that span and was named an All-Star in 2016. With such a successful track record, it is easy to understand why Bishop was a target for Lombardi.
Along with Budaj, Lombardi gave up arguably the Kings' top junior defensive prospect Erik Cernak, who just won an OHL Championship. Lombardi also gave up a seventh-round selection and a conditional second-round pick in 2017. The Kings came away with Tampa Bay's fifth-round pick in 2017 in addition to Bishop.
Lombardi said at the time of the trade, "We want to make sure we have a No. 1 goalie in there every night." The problem is that Budaj had been playing more like a no. 1 guy than Bishop.
Budaj and Bishop Following the Trade
Bishop started six of his seven appearances for the Kings following the trade. Over those seven appearances, he recorded a 2-3-2 record with a 2.49 GAA and a .900 SV%. Not the greatest stat line for a guy who was supposed to be a second no. 1 goalie for the Kings.
In Tampa Bay, Budaj made seven appearances in which he was 4-3-1 with a 2.80 GAA and a .898 SV%. One has to figure those numbers would have been prettier playing in the Kings' defence-friendly system.
The acquisition of Bishop was a desperate plunge by Lombardi to sneak into one of the two wild-card spots. It ultimately ended in the Kings going 9-8-4 in their remaining games and missing the playoffs by 8 points.
Recent Trade Impact
It's hard to imagine this trade didn't impact the demise of Lombardi at the conclusion of the season. The trade added to a seemingly growing list of questionable trades over the past few seasons. The Andrej Sekera and Milan Lucic trades are two that come to mind.
http://gty.im/657112650
Had Lombardi not acquired Bishop, the Kings would still have a top-end defensive prospect in Cernak. Instead, the Kings' already short list of high-quality prospects is now shorter. Now all that's left is a fourth-round pick acquired from the Dallas Stars in exchange for Bishop, who was ready to become a free agent on July 1 if new GM Rob Blake didn't make a move.
Cernak's departure becomes more significant if the Vegas Golden Knights draft Brayden McNabb or Derek Forbort in the upcoming expansion draft, leaving the Kings with a depleted amount of depth at defence.
New Kings President Luc Robitaille and General Manager Rob Blake now have an extremely important offseason ahead of them. They will try to avoid a complete rebuild and bring the Kings back to their Stanley Cup Contender status once again.
I currently intern with the London Knights Hockey Club in a marketing role as I complete the sports and recreation program at Lambton College. I previously interned with the Sarnia Sting Hockey Club in a communications role, where I wrote many pieces for the team website.