The San Jose Sharks' top players receive tons of flack for not getting the job done. However, compared to their peers, most of the Sharks' top players (could argue all of them) take up significantly less of the salary cap than their counterparts on other teams. The Sharks were able to add pieces like Paul Martin and Joel Ward this offseason because of the team friendly extensions signed by the following players.
Joe Pavelski- Cap Hit: $6 Million
Joe Pavelski has been a glue guy for years, often referred to as a Swiss Army knife for his ability to play in all situations, as a center and as winger. Even without Joe Thornton, Pavelski is a 55-60 point player on his own and with him the last two years he has turned into a 37-41 goal scorer with 70-80 points. A $6 million cap hit is an absolute steal for everything that he does on the ice. His contemporaries offensively like Rick Nash, Alexander Ovechkin, and Corey Perry all range from making either $1.5 million to $3.5 million more. Not to mention none of these guys bring the versatility and intangibles that Pavelski does. Penalty killing and faceoff abilities only add to the steal that Pavelski is at $6 million.
Logan Couture- Cap Hit: $6 Million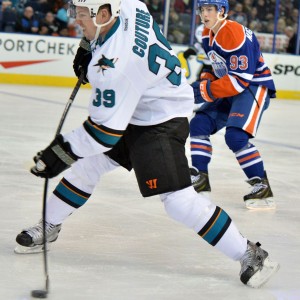 If not for injury, the lockout and a down year from linemate Patrick Marleau this past season, Logan Couture would have five straight 30-goal seasons to open his career. Even still, goal totals of 32, 31, 21 (lockout shortened season), 23 in 65 games, and 27 last year is a phenomenal scoring rate. And remember he is scoring at this rate without Thornton passing him the puck at even strength. Couture centers his own line in tough minutes and every season before 2014-15, he came out on top of his tough matchups. Last season Couture had a career high in points with 67 but defensively had his worst year with a 47.4% goals-for. The two seasons prior though he crushed it at even strength with percentages over 60. Couture is one of the best second line centers in the league, far better than the Ducks' Ryan Kesler who just signed a long-term deal for $6.8 million per season despite being only good for 45-47 points the last two seasons.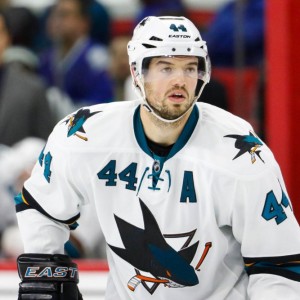 Marc-Edouard Vlasic- Cap Hit: $4.25 Million
Despite providing average offensive totals from the blue line, Vlasic is such a stud at even strength defensively that he is widely considered one of the top-25 defensemen in the world. He was brilliant for team Canada in the 2014 Olympics and many believe the Sharks would have gotten past the Kings in the 2014 playoffs had Vlasic not been injured early in Game 5. Of all NHL defenseman who played at least 1,000 even strength minutes in 2013-14, Vlasic was seventh in the league with a 60% goals-for. Comparable defensemen like the Rangers' Marc Staal and Dan Girardi both make more than Vlasic. Staal makes $5.7 million, and Girardi make $5.5 million. There is also St. Louis' Jay Bouwmeester who makes $5.4 million. You could make the case Vlasic is more valuable to the Sharks than either these three are to their respective clubs yet he is making anywhere from $1.15 to $1.5 million less than each of them. Vlasic also makes less than new teammate Paul Martin who signed as an unrestricted free agent at a cap hit of $4.85 million.
Joe Thornton- Cap Hit: $6.75 Million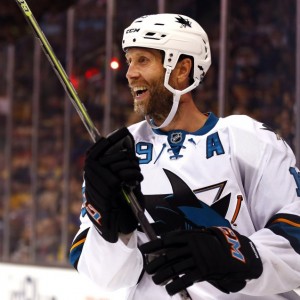 Joe Thornton is going to be 36-years old this season but he has shown no signs of slowing down. Even with the team around him in shambles, and his general manager criticizing him and stripping him of the captaincy, Thornton still finished with 65 points last season. He was yet again the engine running the Sharks' deadly 21.6% power play which was the sixth best in the league last season. Thornton's possession numbers remained elite. His Corsi-for led the team and was sixth best in the entire NHL. Thornton's goals-for percentage fell below 50% but that can be at least partially attributed to having a worse team around him, including a revolving door on his left wing. Thornton's PDO of 97.3 also indicates some bad luck. Thornton is still the same elite passer he's always been but the Sharks' shooting percentage with Thornton fell dramatically last season. In 2013-14, the Sharks converted on nine percent of their shots on net with Thornton on the ice. This past season it was under seven percent. Considering the Sharks' previous low shooting percentage with Thornton is 7.7%, the 6.7% number from 2014-15 is bound for a bounce back. All of Thornton's top-line center contemporaries: Pavel Datysuk, Ryan Getzlaf, Jonathan Toews, Anze Kopitar and Claude Giroux have a higher cap hit, some of whom make as much as $1.5 million more per season.
Others:
Patrick Marleau is also making just $6.75 million and if he can bounce back to his 30 goal, 65-70 point form that's another team friendly deal. If Brent Burns can clean up his defensive game, $5.75 million for a power-play monster and top-four minute eating puck mover is less than many of his contemporaries like Mike Green, Alex Pietrangelo and Kris Letang. While yours truly was a big critic of general manager Doug Wilson for last season's debacle, credit goes where credit is due. Wilson has put together contracts that have given the Sharks plenty of cap flexibility. This offseason that flexibility has been put to far better use than years past (contracts for Adam Burish, John Scott and Mike Brown come to mind), and San Jose's new found depth at both ends of the ice has yours truly incredibly confident about the upcoming Sharks season.