It's finally starting to feel like hockey season. Costumes, candy, and the carving of pumpkins have given way to the chill, dry November air and hockey fans, writers, and critics alike now have a full month's worth of NHL action to digest and analyze.
With each NHL team having played at least 10 games, a number of themes have risen to the surface. One of those themes seems to be the immediate impact a number of rookies are having on their teams.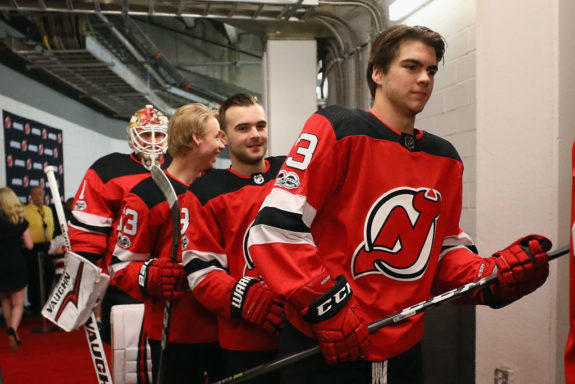 Some of these rookies have scored more than others – heck, some have yet to score at all – but each of these 31 rookies has one thing in common: being the best rookie on his respective team through the month of October.
Criteria
Before we get started, it is necessary to define exactly what an NHL rookie is. According to the 'Hockey Operations Guidelines' page on NHL.com, in order for a player to be considered a rookie, he must not have played in more than 25 games in any season, and must not have played in six or more games in each of any two preceding seasons in the league. In addition, any player who is over the age of 26 by Sept. 15 of the season in question is not considered a rookie.
To make the list, most of these players had to simply produce higher numbers than their fellow rookies. However, the number of games played is also considered. For example, a player who produced three points in three games might be selected over a rookie who produced six points in twelve games.
It should also be noted that some NHL rosters feature more rookies than others. This means there are a handful of players who became their team's de facto rookie of the month.
Best NHL Rookies: Atlantic Division
The Atlantic Division plays host to a number of show-stopping rookies. Of the eight-man herd, five of the Atlantic Division's top rookies are defensemen.
Charlie McAvoy, D – 1G / 7A / 8P (10GP)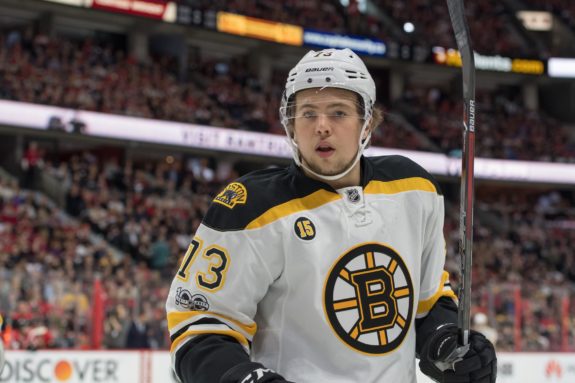 Team: Boston Bruins
Age: 19
Analysis: Boston Bruins fans had high hopes for Charlie McAvoy entering the 2017-18 season, and he has yet to disappoint. With a goal and seven helpers, the 19-year-old finds himself with eight points through ten games in October. Having been up and down the lineup throughout his debut season, McAvoy has finally elevated to the top defensive pairing where he is slated alongside Bruins' captain Zdeno Chara who doubles his age as a 40-year-old.
Victor Antipin, D – 0G / 1A / 1P (8GP)
Team: Buffalo Sabres
Age: 25
Analysis: Though he's only managed an assist in his first eight NHL games, Victor Antipin earns himself the title of 'Buffalo Sabres' Rookie of the Month' due to the fact that coach Phil Housley has yet to start another true rookie this season. Nonetheless, Antipin has pitched in and was slated on the Sabres' bottom pair with Justin Falk who returned from an injury at the month's conclusion.
Martin Frk, RW – 3G / 2A / 5P (13GP)
Team: Detroit Red Wings
Age: 24
Analysis: Martin Frk notched his very first NHL points with a goal and assist in his Detroit Red Wings debut en route to tallying four points in his first four games this season. He has since gone cold, going eight games without a point before logging an assist against the Arizona Coyotes on Halloween. The most compelling stat of all? In October, the Red Wings went 4-0-0 in games in which Frk produced a point and were 2-6-1 in the nine games he has failed to do so.
Connor Brickley, C – 2G / 5A / 7P (8GP)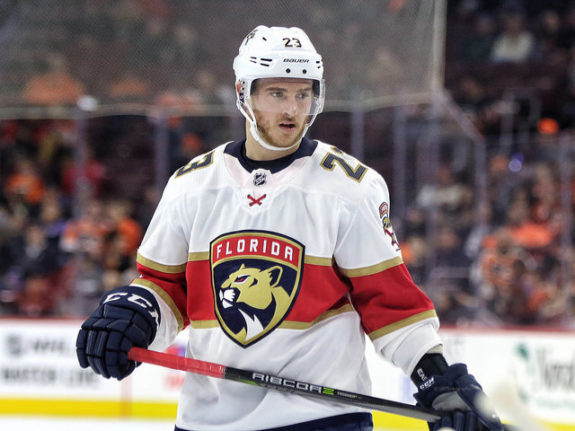 Team: Florida Panthers
Age: 25
Analysis: The Florida Panthers are happy to have Connor Brickley on board. In 23 games last season, Brickley only managed five points. During the month of October, however, the 25-year-old has registered seven points in just eight games. Unfortunately, the Panthers' penalty killer suffered an injury and missed the last two games of the month against the Red Wings and Tampa Bay Lightning.
Charles Hudon, LW – 2G / 2A / 4P (12GP)
Team: Montreal Canadiens
Age: 23
Analysis: Charles Hudon may only have four points through 12 appearances but he leads Montreal Canadiens' rookies in production so far this season. In fact, he notched three of those points – two goals and a helper – in an 8-3 win over the Ottawa Senators. He's averaged just under 14 minutes per game to start the year, splitting time between Montreal's third and second lines.
Thomas Chabot, D – 0G / 2A / 2P (3GP)
Team: Ottawa Senators
Age: 20
Analysis: After being sent down to the AHL prior to the start of the season, injuries to a slew of defenseman allowed Thomas Chabot the opportunity to show the Ottawa Senators what he was made of. In his first three outings, he has tallied two assists, leading some to believe he will remain in the NHL for the foreseeable future.  He has a plus-minus rating of plus-four while averaging 13:40 in time on ice per game.
Mikhail Sergachev, D – 4G / 7A / 11P (13GP)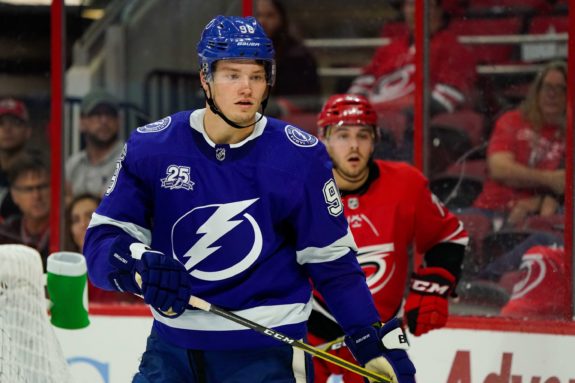 Team: Tampa Bay Lightning
Age: 19
Analysis: Mikhail Sergachev was traded to the Tampa Bay Lightning in exchange for Jonathan Drouin. Through his first 13 games with the team, the 19-year-old rookie looks quite comfortable, displaying exactly why the Lightning organization was willing to part with Drouin for him. Other NHL players with four goals and seven assists in October? Paul Stastny, Mike Hoffman, and Vincent Trocheck, all of whom are forwards.
Andreas Borgman, D – 1G / 2A / 3P (10GP)
Team: Toronto Maple Leafs
Age: 22
Analysis: Prior to notching two assists in his first nine games, Andreas Borgman scored his first NHL goal in Halloween Eve's matchup against the San Jose Sharks. Averaging 15:03 per game this month, The Toronto Maple Leafs defenseman should be happy with his stats. He has also been credited with 25 even-strength hits and eight even-strength blocks in the month of October.
Best NHL Rookies: Metropolitan Division
The Metropolitan Division is home to some of the top rookie producers through the month of October, as well as our only goaltender.
Sonny Milano, LW – 5G / 1A / 6P (11GP)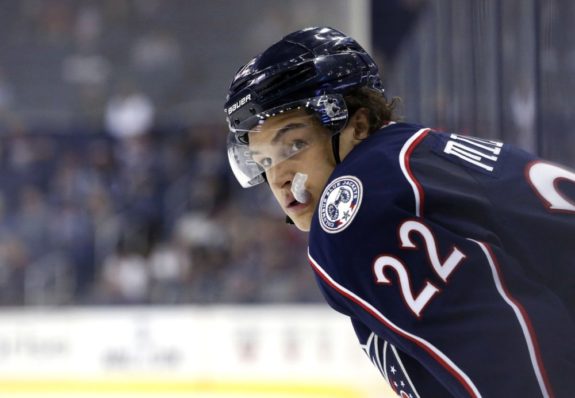 Team: Columbus Blue Jackets
Age: 21
Analysis: Scoring four goals in his first three games this season, Sonny Milano quickly became prevalent on many hockey fans' radars. His six points rank fifth among Columbus Blue Jackets players this season, all but one of which occurred at even strength. Milano's ice time has steadily decreased, however, from 15:55 in Columbus' first game of the season to down to just over three minutes in Oct. 28th's game against the St. Louis Blues. Though he was a healthy scratch against the Bruins on Oct. 30th, Milano led the Blue Jackets in goals through the month of October.
Haydn Fleury, D – 0G / 2A / 2P (10GP)
Team: Carolina Hurricanes
Age: 21
Analysis: Haydn Fleury notched two assists in a win over the Toronto Maple Leafs on Oct. 26th. While the 21-year-old defenseman has averaged 13:44 over the course of his ten October appearances, he logged 17:33 in the Carolina Hurricane's shootout loss to the Anaheim Ducks. He was a plus-two on the night, adding to a rating of plus-four on the season.
Jesper Bratt, LW – 4G / 6A / 10P (10GP)
Team: New Jersey Devils
Age: 19
Analysis: Jesper Bratt has averaged a point per game so far for the New Jersey Devils, outshining first overall pick of the 2017 NHL Entry Draft Nico Hischier. Will Butcher, the 23-year-old defenseman who tallied 11 assists in the month of October, and Taylor Hall, another first overall pick, are the only two Devils players with more points than Bratt this season. The 19-year-old's four goals, two of which were game-winners, rank him second among the Devils this year.
Mathew Barzal, C – 3G / 4A / 7P (12GP)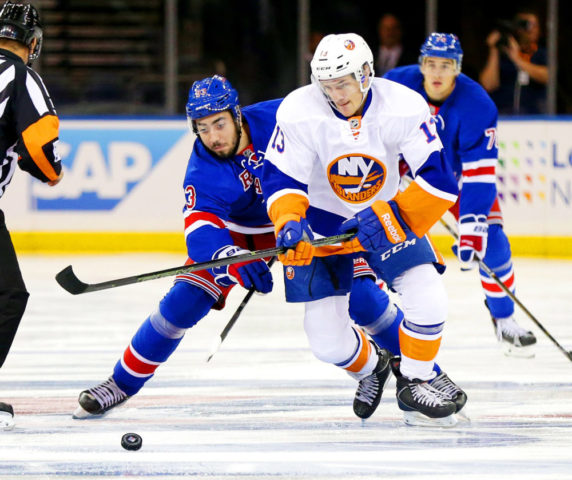 Team: New York Islanders
Age: 20
Analysis: Mathew Barzal's next chapter with the New York Islanders was highly anticipated, and he has become a huge reason why the team rested at 7-4-1 entering November. He's ranked sixth on the team in production with his three goals and four assists in 12 games, averaging 15:28 in time on ice. The center's face-off percentage of 47.4% trails only Casey Cizikas and John Tavares. Barzal has received ample time on the Islanders power play though he has only produced an assist while on the man advantage.
Boo Nieves, C – 0G / 3A / 3P (3GP)
Team: New York Rangers
Age: 23
Analysis: In the second NHL game of his career and first appearance for the New York Rangers this season, Boo Nieves tallied three assists against the Arizona Coyotes. That speaks for all of his production throughout his three October games, yet it has him on a point-per-game pace this season. Heading into November, Nieves will be looking to make a permanent home for himself in New York's lineup.
Nolan Patrick, C – 1G / 2A / 3P (9GP)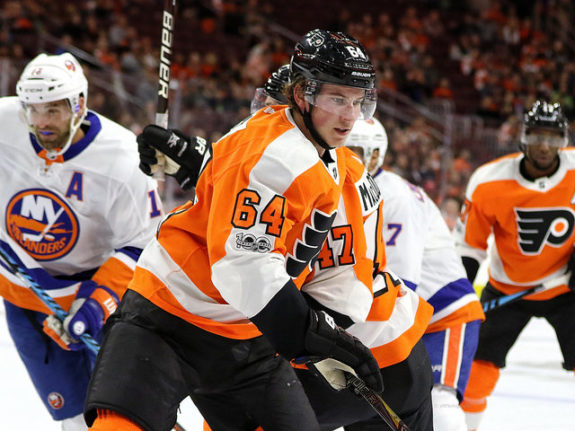 Team: Philadelphia Flyers
Age: 19
Analysis: When the struggling Philadelphia Flyers selected Nolan Patrick with the second overall pick of the 2017 NHL Entry Draft, high hopes and expectations were set. He netted his first NHL goal on Oct. 10's loss to the Nashville Predators though he was a plus-two on the night. Patrick was placed on the injured reserve list last week and his expected return is unknown at this time.
Casey DeSmith, G – 4.29GAA / .800SV% / 0-0-0 (1GP)
Team: Pittsburgh Penguins
Age: 26 
Analysis: Casey DeSmith was the only active Pittsburgh Penguins rookie through the month of October. The goaltender got his first dose of NHL action on Oct. 29 against the Winnipeg Jets. DeSmith did not start the game but gave up three goals on 15 shots, dishing him a 4.29 goals-against average and a .800 save percentage. He was sent back down to the AHL the following day, but the appearance itself was enough to award DeSmith the Penguins' rookie of the month in October.
Jakub Vrana, LW – 3G / 3A / 6P (12GP)
Team: Washington Capitals
Age: 21
Analysis: Jakub Vrana has been slated alongside Alex Ovechkin on the Washington Capitals' first line for the majority of October. His three goals and three assists this season match his 21-game totals from last year. This is partially due to the fact that he was receiving just over 11 minutes of ice time per game during the 2016-17 campaign while he has averaged exactly 14 minutes this season. But Vrana has certainly looked strong coming out of the gate this year. It will be interesting to see if he can continue to produce in November.
Best NHL Rookies: Central Division
You can count many of the Central Division rookies' number of appearances on two hands, but don't underestimate the production these youngsters are capable of in such a short period of time.
Alex DeBrincat, RW – 1G / 4A / 5P (12GP)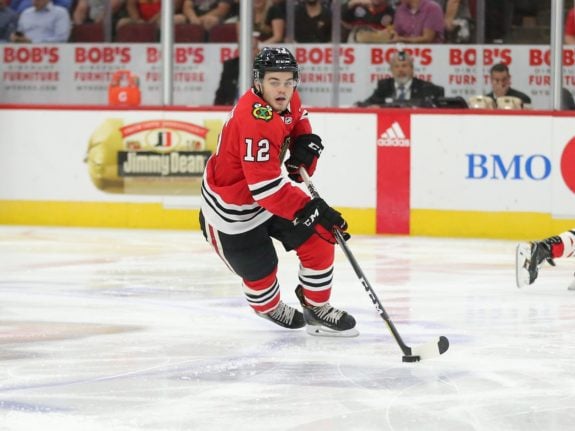 Team: Chicago Blackhawks
Age: 19
Analysis: Often times a 19-year-old's unseasoned game and size makes for a two-way ticket to and from the NHL, but that has not been the case for the Chicago Blackhawks' Alex DeBrincat. Five points in 12 games is no small feat for a rookie in today's game, and the former OHL player of the year has done just that, even contributing to the team's power play unit with two assists. Watch out for this guy, as he already notched a goal to kick off the month of November.
Alexander Kerfoot, C – 3G / 3A / 6P (11GP)
Team: Colorado Avalanche
Age: 23
Analysis: The Colorado Avalanche have seen success in October thanks to contributions from unlikely sources, one of those being Alexander Kerfoot. The center tallied six points in 11 games in October leading all Avalanche rookies. He had a two-goal, one-assist night in a loss to the St. Louis Blues on Oct. 19, scoring with the man-advantage as well as at even strength. He averaged 14:41 in time on ice that game – well above his average of 12:36 so far this season.
Remi Elie, LW – 0G / 0A / 0P (9GP)
Team: Dallas Stars
Age: 22
Analysis: Remi Elie tallied seven points in 18 games last season, but has yet to produce at all in nine appearances this year. Still, the Dallas Stars saw no production from any of their rookies in October, so Elie is somewhat of a de facto rookie of the month. He's only registered eight shots on goal this season averaging 9:22 in ice time per game, a stark difference from his average of 15:38 during the 2016-17 campaign.
Luke Kunin, C – 2G / 2A / 4P (7GP)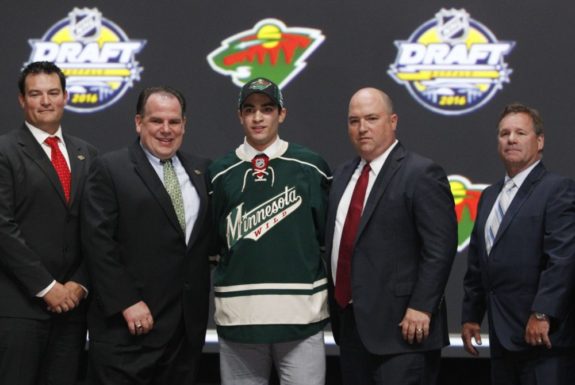 Team: Minnesota Wild
Age: 19
Analysis: Luke Kunin's October performance was something of an answered prayer for the Minnesota Wild given the injuries to Nino Niederreiter, Mikael Granlund, and Zach Parise who is expected to miss eight to ten weeks following surgery. They will need Kunin to continue to produce if the Wild plan on bettering their October record of 4-4-2 this month. That hasn't seemed to be a challenge for the 19-year-old thus far, even scoring a shorthanded goal against the Islanders on Oct. 26.
Samuel Girard, D – 1G / 2A / 3P (4GP)
Team: Nashville Predators
Age: 19
Analysis: In just four games this October, 19-year-old defenseman Samuel Girard has stolen the show in Nashville. He netted his goal and two assists in the first two NHL games of his career, which is above and beyond expectations for a rookie his age. Fans and critics in Nashville don't know what to make of the stud defenseman, but the debate about his hockey future is on: If the Predators don't want Girard's contract to kick in, they will have to send him down to the juniors before he appears in ten NHL games.
Vince Dunn, D – 2G / 0A / 2P (13GP)
Team: St. Louis Blues
Age: 21
Analysis: Most defensemen pile on the helpers when it comes to offensive statistics, but St. Louis Blues' rookie Vince Dunn likes to do the scoring himself. Registering 24 shots on goal, he rifled two goals in 13 games this October, leading Blues' rookies in production. His average ice time of 16:43 has hovered above 17 and even 18 minutes later on in the month, showing that Dunn is quickly becoming a defenseman St. Louis is keen to lean on.
Kyle Connor, LW – 2G /3A /5P (6GP)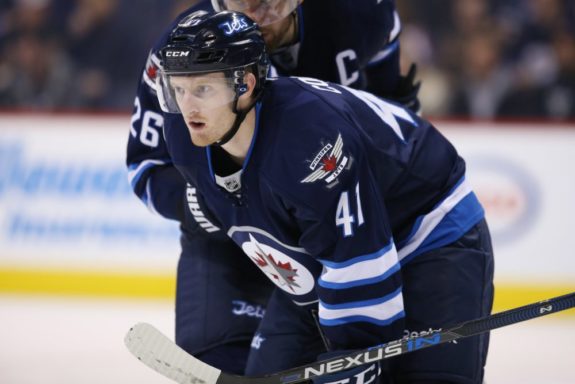 Team: Winnipeg Jets
Age: 20
Analysis: On the Winnipeg Jets' production board, Kyle Connor is ranked seventh, trailing and leading players who have played in at least five games more than he has. His two goals and three assists in six games is an improvement upon those same stats in 20 games last season. With top-six minutes, Connor has been averaging 18:21 in time on ice compared to just over 12 minutes last year. The first round pick's speed and skill are undeniable as he looks to continue contributing to the Jets' successes in November.
Best NHL Rookies: Pacific Division
These Pacific Division rookies combined for 21 goals in October, more than any of the other divisions highlighted in this article. It is, however, a group that is heavily dominated by forwards.
Kalle Kossila, LW – 1G / 1A / 2P (2GP)
Team: Anaheim Ducks
Age: 24
Analysis: In just two games this October, the Anaheim Ducks' Kalle Kossila is a point-per-game player, notching an assist against the Flyers on Oct. 24 and a goal against the Panthers on Oct. 26. In fact, the game he scored in was the only game he shot in, shooting twice for a shooting percentage of 50%. Kossila logged just over six minutes in his first game this season but quickly earned his way to double-digit minutes.
Clayton Keller, C – 9G / 6A / 15P (13GP)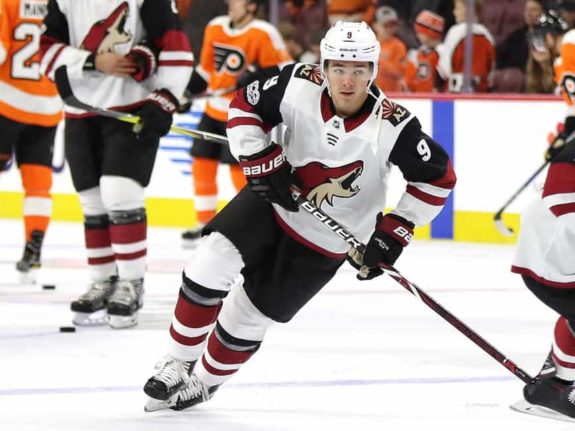 Team: Arizona Coyotes
Age: 19
Analysis: Clayton Keller is one of the youngest rookies in the NHL but he is by far the most impressive through the month of October. In fact, he is the NHL's rookie of the month. In 13 games, the Missouri-native has registered a whopping nine goals and six assists, putting him on pace for a 56-goal, 37-assist season. Keller leads the Coyotes in scoring this season, the 22-year-old Max Domi trailing him by five points. Despite all the scoring, the Coyotes were 1-11-1 in October and could use a pointer or two from the 19-year-old Keller.
Mark Jankowski, C – 0G / 0A / 0P (4GP)
Team: Calgary Flames
Age: 23
Analysis: Though he is facing possible reassignment barring Jaromir Jagr's return to the Calgary Flames, Jankowski has indicated he's beginning to feel comfortable at the NHL level. With no points to show for himself, however, Jankowski's days in the NHL could be numbered, at least this year. He has averaged just 10:49 in ice time this season and has won 50% of the draws he's taken in the NHL.
Kailer Yamamoto, RW – 0G / 3A / 3P (7GP)
Team: Edmonton Oilers
Age: 19
Analysis: Kailer Yamamoto recorded an assist in three straight games this October against the Senators, Hurricanes, and Blackhawks. As the Edmonton Oilers' first-round pick of the 2017 NHL Entry Draft, those in Alberta are pleasantly surprised to see Yamamoto making such an immediate impact. The Oilers are, however, reaching decision time on the 19-year-old as his NHL contract won't kick in until he has appeared in ten contests.
Adrian Kempe, LW – 6G / 3A / 9P (12GP)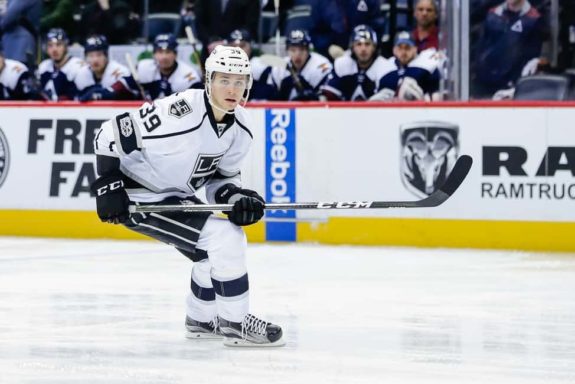 Team: Los Angeles Kings
Age: 21
Analysis: Adrian Kempe trails only Anze Kopitar, Dustin Brown, and Tyler Toffoli on the Los Angeles Kings' production leaderboard. In other words, he is one of the main reasons why the Kings are one of the best teams in the league this season. Scoring six goals and three assists, all at even-strength, Kempe worked his way to a plus-eight rating in the month of October. He's registered 18 shots on goal so far this year, resulting in a shooting percentage of 33.3%. Want to be even more impressed? Kempe accomplished all of this while averaging just 11:48 in ice time per game.
Joakim Ryan, D – 0G / 0A / 0P (9GP)
Team: San Jose Sharks
Age: 24
Analysis: Joakim Ryan didn't register his first NHL point until Nov. 1, but his outstanding defensive performance for the San Jose Sharks cannot be justly summarized in a short graf. A rough outline of his contribution can be: Ryan logged 21:24 of ice time in his first NHL game, and has recorded over 18 minutes in six October appearances. Better yet, head coach Pete DeBoer plans to keep Ryan on the top pair with Brent Burns for the foreseeable future, and a rookie defenseman would be lucky to find higher praise than that.
Brock Boeser, RW – 2G / 7A / 9P (8GP)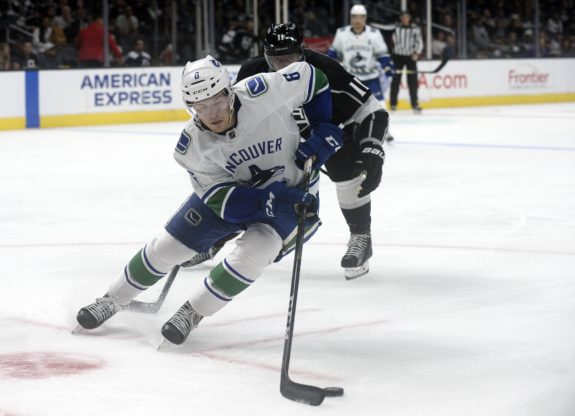 Team: Vancouver Canucks
Age: 20
Analysis: Brock Boeser recorded his first NHL hat trick against the Penguins on Saturday night, but that was before he put up two goals and seven helpers in the month of October. This may come as a surprise, but the 20-year-old is averaging more than one point per game and has obviously shown no signs of slowing down. The Vancouver Canucks, who were expected to finish at the bottom of the barrel to start the year, went 6-3-2 in the month of October, and Boeser was a huge part of that. In fact, he led all Canucks in points and assists in the year's spookiest month.
Alex Tuch, RW – 3G / 3A / 6P (7GP)
Team: Vegas Golden Knights
Age: 21
Analysis: After getting shut down in six games last season with the Wild, Alex Tuch got a fresh start with the Vegas Golden Knights this year and has cashed in his check for three goals and three assists in the month of October. He's contributed not just at even strength but on the powerplay as well. Tuch ranks third in points among Golden Knights who failed to appear in all of the team's 11 games in October.
Conclusion
Well, there you have it. Every NHL team's best rookie through the month of October. It's a long, grueling season, and it seems that the majority of these rookies will have the opportunity to play in their team's full campaign.
What do you think of this list? Were these truly the best rookies in the month of October? Let us know in the comments below.