In May 2018, Marian Hossa of the Chicago Blackhawks announced, "I will not be playing hockey anymore" to the Chicago Tribune. This didn't come as much of a surprise, for he didn't play the 2017-18 season due to a skin condition. What came as a surprise to Blackhawks fans was when his contract was traded to the Arizona Coyotes. Although Hossa is technically a Coyote now and will retire as one, he will always be remembered as one of the best Blackhawks of the modern era, and most likely will become a member of the Hockey Hall of Fame.
Related: Meet the 2020 Hockey Hall of Fame Class
Here are three of the best moments of his career with the Hawks.
First Stanley Cup Win
For two straight seasons, it appeared that having Hossa on your team's roster was a curse. He appeared in the 2008 Stanley Cup Final in a Pittsburgh Penguins sweater, and they lost to the Detroit Red Wings. He returned to the Final in 2009 in Wings sweater, but they lost to the Penguins.
In the summer of 2009, the Hawks took a leap of faith and signed Hossa to a 12-year contract, and it didn't take long to realize it was one of the best decisions they could have made. Hossa made his third straight Stanley Cup appearance with more hunger for the trophy than ever. He hoisted the Stanley Cup for the first time while ending the Hawks' 49-year championship drought.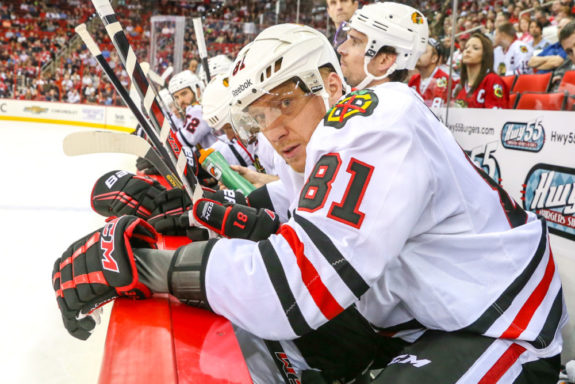 Hossa quickly became essential to the Hawks' offensive core. During the 2010 Cup Final, Blackhawks general manager Stan Bowman knew he made the right decision signing Hossa, as he told ESPN.com, "I think more than anything, he played a style that we were trying to instill in some of our younger guys, which is he plays both ends of the ice," said Hawks GM Stan Bowman. "And I think we've seen that in the playoffs here. He's contributed offensively, but I think when you watch the game closely, you notice that he does all those little things so well, and I think it has rubbed off on some of our younger players. We got a lot of talented young offensive guys here. You want them to be surrounded by players that play hockey the right way."
He went on to win two more Stanley Cups with the Blackhawks in 2013 and 2015, cementing his legacy as a champion.
500 Goal Milestone
In his 19-season career, Hossa scored a total of 525 goals and 609 assists. In his eight seasons with the Blackhawks alone, he tallied 186 goals and 229 assists. One of this most significant milestones was when he reached the 500-goal mark. Only 45 NHL players including greats like Wayne Gretzky and Stan Mikita have reached this milestone – Hossa became the 44th player to reach it on Oct. 18, 2016, against the Philadelphia Flyers.
Hossa told Mark Lazerus of the Chicago Sun-Times, "To tell you the truth, it just felt great," Hossa said. "Great reception from the fans. I'm just glad to be part of the company and thank all my teammates who I've played with." Teammate Artem Anisimov also chimed in on Hossa's achievement, "It was so exciting. I'm just so happy for him. He scored 500 goals. It's a huge milestone for him and when I saw the puck cross the line, I was so happy from inside, and I just screamed like a kid, you know?"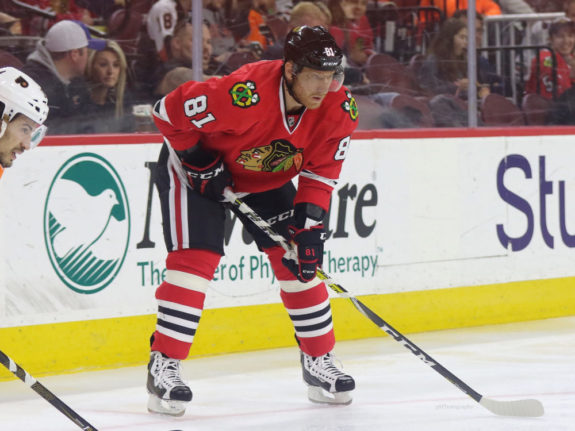 As a member of one of the NHL's most exclusive clubs, there is no doubt that Hossa will enter the Hockey Hall of Fame after his official retirement. To make matters even more impressive, discussions of his Hockey Hall of Fame eligibility began long before he scored his 500th goal.
His Best Goal
As stated before, Hossa scored plenty of amazing goals in his NHL career. In fact, he will retire as the 35th-best goal scorer in NHL history. When it comes to his best goal, there isn't much debate. His overtime goal in Game 5 of the 2010 Western Conference Quarterfinals is legendary and eventually led to him raise his first Stanley Cup. The iconic goal even earned the title of the "Defining moment of Marian Hossa's Blackhawks career" by NBC Sports Chicago.
Like every great goal, there's a great story behind it. The Hawks were down 4-3 against the Predators and Hossa was serving a five-minute major penalty. When it looked like the Predators were going to take Game 5 and a 3-2 series lead, Patrick Kane scored with 13 seconds left in the third period. The United Center erupted as the Hawks were going to overtime and had a chance to take the very pivotal Game 5. Four minutes into overtime, Hossa rushed out of the penalty box and scored the game-winning goal.
This goal helped the Hawks go on to win the series and eventually the Stanley Cup. It also solidified Hossa's reputation as one of the best goal-scorers in the league. He spent the rest of his career living up to that sentiment.
Hossa's contract will expire in a few years before he can officially retire. He may retire as a Coyote, but he will always be remembered for his success with the Blackhawks. Even though his retirement is not official yet, talk amongst fans of his number being retired has already begun.