Enough is enough. It has happened too many times now. Corey Crawford has become a weight wrapped around the Chicago Blackhawks' ankle when it comes to the postseason.
I know it was the opposite in the regular season, I do. Corey Crawford had an excellent regular season when the team in front of him did not, and the Canadian netminder deserves a lot of credit for getting the Blackhawks to the position they are currently in.
I also get the argument for going back to him. Over a huge sample size this season, Corey Crawford was fantastic. Logically, he should be the guy who gives the Blackhawks the best chance to win on a given night. But it just hasn't worked out this way. After a miserable showing in game 1, head coach Joel Quenneville rightly turned to backup goalie Scott Darling, who was nothing short of dazzling in stopping all 42 shots he faced to lead Chicago to a come from behind 4-3 overtime victory.
Dazzling Darling
Scott Darling's winding path to the National Hockey League has been well documented. But the man is not just a feel good story. In fact, he's far from it. Every shred of evidence that is available to us at this point in time suggests that he is a high quality NHL goalie. Between 2013-2014 and 2014-2015, Darling posted a sparkling .930 save percentage in 52 AHL games. In this year's NHL regular season, he put up a .936 in 14 games.
Obviously that is a very small sample size. You don't need to tell me that a goaltender's performance by nature is subject to high numbers of random variance and luck. This is an established fact.
But the fact of the matter remains. In this series so far, Corey Crawford has been horrendous, while Scott Darling is the sole reason that the Blackhawks aren't down 2-0 heading back home.
History Repeats Itself?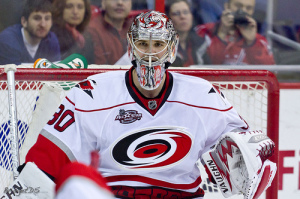 Some may remember in 2006, when Martin Gerber turned in a solid season to backst0p the Carolina Hurricanes to the #2 seed in the Eastern Conference. In their first round matchup against Montreal, Gerber was a disaster in the first two games of the series. Carolina found themselves down 2-0 heading into the hornet's nest in Montreal, with it seeming all but decided that they would be facing a disappointing ending to their excellent season.
Fast forward to June, where Cam Ward held the Conn Smythe trophy as the playoff MVP mere moments before he hoisted the Stanley Cup. Martin Gerber's save percentage that regular season was .906, which was a much better number then than it is now. Cam Ward's? .882, an abysmal mark.
The point being that sometimes riding the hot hand in the playoffs isn't just the right move, it's the only move. The playoffs are themselves a small sample size, where very weird things can happen. I'm of the belief that confidence plays a much bigger role in the performance of hockey goaltenders than almost any other position in all of sports.
Corey Crawford's confidence has got to be destroyed, while I'm sure Scott Darling's couldn't be any higher
https://twitter.com/DaveLozo/status/589252465536552960
Scott Darling looks pretty amazing right now. First playoff game. Coming off the bench in 3-0 game. On the road. This has been impressive.

— Second City Hockey (@2ndCityHockey) April 16, 2015
Corey Crawford may well be a better goaltender than Scott Darling in a vacuum. In fact, he almost definitely is. That does nothing to change the fact that right now Scott Darling is at the peak of his career in terms of both performance and confidence, while it's hard to imagine that Corey Crawford has had a much lower point in his.
The Chicago Blackhawks must turn to Scott Darling in Game 3. If he falters, you go back to Crawford. If he doesn't and he keeps doing what he's doing, well, we may just have a Cam Ward-type run for the ages from a goalie who already has such a great story behind him. And wouldn't that be something?