Welcome to our second monthly installment of The Hockey Writers Chicago Blackhawks roundtable! In our first roundtable, we discussed line combinations, the state of management, and our opinion on bringing back Marcus Kruger. Today Meghan Dillon, Greg Boysen, and Gail Kauchak give their view on three more questions regarding the Blackhawks. Let's get started.
The 11th annual Blackhawks Convention is in the books (July 27-29). One of the highlights of this special weekend was goaltender Corey Crawford participating in the festivities. Until now, Crawford hasn't been seen in public since February, when he partook in a morning practice but then disappeared again after an injury that's been shrouded in mystery. The last time the infamous netminder actually played for the Blackhawks was on Dec. 23, 2017.
In his time with the press at the convention, Crawford didn't exactly build confidence when he stated he still wasn't at 100%, nor had he started skating. It looks like nobody, not even Crawford himself, has a timetable for when (or if) he will be ready to return. The recent signing of veteran Cam Ward from the Carolina Hurricanes could be more important than we think. Which leads us to our first question.
Can the Blackhawks Make the Playoffs With Ward?
Meghan Dillon
Since I haven't seen Ward play in a Blackhawks jersey yet, I'm not entirely sure. I think it's possible, but mostly if everyone else steps up their game as well. Last season's failings weren't entirely to blame on the loss of Crawford.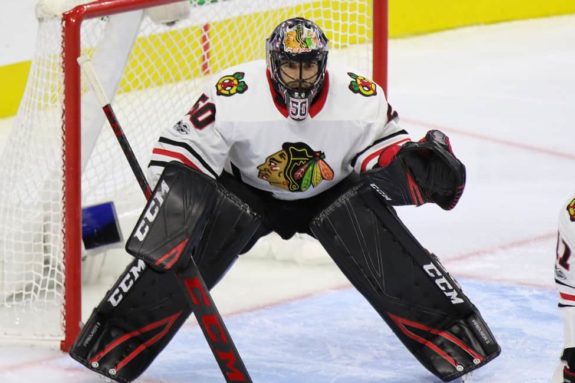 To look on the bright side, it's still possible Crawford can come back next season without making an appearance opening night. Being able to appear in public at the convention and speak is a huge step in the right direction, especially if he is suffering from post-concussion issues, as speculated. People forget that the regular season is six months long and that's plenty of time for him to come back. Crawford could return to the net in December and make an epic comeback, and the Hawks could end the regular season at the top of the division.
Greg Boysen
Not a chance! The current Blackhawks roster will struggle to make the postseason, even with a healthy Crawford in goal from day one. The Jets and Predators are not going anywhere, the Blues improved big time over the summer, and the Avalanche are a tough, young team.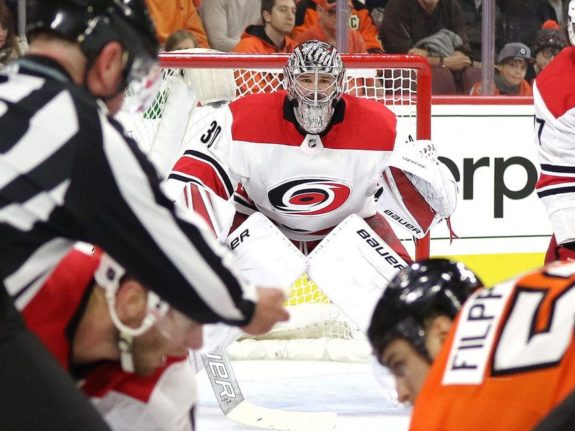 Ward is old, bad and slow and that is not a good combination to play behind an average, at best, defense. Unless Duncan Keith and Brent Seabrook find a time machine and return to their 2013 form, this blue line is going to struggle in front of whichever goaltender they are in front of.
Gail Kauchak
Anything's possible, right?! Maybe the Blackhawks are gonna come out flying on offense and score goals like there's no tomorrow. Perhaps the blue line will find some stability and actually be okay this year. Maybe Ward can pull a Devan Dubnyk and make an incredible career comeback. Aw, who are we kidding. The Hawks are doomed.
---
Everyone knows it would behoove the Blackhawks to bolster their blue line this offseason. The problem is that's easier said than done. Even with lots of cap money to work with, the available trade options are limited, and they would probably come at the price of a top forward like Alex DeBrincat or Nick Schmaltz. Blackhawks fans should brace for the fact that the season could very likely begin with the current roster. With that in mind, we can make some educated guesses about how the defensive pairings may pan out.
Top Defensive Pairing With Current Roster & Why?
Meghan Dillon
This is going to be an odd answer, but I really want to see Keith or Seabrook with Henri Jokiharju — that is if he makes the team. Jokiharju has been watching Keith and Seabrook play for nearly half his life. There is no doubt he has taken some influence from them and it would be interesting to see how he would work with either of them. If we get lucky, he might be a younger version of the two. More realistically, I'd like to see Connor Murphy on top with Keith or Seabrook. He has a lot to prove, and what better way for him to prove himself than with the best?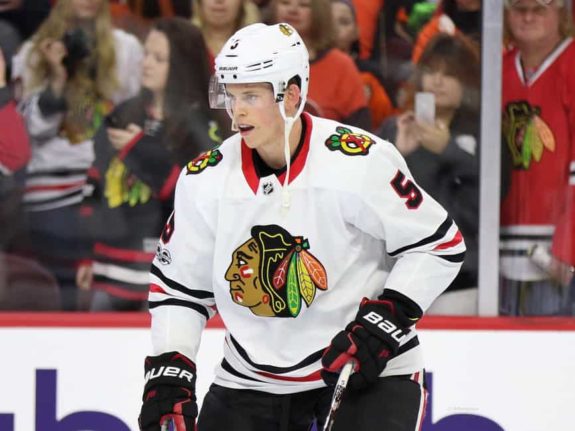 Greg Boysen
Right now, I'd start the season with Keith and Murphy on the top pair. Seabrook can no longer play first-pairing minutes against top competition on a nightly basis. Murphy had stretches last season where he looked very good, but then fell victim to Joel Quenneville's short leash. It seemed that Murphy was not given as much room for error as others on the team and paid for mistakes with less playing time — just ask Michal Kempny about that. Jan Rutta had some success with Keith last season, but once the league adjusted to him, he never made a readjustment. If Jokiharju makes the team out of training camp, I'd put him up with Keith; much like the Boston Bruins played talented rookie Charlie McAvoy with Zdeno Chara last season.
Gail Kauchak
Even though he's lost a step, Keith is still the best defenseman on the team. I'm sure last year's bad season was very hard on Keith. He's presumably training hard this offseason and will come back with a chip on his shoulder and something to prove.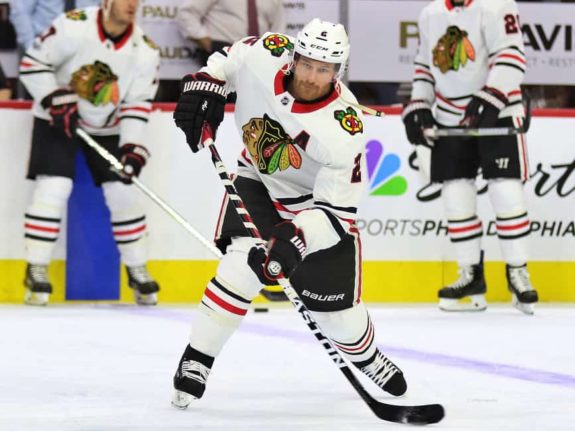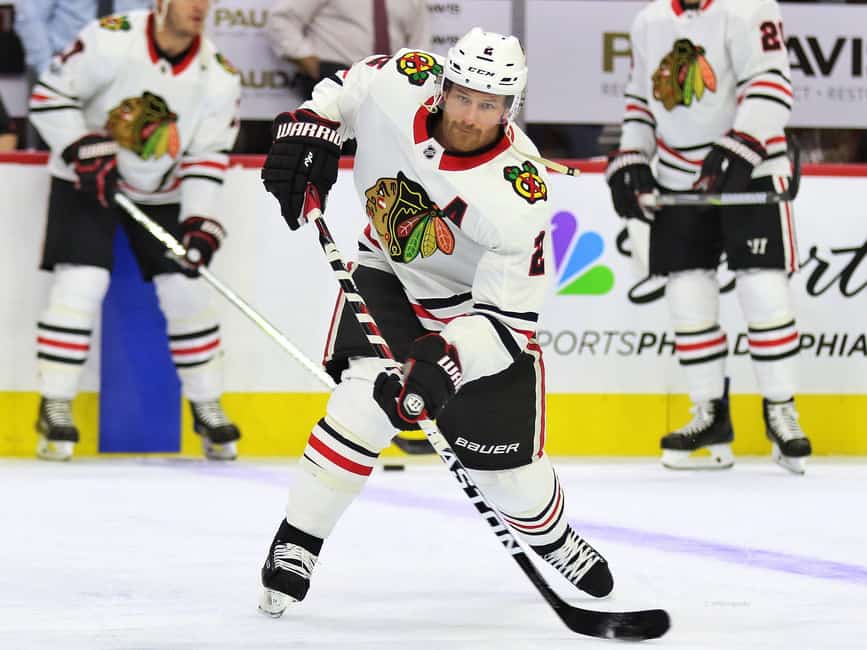 The next question is who to pair with Keith. There's not much to choose from. On the official Blackhawks' website, only six defensemen are listed: Keith, Seabrook, Murphy, Rutta, Erik Gustafsson, and Brandon Manning. Like Keith, Gustafsson and Manning are both left-handed shots. Although it's not uncommon for a defenseman to play on his off side, it's more likely these two will shore up the left side of the second and third defensive pairings.
So for the lack of anyone better, I'm going to go with Murphy. Perhaps if Keith and Murphy are deployed together on a consistent basis, they will develop some chemistry and become a solid pairing. But I also wouldn't be surprised to see Seabrook with Keith together for certain matchups and situations.
---
Our first two questions have been a tad bit depressing. There are lots of unknowns for the Blackhawks this season, and it's become clear the top brass might be looking more towards the future than the present.
Let's end on a more positive note. The Blackhawks recently dedicated Aug. 1 as Marian Hossa Day (8/1 for No. 81). All day long they honored Hossa and his contributions in his eight years as a Blackhawk. Do you have a personal favorite Hossa moment?
Today we turn the calendar to 8/1… which means it's Marian Hossa Day!

All day long we will celebrate #DemiGodMarianHossa's legacy with the #Blackhawks. Stay tuned for more, and share your favorite memories of No. 81 with #HossaDay! pic.twitter.com/25tHDjMKpB

— Chicago Blackhawks (@NHLBlackhawks) August 1, 2018
Your Favorite Marian Hossa Moment
Meghan Dillon
There are so many good ones to choose from, but I'd have to go with his 500th goal. Not only was it such an amazing achievement for him, it couldn't have happened to a better player. Hossa was the kind of player that gave his all every shift. He worked so hard throughout his NHL career and to see him join the 500-goal club was unforgettable. Plus, how could we forget his daughter stealing the show at his ceremony? She was simply adorable, and it showed what a kind and loving person and father he is off the ice.
Greg Boysen
Hossa gave us plenty of memorable moments during his time with the Blackhawks, but Game 5 versus the Predators in 2010 was one of the greatest games I have ever been to. When the Blackhawks were down a goal late in the third period, and about to go down 3-2 in the series, the season ticket holders in my section started wishing each other a good summer just in case that was the last game of the year.
Patrick Kane's shorthanded goal with just seconds remaining in regulation sent the United Center into a frenzied state. It was during the intermission before overtime when we realized that the Blackhawks would be shorthanded for over four minutes while Hossa served his five-minute major for boarding. Shortly after he was released from the sin bin, Hossa went right to the front of the net and won the game for the Blackhawks, saving the 2010 season.
Who knows what happens if the Blackhawks lose that game, but we certainly remember how the playoff run ended! That was also the day the United Center earned the "Madhouse on Madison" moniker. The only other time I ever heard the building that loud again was when Keith scored the opening goal in Game 6 of the 2015 Stanley Cup Final.
Gail Kauchak
Mine is a bit of a personal moment. I was on spring break with the family in Florida in March of 2016, and we were fortunate enough to see the Tampa Bay Lightning take on the Blackhawks at Amalie Arena. We had great seats, and it was an absolute TREAT to watch Hossa up close and personal. He was such an imposing presence out there. You didn't have to see the number on his back to know it was him. He was playing on the third line at the time, all in the name of balance among the lines. But it was clear he was being under-utilized in this role. There were numerous times he put the puck on a silver platter for Marcus Kruger to score, and poor Krugs couldn't finish the job.
Related – An Early Look at the Blackhawks 2018-19 Schedule 
Little did I know this would be the last time I would ever see Hossa play in person. There were only a handful of games after that in the regular season, and the Hawks were swept in four short games in the first round of the playoffs by the Nashville Predators. As we know, Hossa sat out the 2017-18 season due to a progressive skin condition, and has since announced he will not play again. This makes my Hossa moment all the more special, and bittersweet.