We continue our summer prospect coverage by looking at some of the Edmonton Oilers prospects that could be in for big years and improve their stock within the organization. If you haven't read the recent Top-10 or Top-20 pieces written at THW you can do so within the related links below. The top three prospects within the system according to my rankings were; Evan Bouchard, Kailer Yamamoto, and Stuart Skinner.
Related: Edmonton Oilers Top 10 Prospects
Those three are expected to have big seasons in 2018-19. Bouchard and Yamamoto both can crack the Oilers opening night roster. Bouchard could see a nine-game audition to start the year, but with what the current depth chart looks like in Edmonton, it's more likely he ends up back with the OHL's London Knights. Yamamoto, 20, has the uncertain situation on the right side working in his favor. He made the club out of camp last year and could do it again this year.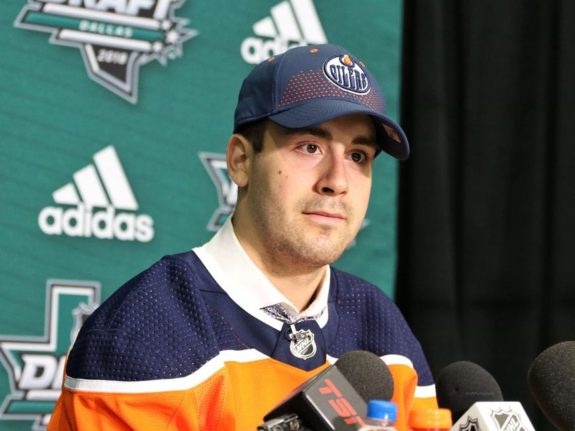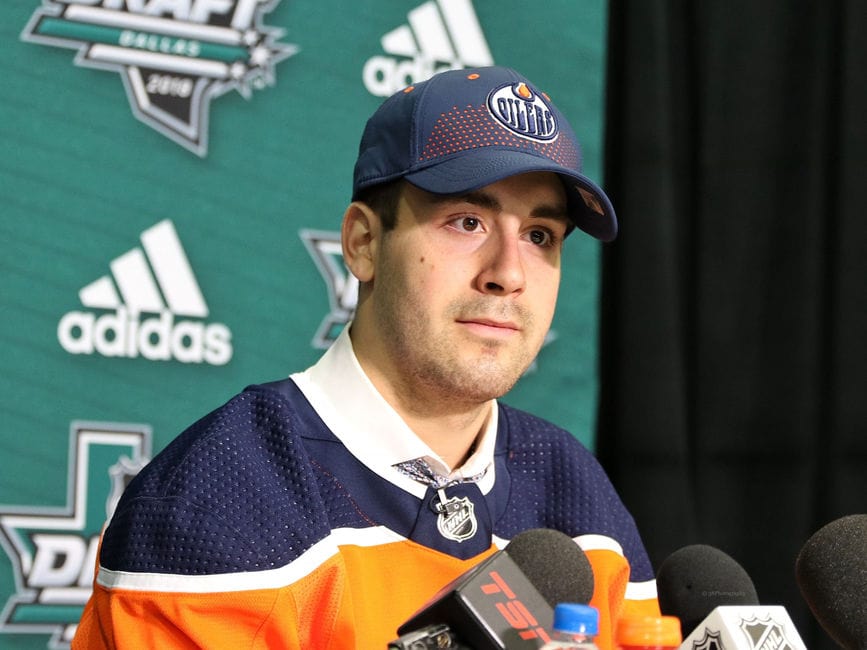 It's likely Yamamoto starts the year with the AHL's Bakersfield Condors and then works his way up before eventually forcing the Oilers to give him minutes with the main club. Skinner, 19, is turning pro after concluding an outstanding junior career that saw him play 116 regular season and 49 playoff games over the last two years. He'll get a chance to play a considerable amount of minutes in Bakersfield this season and run with the starters job.
Related: Edmonton Oilers Top Prospects: #11-20
Aside from those three who we are all expecting to have good years, there's a dearth of players in the system that some might say are underrated. You could see them as players that are on the cusp of having a breakout year. With training camp a month away and players about to settle into their roles for the season, here are five Oiler prospects that will surprise in 2018-19.
1. Olivier Rodrigue (G)
Acquired: Second round (62nd overall), 2018 NHL Draft
2017-18 Team: Drummondville (QMJHL) | 2017-18 Stats: 53 GP – 31 W – 2.54 GAA – .903 SV%
2018-19 Team: Drummondville Voltigeurs (QMJHL) | Oilers Prospect Rank: 11th
These players aren't listed in any particular order, but one player that looks like he's ready to shoot up the prospect rankings is Rodrigue. He's had two seasons under his belt already as a starting goalie for Drummondville and looks to continue that heavy workload. He's played 106 games over the past two seasons including playoffs, and playing another 50-plus games is easily possible. Drummondville should be right in the thick of things and will heavily rely on Rodrigue.
Related: Draft Review – Oilers Select Olivier Rodrigue 62nd Overall
Rodrigue is also drawing consideration for a spot on Team Canada's roster for the 2018 World Junior Championships. If he can beat out some of the others behind Michael DiPietro (competition includes Matthew Villalta and Matthew Welsh), he'll get that spot. Right now he sits behind Skinner as the best goaltending prospect in the system, and with another 30-win, 50-plus game season, and a year in which he stars for Canada, Rodrigue will pull away from Dylan Wells and Shane Starrett on the depth chart.
2. Ostap Safin (RW)
Acquired: Fourth round (115th overall), 2017 NHL Draft
2017-18 Team: Saint John Sea Dogs (QMJHL) | 2017-18 Stats: 61 GP – 26 G – 32 A – 58 PTS
2018-19 Team: Saint John Sea Dogs (QMJHL) | Oilers Prospect Rank: 10th
Safin's a talented power forward and one that possesses an intriguing skill set and speed for a man with a 6-foot-5 frame. The one thing holding Safin back is the fact he's mainly playing on a rebuilding team in Saint John that's been a rudderless ship. This team has a decent future ahead, but they won't be a playoff contender in 2018-19. If Safin can be traded to a team that's gunning for a championship instead of being a man on his figurative island, he'll be set to explode offensively.
Related: Five Steals From 2017 NHL Draft
This is a player the Oilers have few and far in between of, and players like him are hard to find in the QMJHL. Thus, his trade value for Saint John would be hard to ignore as they continue rebuilding. A natural progression in Safin's second year in junior likely sees him becoming a 30-goal, 70-point player. On a deeper club, it's possible he could score 80-plus points in the Q.
3. Kirill Maksimov (RW)
Acquired: Fifth round (146th overall), 2017 NHL Draft
2017-18 Team: Niagara IceDogs (OHL) | 2017-18 Stats: 62 GP – 34 G – 46 A – 80 PTS
2018-19 Team: Niagara IceDogs (OHL) | Oilers Prospect Rank: 9th
We've talked a lot about Maksimov over the past two summers, and last year he shattered expectations as a fifth-round selection. After Kailer Yamamoto and Cameron Hebig, no Oilers prospect had a better points-per-game average last year than Maksimov's 1.29. He was a much more improved player from a consistency perspective and trailed Akil Thomas by one point for the team lead. Niagara's dynamic duo will return, and it's possible Maksimov takes an even bigger step.
Related: Kirill Maksimov – A Thrilling Oilers Prospect
He's turned heads to be seen as a legitimate NHL prospect last season, and after putting up 34 goals and 80 points, there's some belief that the 19-year-old could score 50 goals in the OHL next season. Maksimov was also left off the Russian roster for the WJC last season (a mistake they probably won't repeat), and that sparked a fire. Maksimov put up 53 points in the final 39 games since Dec. 1. That pace translates to a 93-point season over a full season in the OHL. So is 100 points within reach?
4. Cooper Marody (C)
Acquired: Traded from Philadelphia Flyers (March 2018)
2017-18 Team: University of Michigan (NCAA) | 2017-18 Stats: 40 GP – 16 G – 35A – 51 PTS
2018-19 Team: Bakersfield Condors (AHL) | Oilers Prospect Rank: 6th
A sixth-round pick by the Philadelphia Flyers back in 2015, Marody scored himself some consideration for the Hobey Baker Award as the best college player in 2017-18. The award eventually went to Vancouver Canucks prospect Adam Gaudette, and despite the honorable mention, the Flyers weren't very high on him from some reports.
Related: Condors Report – Cooper Marody & The Bakersfield Makeover
His 51 points in 40 games last season made him the highest scoring Oilers prospect in the NCAA ahead of Graham McPhee, Joey Dudek, and Aapeli Rasanen. Marody, 21, garnered some praise from Oiler fans after a strong showing in Bakersfield to end the 2017-18 season. The Michigan-native would score three points in a small three-game sample size.
The new head coach in Condorstown and former Oilers associate coach Jay Woodcroft is now tasked with how he'll handle his influx of youth. Marody will be front and center and will draw strong consideration for the No. 1 job down the middle. With that will come first power play time alongside two strong prospects like Tyler Benson and the aforementioned Yamamoto. With that, it's not hard to imagine Marody possibly putting up 50-plus points next season.
5. William Lagesson (LD)
Acquired: 4th Round (91st Overall), 2014  NHL Draft
2017-18 Team: Djurgardens (SHL) | 2017-18 Stats: 49 GP – 1 G – 12 A – 13 PTS
2018-19 Team: Bakersfield Condors (AHL) | Oilers Prospect Rank: 13th
Lastly, there's an under-discussed prospect that has flown under the radar in Lagesson. The 22-year-old has spent time between the USHL, NCAA, and SHL over the past three seasons before emerging as a legit star in Sweden last season. Lagesson was seen as a No. 2 option for Djurgardens and logged 19:27 in ice-time through 49 games.
Related: Condors Report – William Lagesson Ready for North America
He might not be the flashy, smooth-skating Swedish star most are used to, but he's got a throwback style that will remind Oiler fans of Jason Smith. The left side in front of Lagesson has Oscar Klefbom, Darnell Nurse, Andrej Sekera, Kevin Gravel, and Caleb Jones ahead of him. That said don't be surprised if Lagesson's steady defensive acumen draws some attention and gets him a handful of games in Edmonton if injuries strike the backend again.
Folks are high on Ethan Bear and Jones, but Lagesson could prove to be one of the top defenders in Bakersfield next season by manning the first penalty kill unit and being tasked with a shutdown role.
Edmonton Oilers regular contributor providing insight on all things Oilers including club history, prospect profiles, trade breakdowns, and everything else in between. Check back regularly for new and exciting content. Follow on Twitter @SanderTHW.