It's no secret that one of the biggest issues to solve in the Chicago Blackhawks offseason is defense. Although the Hawks have acquired a couple of defensemen, nobody really stands out. However, 19-year-old Henri Jokiharju, the first round (29th overall) pick from the 2017 draft, looks promising.
Although he is not officially on the Hawks' roster, this is what to know if he is added to the roster in October.
International Play
On the day of the 2017 NHL Draft, general manager Stan Bowman told Blackhawks TV, "Henri is a player we've had our eye on all year. Great skill set, great skater, he can handle the puck and make plays. He's sort of the modern-day defenseman."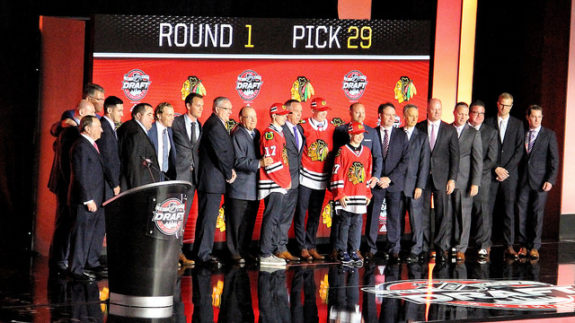 Jokiharju first caught the eye of scouts when he was on the gold medal-winning Finland team for the 2016 IIHF World U18 Championship. He tallied three assists in the tournament. This was only the start to his international success. Although Finland came in sixth at the 2018 World Juniors, Jokiharju was their best defenseman by far and tallied two goals and two assists in five games during the tournament. He was even named the player of the game after Finland's 4-1 victory against Denmark.
Portland Winterhawks
Jokiharju's international play wasn't the only thing that caught Bowman's interest, as he spent two seasons playing for the WHL's Portland Winterhawks.
In his first season, prior to his draft, he tallied nine goals and 39 assists in 71 games. His second season was his breakout year where he became known as more of an offensive defenseman. He tallied 12 goals and 59 assists in 63 games.
The Winterhawks staff have taken notice of his improvements, as associate head coach Kyle Gustafson told the Chicago Tribune, "One thing I can say about Henri is he always has found a way. When we took him in Portland, he was playing as the fifth (or) sixth defenseman; the next year he was on the World Junior team. No one was really talking about him as a first-round draft pick, (but the) next thing you know Chicago steps up and takes him."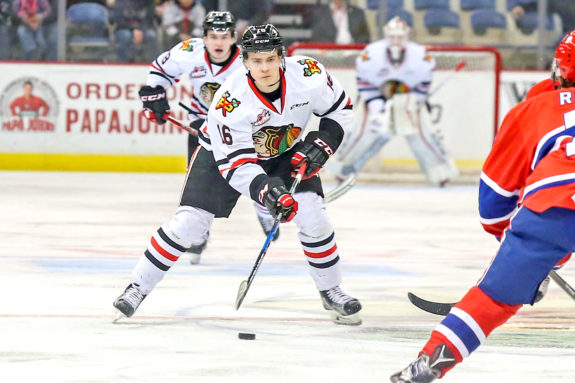 If he ends up making the Blackhawks roster, fans can only hope that he will continue to improve.
Jokiharju's Future With the Hawks
Back in June, five days before his 19th birthday, Jokiharju signed a three-year entry-level contract with the Blackhawks.
He was thrilled to sign the contract, as he told Eric Lear of Blackhawks TV, "It's an unbelievable feeling for me. Last year my dream came true. I got drafted by the Chicago Blackhawks. In 2010, I started to be a Blackhawks fan, so it's unbelievable for me. I'm really happy to sign the contract."
He went on to speak of how he grew in his year after being drafted. He told Lear, "It was a good year," he said. "To start, I went to the main camp and saw the guys, and I got to see what it's like to be a pro for one week. After that, I went back to Portland. Things went pretty well, but we got dropped in the second round. After my season, I got called up to the Finnish national team for a week – I think I was there two weeks. I think I got six games over there and it was a lot of fun to see how pros play. It was a little different. The ice was bigger and stuff like that, but it was so much fun, and I enjoyed it."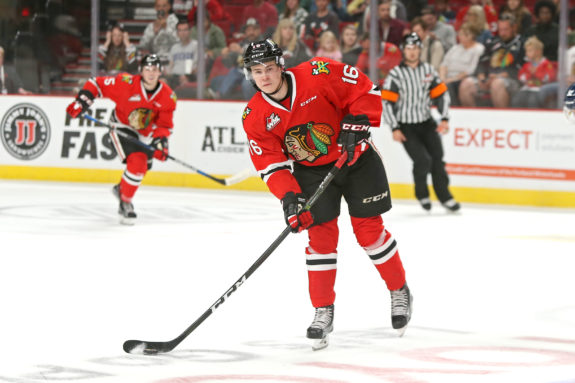 Unfortunately for Jokiharju, his age plays a negative factor in whether or not he is ready for the NHL. Most teenagers, no matter how good they are, aren't ready for the NHL. Players like Patrick Kane and Jonathan Toews are the exception to the rule.
Bowman told Mark Lazerus of the Chicago Sun-Times, ''It's difficult for young defensemen at that age in the NHL, but it's not unheard of, so I wouldn't rule anything out,'' Bowman said. ''But we're also not counting on him being the difference-maker. We just want to see how he looks in training camp.''
Jokiharju has a lot to prove in training camp this upcoming September. Luckily for him, if it's anything like this recent prospect camp experience, he has a good shot of making the roster opening night.
Bowman spoke to NBC Sports Chicago about his prospect camp performance, "I was impressed with how he came into camp in great condition, and you can tell he's trained hard. Physically, that's the one thing that's the challenge you're going up against the biggest and strongest kids. He took some strides there. It's going to be, how does he do in training camp on the defensive side?"
He has a lot to prove come training camp, but he's ready to do what it takes to make the team out of camp. It's very clear that Jokiharju has one goal in mind, as he told Lear, "I think the closest thing I can see in my future is making the home opener roster, opening night. That's the biggest goal for me right now."
If Jokiharju can live up to expectations, he can provide massive relief to the Blackhawks' blue line. Only time will tell if he will reach his goal, and Blackhawks fans have their fingers crossed that he will.
Illinois State University graduate and lifelong Chicago Blackhawks fan. I also write for The Odyssey at Illinois State and Fans Talk Sports. Other than hockey, I love to write historical fiction and nonfiction.