In the Chicago Blackhawks' world, the most prominent word that surrounds them is rebuild. There is no more looking back. With rebuilds, it's all about the future. Today's edition of News & Rumors will focus strictly on that. We will give you updates on some Blackhawks' prospects and the latest trade rumors. One of the trade rumors, in particular, is suspicious. Here's the latest from Chicago:
Antti Saarela
Antti Saarela is a 19-year-old center/wing who was drafted by the Blackhawks in the fourth round of the 2019 NHL Draft. He is a prospect that is known for his versatility, skating, and for his defense. He has been with the Ilves team of the Liiga league in Finland for the past two years. This season, he had one goal, four assists, five points, and had an even plus/minus in 10 games. As of Oct. 26, he has been named to Finland's U20 World Junior's team.
He is a player that reminds of former Blackhawk, Marcus Kruger. He doesn't provide a ton of offense, but is a good, defensive anchor for the third and fourth lines. If Saarela's name sounds extra familiar to you, his brother, Aleksi Saarela, came to the Blackhawks as part of the Calvin de Haan trade package from the Carolina Hurricanes. Chicago ended up trading Aleksi to the Florida Panthers four months later.
Rasmus Ristolainen
Speaking of Finnish hockey players, another one has hit the Blackhawks' radar. Buffalo Sabres' defenseman Rasmus Ristolainen has been considered a player that the team has been trying to move. He's a player that puts up 30-plus points a season, but his defensive game is shaky, as his career plus/minus is minus-145. In a recent article from The Score, Chicago is listed as a potential landing spot for him. I don't think the Hawks would make a move for Ristolainen, though, as there's a lot of reasons why this trade would be implausible.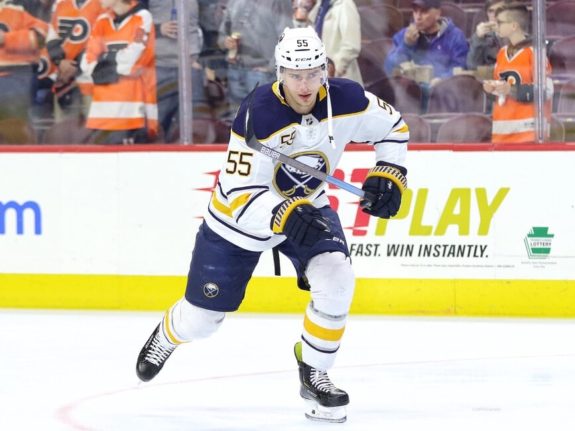 First, he has a $5.4 million cap hit until 2022. With general manager Stan Bowman saying he wants financial "flexibility", that contract doesn't match that statement. The second thing is, it doesn't go along with the "youth movement" that Bowman has been putting emphasis on, either. Ristolainen is 26 years old, so he isn't old by any means. But it takes away from the big defensive prospects the team currently has in Ian Mitchell, Wyatt Kalynuk, Adam Boqvist, and more. I don't see where he would fit into Chicago's roster.
The one place he would fit in comes from the recent acquisition of defenseman Nikita Zadorov from the Colorado Avalanche. Zadorov is 6-foot-5. Ristolainen is 6-foot-4. If the Blackhawks want to add more big-bodied defenseman like Zadorov, then Ristolainen would surely fit the bill. I just don't see it making much sense at all.
Seabrook Trade Partner?
Trying to find a trade partner for Brent Seabrook is like looking for a needle in a haystack. It's hard to find teams that are willing to take on a 37-year-old defenseman with a $6.8 million cap hit until 2024. But, Mark Lazerus of The Athletic thinks he may have the solution. From his article on Oct. 26, he mentioned that the Seattle Kraken could be a trade match.
A source close to Seabrook said he has no intention of waiving his NMC [No-Movement Clause], but that same source didn't rule out the idea of Seabrook going to Seattle in the expansion draft, if the Blackhawks could swing a side deal with the Kraken to make that happen. Seattle is close to Seabrook's home in British Columbia, and he might welcome such a challenge. And cap space shouldn't be a concern for the Kraken, who certainly could benefit from Seabrook's experience and presence in the locker room.

from 'Could the Blackhawks really trade their core? Evaluating the possibilities' – The AthleticNHL – 10/26/2020
This sounds like a scenario that is too good to be true. The stars seem to be aligned, but actually pulling it off is another thing. We'll have to wait until the Kraken's expansion draft in 2021 to see if this could be a possibility.
What's Next?
The rumors don't stop here. We'll make sure to keep you up to date on the rumors as they come, newest signings, and more!
---
---