Here we are, in late February, watching a struggling Chicago Blackhawks team that's going to miss the playoffs for the first time in nine years. It's not exactly fun, but the silver lining is watching the young players learn and grow. It appears the future depends on the kids and not so much on the rest of the company, i.e. the aging core.
With that in mind, it's no surprise the Hawks broke even this week, winning two games and losing two games. They look pretty good for stretches, and then really bad for stretches. This inconsistency is frustrating, but expected considering where the Hawks are at right now.
Blackhawks matchups this past week:
Game 60, Monday, 2/19. Vs. Los Angeles Kings. Loss, 3-1
Game 61, Wednesday, 2/21. Vs. Ottawa Senators. Shootout Win, 3-2
Game 62, Friday, 2/23. Vs. San Jose Sharks. Win, 3-1
Game 63, Saturday, 2/24. @ Columbus Blue Jackets. Loss, 3-2
Gee, when the Hawks score three goals, they win. At least this past week's record is better than the previous week, so there's that. Here's our breakdown of last week's action.
Winner of the Week: Vinnie Hinostroza
It was tough to pick a clear-cut winner this week. Patrick Kane won in the points department; his goal and two assists earned him three points. But seven other players were right behind him with two-point efforts over the last four games. I went with Hinostroza because of how he's making the most out of a tough assignment.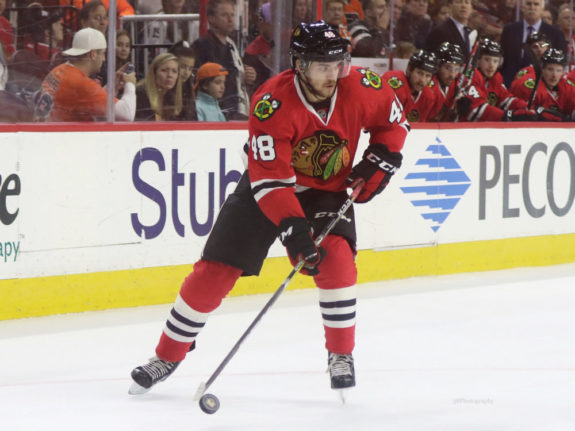 Hinostroza's been making his living on the fourth line. It's not an ideal spot for him, as he's much more of an offensive-minded player than a grinder or a shutdown guy. Plus he's seeing more limited minutes on the fourth line. This also doesn't afford him the luxury of playing next to a world-class center like Jonathan Toews, or a superstar winger like Patrick Kane.
Although he did find himself on a shift with Kane on Wednesday against Ottawa, which is where he used his speed to set up a Kaner goal. He's also seeing time on the power play. In Columbus Saturday night, Hinostroza contributed an assist on David Kampf's goal at the beginning of the game. He also had two shots that hit the goalpost.
Hinostroza should, and probably will, see more time playing in a top six role as the season winds down, and he looks to be a big part of the Blackhawks future.
Loser of the Week: Ryan Hartman
This guy has had a rough time of it lately. He recently spent a handful of games playing third line center, and didn't fare too bad in that spot. But Coach Q's constant line blender has delegated Hartman to the fourth line right-wing for the last three games, where he's been underwhelming at best.
On Saturday in Columbus, Hartman took a high-sticking penalty right after the Hawks scored their first goal for the lead. It was also just as his two linemates had a scoring opportunity going the other way. The Blue Jackets tied the game on the ensuing power play, and Hartman found himself benched for the rest of the night. That's right, the rest of the night. He only registered 4:16 minutes of playing time.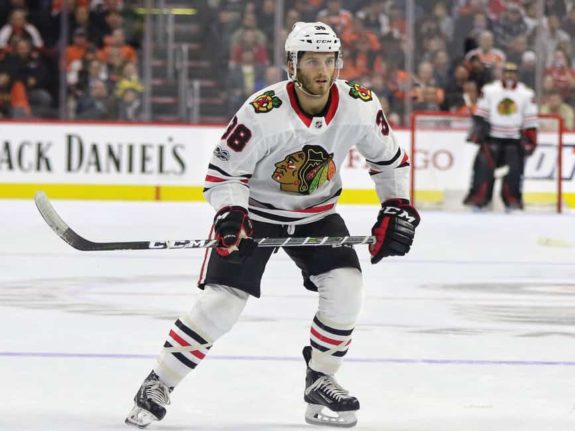 It seems like a pretty harsh penalty for the crime. Why would Coach Q be so hard on him? Do the two have a rift, and can it be mended? Rumor has it Hartman is one of the players the Hawks could be shopping for the trade deadline, or at the end of the season. Considering Hartman is from the Chicago area and would probably love to remain a Blackhawk, this could spell bad news for the young forward.
Play of the Week: Schmaltz's Birthday Goal
How could we not highlight Nick Schmaltz scoring on his 22nd birthday?! It was a lovely takeaway and set up by Anthony Duclair, and Schmaltz was at the right place at the right time to capitalize. The most recent third line of Alex DeBrincat, Schmaltz, and Duclair have been finding some chemistry together.
Blackhawks Points to Ponder
Defenseman Michal Kempny was traded to the Washington Capitals this past Monday. It will be interesting to see how the Hawks handle their defense moving forward.
Along those lines, Jan Rutta was reactivated from injured reserve and has played in the last two games. Carl Dahlstrom has been the healthy scratch.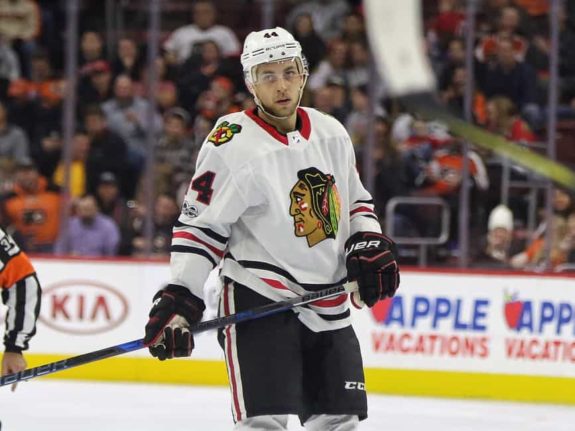 Backup goaltender Jean-Francois Berube made his first start with the Blackhawks on Friday against the Sharks. It was a strong debut, as he stopped 42-of-43 shots for a .977 save percentage, and the win.
I mentioned above that seven players registered two points over the last four games, Hinostroza being one of them (2 assists). The others include: Artem Anisimov (2 goals), Kampf (1G, 1A), Tomas Jurco (1G, 1A), Rutta (1G, 1A), Erik Gustafsson (2A), and Duclair (2A).
The Blackhawks are back to not scoring on the power play, going 0-for-8 in the last four games.
Veteran forward Lance Bouma was placed on waivers Sunday. Hopefully this means John Hayden will be called up to rejoin the Blackhawks for the rest of the season.
I would suspect Lance Bouma is assigned to Rockford if he clears waivers and John Hayden likely returns to the Blackhawks. Hayden has five goals and nine assists in 19 games since joining the IceHogs.

— Scott Powers (@ByScottPowers) February 25, 2018
What's on Tap for the Blackhawks
The Hawks have played their last game in the month of February, with a record of 3-9-1 in that span. Ugh, that's not pretty. Perhaps a few days off will do them some good. The Hawks don't play again until this Thursday, when they head to San Jose to take on the Sharks for the second time in one week. They meet the LA Kings on Saturday, and the Anaheim Ducks Sunday. Can they fare a little better in the month of March? Let's see what the kids and company can accomplish.
Gail Kauchak has covered the Chicago Blackhawks as a content writer since 2014. She previously wrote for Fansided's Blackhawk Up, and has been part of The Hockey Writer's team since 2017. It's not always easy to balance life's responsibility's with one's passion, but Gail's doing her best to make it happen. Quote to live by, "Follow your dreams, and good things will happen." Wait, maybe it's "Good things happen when you shoot the puck!" You get the idea.
Follow Gail for her unique commentary about this storied franchise. And be sure to catch her and the rest of the Blackhawks' crew on their weekly Blackhawks Banter show, as well as follow her on Twitter.