The Columbus Blue Jackets Notebook is back for another spin. The Jackets are 2-4-0 through their first 6 games. After a start of 2-5-1 last year, I hope we're not headed to another slow start that puts us so far behind there will be no climbing out of the hole. But there's a lot of hockey left to play. In this week's Blue Jackets Notebook, I take a plus and minus approach to the season thus far.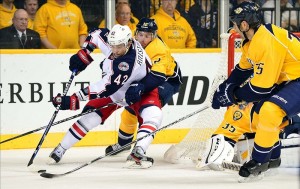 PLUS: Artem Anisimov has won 58.1% of his faceoffs, Ryan Johansen has won 54.3% and Derek MacKenzie has won 54.8% of his.
MINUS: Brandon Dubinsky has just 1 goal and 2 assists through 6 games despite playing on a line with Marian Gaborik – the team's leading scorer – and last night playing with Boone Jenner who scored 2 of the Jacket's 3 goals. Dubi isn't shooting either, with just 13 shots in 6 games and has just 1 goal and 2 assists so far.
PLUS: Coming through on one of my Blue Jackets Wish List items from the start of the season, the Jackets are 6 for 22 on the power play – a more maintainable rate than the 40% they started the season with and at 27.3%, it puts them in position to win games with a timely power play goal. While I don't think they can keep up the current pace of a PPG every game, this is a great start to the season as far as the power play goes.
MINUS: The Jackets only have eight 5-on-5 goals in 6 games – 25th in the NHL. If you want to win, you have to score goals all over the map. Just look at the Blackhawks from a year ago: 108 5 on 5 goals and just 25 power play goals in the regular season and they won the President's Cup.
MINUS: The Jackets allowed 2 shorthanded goals against Montreal including the empty netter last night. Ouch.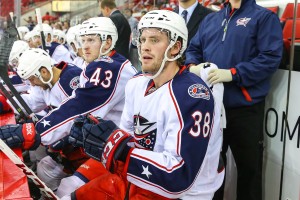 PLUS: Boone Jenner has yet to be sent back to Springfield, meaning he might be in for the long haul in Columbus. His ice time is increasing, having played just under 10 and a half minutes in the first 2 games, 12:13 in game 3 and 13:33 against Boston. Last night against Montreal, he got top-line minutes as he filled in on that top line for Gaborik, with 20:14 of ice time.
MINUS: Against Boston, he had a typical stat line: 12 minutes of ice time, 0 shots, 1 4-minute high-sticking major penalty. Boone has to be more confident to avoid nights like this.
UBER PLUS: Boone scored twice and was the best forward on the ice on Thursday against Montreal. The two goals were his first two in the NHL and will hopefully jump start his season and NHL career.
PLUS: Jack Johnson has 2 goals (both on the power play) and an assist in 6 games. You can't complain about a defenseman getting in the scoring mix.
MINUS: Jack has a -6 rating – worst on the team – through 6 games as well. Not exactly something to write home about.
PLUS: The Jackets didn't quit and came back from a 3-0 defecit to Montreal in their building – never an easy place to play in. Had they completed the comeback and finished things off, it would have been quite the motivational tool – a "we can do anything" example that could have carried them through this season.
MINUS: Sergei Bobrovsky let in a shot he could stop in the dark and the stellar effort from the start of the second on was lost. Bob certainly hasn't been playing poorly this season, but there are a few goals that I'm guessing he wants back. This was one of them. Expect Curtis McIlhenney to get a start in the upcoming homestand to give Bob a break.
And just for good measure, a couple extra plusses so everyone doesn't think I'm a "Debbie Downer" about the first 6 games in Columbus.
PLUS: David Savard is making it difficult for Head Coach Todd Richards to move him around the lineup. "The work I put in this summer has paid off," Savard said. "I feel better on the ice and I play harder in practice. I think that reflects in the game." It helps that Savard currently  has guys like James Wisniewski, Fedor Tyutin and Jack Johnson to help him along the way.
PLUS: Gaborik was out with an illness last night in Montreal, but his early line indicates good things to come: 2 goals and 4 assists 5 games played.
The Best of the Rest
The Jackets recalled Ryan Craig from Springfield and sent down Tim Erixon last week.
Richards said the coaching staff felt Tuesday's 2-1 loss in Detroit was "one of (their) best 60-minute games of the year." They had 37 shots on goal and did what the Red Wings have done so well for the last decade – keep the puck in their own zone and maintain consistent pressure.
Up Next
The Jackets continue their road trip with a visit to Washington and the Verizon Wireless Center on Saturday, and return home for 8 of the next 9 games (4 home, at Pittsburgh, 4home) starting Sunday. This will be a crucial stretch of games against 7 teams that made the playoffs last year (only the Devils did not) including a home-and-home against Pittsburgh on November 1-2.
Thanks for reading the Blue Jackets Notebook. If you have any questions, send them to me in the comments or on Twitter, @DougCutlerTHW and I'll include them in a Blue Jackets Mailbag in the coming weeks.
Doulas Cutler is a Lead Writer for The Hockey Writers covering the Chicago Blackhawks. Follow him on Twitter at @DougCutlerTHW. In addition, he also writes on The Blog of Brotherhood, dedicated to Miami RedHawks Hockey (www.blogofbrotherhood.com and @MiamiHockeyBlog). LET'S GO HAWKS!