The Columbus Blue Jackets announced on Thursday that they have loaned center Cole Sillinger to the Cleveland Monsters for what will likely be the remainder of the regular season. While this is a decision that the organization needed to make, it is long overdue with his level of performance so far this season. After a solid rookie season, he has had a disappointing sophomore campaign, and sending him to the American Hockey League (AHL) will allow him to regain some confidence and find his game for a bounce-back performance in the 2023-24 season. 
Taking a Step Back
As the 12th-overall pick of the 2021 NHL Draft, it's safe to say that on draft day very few people would've expected Sillinger to find this position at this point in his career. The 19-year-old had a strong performance at his rookie training camp and has found a way to stay in the NHL so far in his career. Unfortunately, his performance took a major step in the wrong direction for his second professional season, and he has underperformed.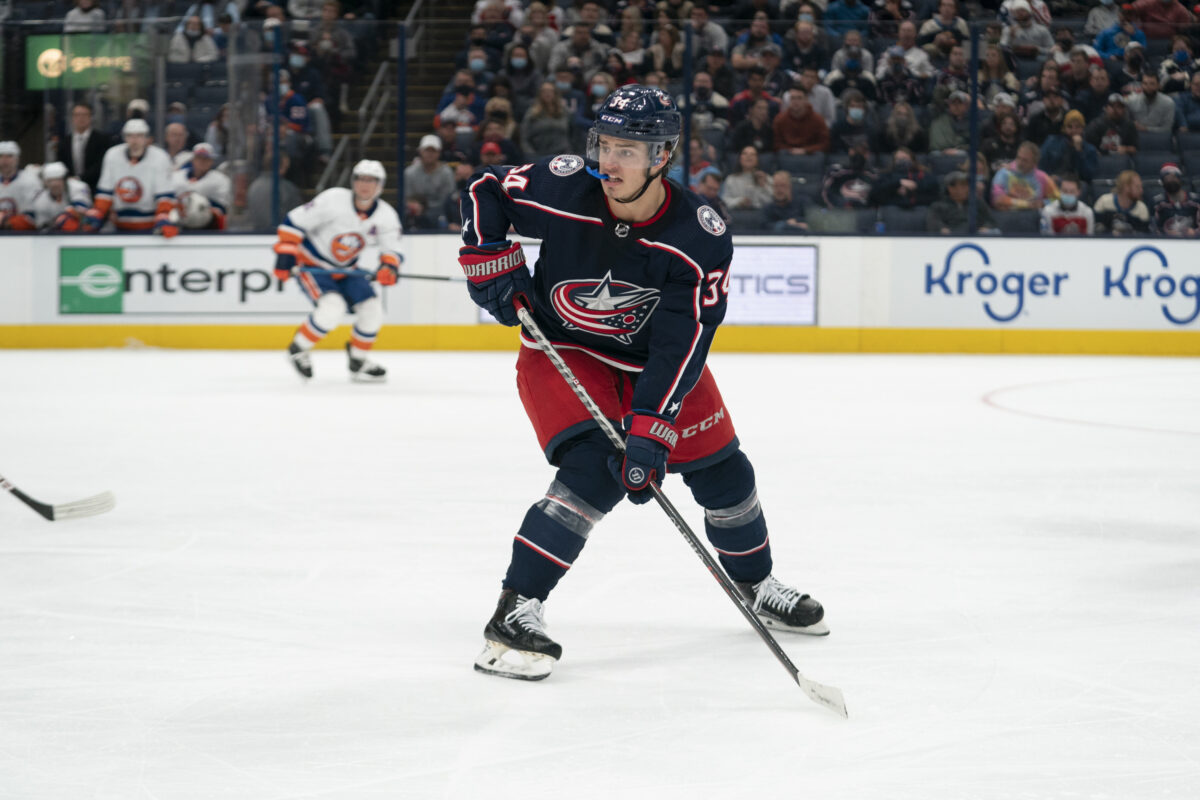 During his rookie campaign, the Columbus native had a respectable 16 goals and 15 assists for 31 points through 79 games. This time around, however, he has only managed to score three goals and eight assists for a lackluster 11 points through 64 games. While having 42 points at the NHL level before turning 20 years old is undoubtedly an impressive feat, it's also reasonable to be concerned about his recent play.
Sillinger and fellow 2021 first-round draft pick Kent Johnson are both expected to be key pieces of the organization's forward core for the foreseeable future. Johnson is trending in the right direction, and while Sillinger's performance can easily be blamed on a stereotypical "sophomore slump," there's a very real possibility that it extends beyond that. By sending him to the AHL, the organization is taking the right step as it gives him the greatest opportunity to find his game and confidence while playing games that can end up being more meaningful. 
Long Overdue Decision
While sending down Sillinger is undoubtedly the correct decision for both the player's long-term development and the organization's short-term performances, it should have been made much sooner. He struggled to start the season and although he did show some signs of improvement in November, he was unable to get much going. In January, he posted a single point, which was an assist against the Carolina Hurricanes. He followed that up with a repeat performance in February, contributing a single assist against the Toronto Maple Leafs. The decision should have been made around that time, but it is understandable that the trade deadline was management's main priority at that point in the season. Instead, it seems a bit strange that they waited until he has two points in the last three games to pull the trigger on the long-anticipated move. 
Related: Blue Jackets' Merzlikins Opens Up About Grandmother's Passing
---
Latest News & Highlights
---
Looking at the AHL standings only makes the decision to keep Sillinger in the NHL even more perplexing. The Monsters are currently last in their division, and although the AHL has a very lenient playoff structure; there is a strong chance that they miss out on the postseason. If they would've had him on the team a month ago, not only would it have benefitted the player, but it would've given the team much more time to make a push for the playoffs before their competition also received potential reinforcements. 
Sillinger's nearly two full seasons at the NHL level should make it so that he dominates with the Monsters and as a result, he should find his game once again. Of course, it is always difficult to send a player with over 100 games of NHL experience before the age of 20 to the minors but sometimes the tough choice is the right one. The Monsters also benefited by adding a major reinforcement for their playoff push, and if they're able to make it; then some postseason experience for the young player would be very valuable as well.
---
---