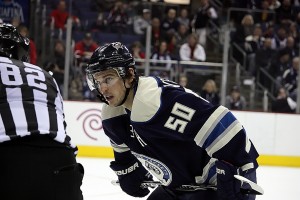 The Columbus Blue Jackets have traded forward Antoine Vermette to the Phoenix Coyotes in exchange for a 2nd round pick in the 2012 NHL Entry Draft, a 5th round pick in 2013, and minor league goaltender Curtis McElhinney. It was announced this afternoon by Executive Vice President of Hockey Operations and General Manager Scott Howson.
"This is moving forward," Scott Howson said."We have to move forward. It wasn't working this season as we expected. We're going to move forward and this is part of the process of reshaping the team."
Vermette,29, spent the last four years of his NHL career with the Blue Jackets. In just his second year of a new five year contract worth $18.75 million, the St. Agapit, Que native, is on the move to his 3rd NHL club since entering the league in 2003 with the Ottawa Senators.
After arriving in Columbus in 2009 after having been dealt for goaltender Pascal Leclaire and a 2nd round pick, Vermette managed to play in back to back full seasons in 2009-2010 and 2010-2011 compiling 46 goals and 112 points. It was a difficult ending though to his Blue Jackets career having played in 60 games this season and accumulating just 27 points (8 goals).
"Antoine was very professional, just as I expected he would be. I thanked him and his wife Karen, who did a lot of work in our community, for being such a good player and such a good person for our organization."
Given the nature of the Blue Jackets current situation, it's the inevitable that Scott Howson is just getting started on re-tooling the organizational depth chart. Vermette is the first of a handful of Blue Jackets who will hear their name in a trade call with the NHL as five days remain until the deadline.
Some important details on the move today:
The 2nd round pick that Columbus has acquired from Phoenix was the original pick traded to the Coyotes from the Ottawa Senators for forward Kyle Turris.
The 2013 5th round pick acquired in today's trade becomes a 4th round selection if the Coyotes win a playoff round this year.
The addition of G Curtis McElhinney was based upon Phoenix needing to move a player from the organization in order to get to the 50 contract limit.
"This gives us more flexibilty," Howson went on to say. "It's never fun trading anybody. I don't think any GM enjoys that. But this is about us moving the team forward."
Moving forward is one thing, but after the evening of the 27th rolls around, the return on assets moved, that's a whole different story.