Welcome to the first instalment of 'The Tweet Sheet' where we follow your favorite players, broadcasters, journalists, and the occasional unruly fan who are all tweeting about hockey.  Are you gonna get breaking news and reports here?  Just Maybe.  But what you will absolutely get is trash talking, trade rumors, drunken gibberish, and a lot of know-it-all-ism.  Enjoy.
One thing you find out about following hockey personalities on twitter is that professional players do not tweet a lot.  Malkin is fairly active, and a few others, but  they aren't as active as basketball players or poker players.  But, one group that has been pretty chatty lately are the Philadelphia Flyers.  It seems like things are really clicking over there and regardless of the goaltending situation I look for them to make an impact in the playoffs.  I say that with the utmost confidence solely based on the chemistry of tweets like Claude Giroux's:
Great game by the boys tonight…sick OT winner by Jaromir!
And Scott Hartnell's
Jagr is the man!!! #salutetowinnipeg great effort by all and a huuuuuge #2points #hartnelldown #westedmontonmallhereicome
Sure, basing teams playoff capabilities on tweets is a bit questionable, I realize that.  But chemistry is not an exact science.  Well, chemistry is a science but… you know what I mean.  Lately it just seems that Philly is clicking and has had a great injection of youth that has fired up the vets and it's one big boiling pot of homemade stew that just needs a pinch of goalie to make it right.
Another reason to follow the Philly crew is for Scott Hartnell's HartnellDown clothing line.  Hartnell keeps track of how many times he goes down for various reasons during games and we all celebrate it with t-shirts and toques!  Genius.  All the proceeds go to Scott's foundation and it really is a cool innovative way for a player to raise money.  Here was Hartnell's tweet from last night's game:
The #Hartnelldown in front net was epic. Than a slash in the mouth was even more epic. What up with that!! http://Hartnelldown.com.
Number of hartnelldowns? 1.5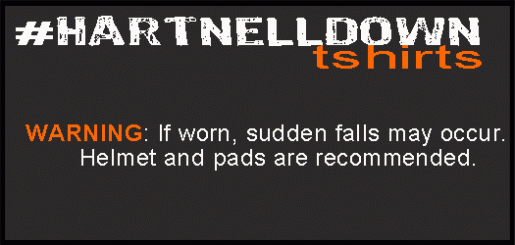 The Only guy who is on the ice for the Flyers most nights and isn't having fun is Iyla Bryzgalov.  Remember him from 24/7?  He's the crazy goalie who was brought in to address Philly's biggest weak-spot.  Well, after failing to effectively do so, Bryzgalov has heard it from the fan's and was firing back from the road. Bryzgalov was quoted by Frank Seravalli as saying from Winnipeg:
Bryzgalov couldn't wait to get in a shot at Philly fans tonight: "Here, they were cheering. In Philly, they boo me."  Bryzgalov: "I realized, every building is going to support me like here. When 15,000 people support you, it's very impressive."
It's hard to tell if he is joking or not.  But Ilya, if they were cheering in Winnipeg it's because their guys put four past you.  And if every building is going to get to "support you" that's probably not a good thing.
The battle of Alberta had another exciting instalment last night that led to some straight up comments like Jason Gregor saying:
Now Gagner makes it 4-1. Oilers have absolutely dominated this game. Finally showing some passion in the Battle of Alberta.
And some, like Dan Tencer and Rob Tychkowski, who just couldn't resist taking pokes at certain unnamed struggling Oilers:
I mean, the Flames can't even contain Eric Belanger.
Eric Belanger has scored, the Oilers are winning in Calgary and Satan is driving a Zamboni. #HellisFrozen
It turns out Eric Belanger just needed the right set of wingers, that's all.  No, not top ten scoring Eberle or top draft pick Taylor Hall. What the Oilers needed to do all along was put together the centerman who is not living up to the billing, the prospect who has bounced back and forth from the minors like a yo-yo, and the brooding power forward who wants more ice-time.  Sounds like a solid third line?  I think it just might be the right mix of speed, anger, and hope to get all three going.
Hindsight is a wonderful thing.  It might always be 20/20 but that doesn't mean it can't be an alternate version of the truth. As Josh Yohe tells us :
Spoke with former Pens GM Craig Patrick tonight: Told me Pens might have taken Malkin over Ovechkin if they had top pick in '04 Draft.
Ah, so the Pens would have taken the consensus number two over the number one player that year.  That's the kind of foresight they have over there.  They were well aware that their young stars would have injury problems and leave the team on the shoulders of one young Russian. And they knew in '04 that Russian was Evgeni Malkin.  The Pens should trade for the number one pick this year and take Grigorenko over Yakapov.  Maybe this is a ploy to get the team with the first pick to take the consensus #2, Mikhail Grigorenko over #1, Nail Yakapov in what is a very similar situation to the '04 draft.  If Pittsburgh trades up to #2 we may just be seeing one of the most genius moves in draft history.  Stay tuned…
And finally, I think I will end each instalment of the Tweet Sheet with a little coaches wisdom.  Coaches are the unsung heroes of hockey, when things are going right they are left alone without any credit, and when things tumble it is the coaches who are sent packing.  Coaches are full of intricate gems of hockey wisdom, they provide insight into the most infinitesimal details of every facet of the game, and when given a chance to prove all this to the people, they say:
Babcock: We just didn't play tonight and if you don't play, you can't win.
If you don't play… you can't win.  Write that down.
To follow the people mentioned in this article: