When the St. Louis Blues open training camp next week the stage will be set for some intense roster battles, more perhaps than we've seen in previous years. The off-season departure of T.J. Oshie created a spot in the top six forwards for someone to step up and fill while injuries up the middle to centermen Jori Lehtera and Patrik Berglund leave holes on multiple lines. It may be that more youngsters find themselves in St. Louis opening night but Blues fans might also see a veteran locking up a spot.
The most intriguing situation in camp, to me, surrounds the status of Lehtera. Freshly signed to a contract extension, the Finnish play-maker will not begin camp on the ice, but it's rumored that he'll at least be skating by its close. If Lehtera can get comfortable on his surgically repaired joint to log enough ice time all my musings and prognostications may be moot. He's undoubtedly second on the depth chart at Center for the Blues when healthy but it's what happens if he's not ready by October 8 that creates a whole new issue for the team as they prepare to start practicing next weekend.
#stlblues expect Lehtera to be "participating" before the end of camp. I saw him yesterday and he was walking fine. https://t.co/ZtrxeqdiED

— Jeremy Rutherford (@jprutherford) September 11, 2015
A Few Good Centers
With Patrik Berglund definitely out of action for the near future St. Louis suddenly has a dearth of depth at Center. Thoughts of David Backes possibly moving to the wing must be shelved for now and he should be in the familiar spot of centering a scoring line. Paul Stastny is sure to be on the top line and newcomer Kyle Brodziak will probably take face-offs at the other end of the ice-time spectrum, but there aren't many proven options for the Blues in the middle of the ice on their third line.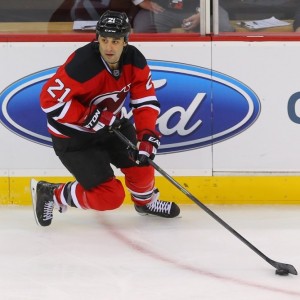 Enter journeyman Scott Gomez, suddenly a very interesting story for the St. Louis pre-season. With a strong performance in camp Gomez could actually make this Blues roster and find himself starting in the season opener. Gomez is a 15-year NHL veteran with two Stanley Cups and a career face-off win percentage of just over 50%. He's an experienced option and potentially a perfect fit as a third line guy while Lehtera recovers. Whether he develops the necessary chemistry with the Blues remains to be seen.
An alternative scenario is that a face of Blues future wows the coaching staff during the pre-season and Robby Fabbri finds himself with a seat on the big club's bench. Could the rookie handle centering a line of NHL forwards so soon after joining the organization? Would he play on a wing? That would probably make his transition to the professional level a bit easier but still leave question marks at Center for the Blues until Lehtera returns. Fabbri's place on the club may, in fact, be a foregone conclusion. Because of his age (19) Fabbri is unable to join the Chicago Wolves in the AHL and will either make the Blues out of camp OR be sent back to Guelph of the OHL.
Would Hitchcock dare to play Steve Ott on a scoring line? Of course he would. Ott was playing up among the top nine forwards as late as last season in the playoffs so why wouldn't the coach utilize him there while Lehtera's ankle fully heals? While many Blues fans feel the traditional line monikers of 1st, 2nd, 3rd, and 4th don't necessarily apply to Hitchcock's St. Louis team I think the majority of them would be up in arms if Ott isn't firmly rooted in that bottom trio.
Center of Attention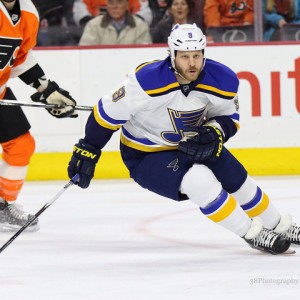 So, camp opens in a week, Lehtera may or may not be ready to open the season, and Blues fans don't know who will center all four lines. Fabbri is in a position to make an immediate impact on a team possibly missing some of its regulars when the season begins while starting his St. Louis career in the spotlight. I'd wager the rookie would spend time, as would a few other Blues forwards, both at Center and on the wing as Hitchcock's lines frequently see more change than the vending machines in a high school cafeteria.
I don't think anyone wants to see Fabbri, with all his apparent talent, wasting away in the OHL and St. Louis can't afford to get off to a slow start offensively this season. Other teams in the Western Conference have made major upgrades this Summer and it will be an uphill battle getting to the post-season. The rookie may be just what the doctor orded for the Blues. Fans may not know what the final forward lines look like until camp breaks but I'm hoping the biggest change this year is that we see more consistency in the combinations.
Do YOU think Fabbri will make the team?
Sean is a native St. Louisian and long time Blues fan. A doting father, boyfriend, son, brother, friend, sports fan, computer geek, technology consultant, listener, philosopher, writer, and music lover. He works for a local business supply company.