In part one of this roundtable discussion, the panel discussed the moves made this past offseason by the Toronto Maple Leafs and how they impacted the franchise's current roster and long-term future.
Made up of three writers and a Leafs historian, the panel will look at the Leafs path to the rebuild in the second part of this roundtable. How has their developmental philosophy changed? Are they headed in the right direction? First, let's take a minute to introduce our panel.
Meet The Roundtable
Scott Wheeler is the site manager at Pension Plan Puppets (PPP) where he covers the Leafs, Marlies, and prospects. He's also a writer and contributing scout at McKeen's Hockey covering prospects and the draft. [Find Scott on Twitter]
Declan Kerin is a writer at Maple Leafs Hot Stove (MLHS) where he covers all sides of the Toronto franchise from prospects to the parent roster. [Find MLHS on Twitter]
Robb Ellis is a writer at Leafs Hub where he covers the team. He also co-hosts Blue N' White Tonight podcast – a new show devoted to the Maple Leafs and their fans. [Find Robb and BNWT on Twitter]
Mike Wilson is a Leafs historian who's collected over 100 years of franchise history over the past 50 years. He hosts hockey nights called "Inside the Room" putting together a panel of guests from around the hockey world and from numerous eras of the game. [Find Mike on Twitter]
1. Are the Leafs headed down the right path with their development of their prospects?
Wheeler: There has definitely been a significant shift in the Leafs developmental philosophy and that has meant bringing in some forward-thinking consultants, including Darryl Belfry and Scott Pellerin. This philosophy appears to be built on skills-development and patterning at the lower levels, with a commitment to travelling to the players in the summer, rather than pressuring them to continue their development in Toronto.
Leafs management has also stressed patience and a tiered 'prove yourself' system that is keen on having players dominate at each level before moving up. While it's too early to tell if they will misuse this approach, it demonstrates that they are truly invested in the system and that it has their full attention. Each prospect is unique, and some are able to expedite having to prove themselves at the lower levels, but it is definitely the right approach.
Kerin: It's too early to tell. They have a new philosophy, new personnel in their development and it will take more than one summer for it to all shake out. They've hired people like Darryl Belfry who uses quantifiable and measurable processes and drills that accentuate high-end skill development.
Anyone that has seen Barb Underhill ply her trade realizes that the Leafs have a unique employee in the organization who has worked wonders with a lot of the players held back by bad skating and poor footwork. With her NHL pupils, she's made average skaters good and good skaters great.
Ellis: Truthfully, it's too early to say whether they will stay the course with their current prospects development plan, but I am impressed so far. The Marlies will be stacked with exciting players under 25 this season. Names like Nylander, Kapanen, Brown, Leipsic, Gauthier, Percy, Harrington, Loov are actually going to make Marlies games a hot ticket.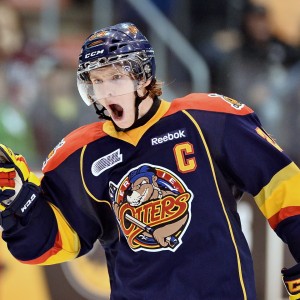 The 2015 draft class will al be playing in the CHL and despite what some may think, that includes Marner. If we fast forward a full year, it's quite apparent that the Leafs 2016-17 training camp will be quite different from this one.
Wilson: Yes, they have no choice not to go this way. Time is on their side, the fans are going to be patient (so they say) and so is management (so they say). Thus there is no reason to rush a kid, but let him develop to the fullest of his abilities before making the jump. Give all these kids a taste of the big leagues from time to time and build a solid team at the Marlie level with the same structure as the big club. Make the transition as seamless as possible.
Ideally you want these kids coming to work for the Marlies or the Leafs knowing what's expected. The stakes are the same because, even though you are with the Marlies and a few blocks from the ACC, if you don't live up to the standard expected wearing blue and white you will be released and replaced by someone who will and we have plenty of players waiting at lower levels to get a chance. No entitlement.
Those days are gone. Remember if they can trade Wayne Gretzky, they can trade anyone in sports. So, hammer home the standards the day they are picked by the organization and again with depth at each position so the threats aren't idle ones anymore. Anyone not onside will know the consequences.
2. The Leafs signed numerous short-term, low-risk contracts this offseason. What kind of impact will this have on the team moving forward?
Wheeler: The Leafs have made it clear they want to acquire as many assets as possible. Not all of the signings or acquisitions on cheap one- or two-year deals will be flipped, but if any of Arcobello, Beck, Matthias, Parenteau, Spaling or Winnik are dealt for young assets or picks, it's a win for the Leafs moving forward. Otherwise, they are still of use as NHL bodies while the current prospects develop.
Kerin: Players that are on one- and two-year contracts typically have to really fight for their next contracts and with a new coaching staff on board, they should have no favourites or preconceived notions regarding any players. Ice time will be given to players that are trying the hardest and executing best. The second caveat to that is there's a number of players who want to play for a contender and will showcase their skills for three quarters of the season and possibly see themselves traded come the trade deadline.
Ellis: As stated earlier, these signings are happening for a reason. The club has quite a few players that may need at least one more season in the AHL. Bringing in these short-term options is the perfect way to fill the roster while the prospects develop this season. Depending on how quickly that happens, the club is covered at the NHL level and you may find a gem like Clarke MacArthur or Mason Raymond in the bunch.
Wilson: Yes, this is the smart way to go. Sign low-impact, cap-friendly, bottom-six players. These are the guys that if they work out are most relished at the trade deadline. I'm repeating myself, but just like last year, turn those bottom six guys into draft picks in the upcoming draft.
Plus, these guys are usually veterans on their last legs or mid-range guys with something to prove. They are motivated to play, have been in the league, so they know the pro-routine and they become coach friendly guys because they know if they play well they will be rewarded. They pose no threat to the young guys because they are short term fixes as a rule, so they are usually seen as mentors for the young guys.
Also they don't cost a lot so if they don't work out, no loss. Ideally you would like four or five of these guys all battling for the bottom three spots – or in Raymond's case work up to a top-six forward. Either way, the team has limited downside.
3. Any final thoughts on the current path the Leafs are headed down?
Kerin: They've assembled a star-studded front office – of that there is no doubt. They've made full use of their analytics budget (finally) and added some progressive, new ways of thinking about hockey (finally). This year's draft is a step in the right direction as they added some players that look to have some very high-end skill. Hunter and his scouting staff are the most important people in the organization right now. Big trades are really hard to make in today's NHL, while high-end players rarely hit the open market and are locked up long term. While Nylander curiously played wing on the Marlies last year, he's playing centre this year and sees himself as a centre in the pros. Marner played wing in the regular season in the OHL last year, but is playing centre this year and see himself there as a pro. They've drafted three centres with pro skill sets and physical attributes in the past three drafts and that's cause for cautious optimism.
They're going about things methodically, with the right mindset and have a nice balance of new-school/progressive thinking with some old-school fundamentals mixed in. You expect it all meshes together nicely and that it has to finally work. If it doesn't, I don't know where they go from there.
Ellis: For the first time in my lifetime, it seems the organization has finally decided to try it the right way. I can't stand it when I hear people say 'another rebuild?' The truth is they have never attempted a full rebuild. It seemed like that may in fact happen when Brian Burke came to town, but he quickly put an end to those thoughts when he pulled the trigger on the Phil Kessel deal – giving away a plethora of quality picks in the process.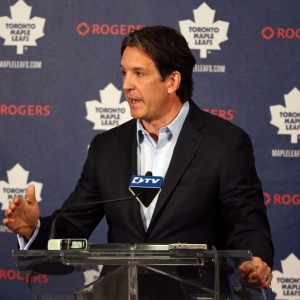 In the past 16 months – between Shanahan, Lamoriello, Babcock, Hunter and Lemaire – the Leafs have added 19 Stanley Cups to their coaching staff and management team. They're finally looking at the draft as a way to bring in and develop young talent rather than trading their picks away.
ESPN's Corey Pronman recently ranked them second in organizational prospect rankings which is quite shocking when you think that they were 17th just one year ago. Stay patient Leafs fans. I know that you've heard that before, but this is much different.
Wilson: Well, all I can say is that they model themselves after the Blue Jays. The Jays – through solid drafting and acquiring assets – put themselves in the position they did to make the latest moves that will give them a shot at the World Series. But it took Alex [Anthopolous] a few years to get that kind of depth at the major league level. They are basically two-deep at every position and still loaded in the minors. They gave away 11 prospects to make the Price and Tulowitzki trades. No other team was in that position because only a few teams will be able to afford Price as a free agent and couldn't afford a two-month rental.
So what the Leafs have to do is draft wisely and acquire as much young depth as possible and I come back to Hunter and Dubas – they will be so key going forward. They have to uncover the assets but they all won't work out. They aren't called prospects for nothing. Therefore you really want your minor league teams loaded with prospects.
The real skill that Anthopolous showed in the trades were not the trades themselves but the position he put the Jays in to make these transactions. This is the position the Leafs want to strive for. Look, if they don't work out they still have enough depth to compete at an elite level next year and keep replenishing the system with further prospects. The process doesn't stop once you experience some successes, the key is to continually stockpile the picks. You can never have enough depth.
When the Jays won the World Series in 1992, they were about to raise the pennant at the SkyDome in front of a packed house. Dave Winfield – the hero in game six in Atlanta – was chosen to raise the pennant. Moments before, Pat Gillick informed him they would not be picking up his option two days later when the free agent signing period opened at the conclusion of the World Series. Most teams would have extended Winfield. The Jays instead signed Paul Molitor who finished top three in hitting and was the World Series MVP in the Jays defence of back-to-bck championships. That's the perfect storm.
With that, we've hit the end of this Maple Leafs roundtable. From the discussion, it's not hard to see that there is some optimism to be had with the direction of the club. No, they aren't one, two or even three years away. This rebuild is a process. And as Babcock says, there will be pain.
But the Leafs are headed in the right direction. They've got the prospects in place and the front office ready to make these players earn their keep. While things can go wrong in a process like this, only time will tell how the Maple Leafs and their young core responds to the accountability of a new era.
For more, be sure to follow Andrew on Twitter at @AndrewGForbes or his THW column at @Tape2TapeTHW.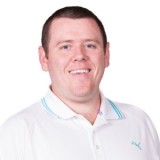 Andrew is in his 8th year reporting for The Hockey Writers covering the Toronto Maple Leafs. He began his broadcasting with CBC's Hockey Night in Canada team as well as being part of their coverage of the 2014 Winter Olympic Games in Sochi. He's the former play-by-play voice of the London Jr. Knights for Rogers TV and currently hosts the Sticks in the 6ix podcast. You can follow him on Twitter at @AndrewGForbes.