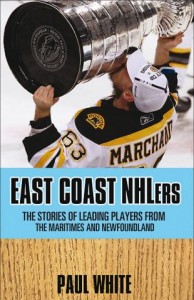 East Coast NHLers: The stories of the lives and careers of players from the Maritimes and Newfoundland
.  By Paul White.  (2011, Halifax, Nova Scotia: Formac Publishing Company Ltd. Softcover. Pp. 160.  $16.95. ISBN 978-0-88780-969-9)
While the Stanley Cup Playoffs are in full swing, most fans focus more on where their favorite players are now, and sometimes where they were last season (or even earlier this season).  Sometimes we forget that players did not simply appear in their current team's city.
Hometowns, especially those in Canada, are often quite proud of their favorite sons who make it to the NHL.  The smaller the town, the prouder the townspeople.  That is no exception on the East Coast.
Welcome to The Maritimes and Newfoundland!  As the book explains, players from the East Coast have been in the NHL for decades.  However, scouts did not actively recruit the area until the 1960s.  Once the scouts took notice, East Coasters hit the ice with increasing frequency.  But still, only about 200 players in the history of the NHL have come from the Atlantic provinces.
Who, besides Sidney Crosby, hails from the East Coast?  Author Paul White focused on the stories of a dozen players with roots in The Maritimes and Newfoundland.  From Gord Drillon and Danny Grant to the Brads – Richards and Marchand – there is quite a roster of recognizable names who are East Coasters who made it in the NHL.
The preface opened with a description of what goalies must have felt when Al MacInnis teed up at the blueline, about to face the league's hardest slap shot at the time.  From there, he used the introduction to both describe Sidney Crosby's introduction into the league and tease the reader with the names of a few other well-known East Coasters with chapters later in the book.
Many East Coasters, like Gord Drillion in the 1930s, were very proud of where they came from and how they got to the NHL.  White discussed the vast experiences of players like Al MacNeil and his extended stay with the Atlanta/Calgary Flames.  In the center of the book, there are eight color pages that showcase the player cards for each of the players featured in the book.
When reading East Coast NHLers, East Coasters will enjoy learning more about their hometown heroes.  But it's not just for locals.  It serves to remind us that everyone comes from somewhere.
Rebecca Dobrinski
Originally from Chicago, I'm doing time in the now professional hockey-less Birmingham, Alabama (but we have club hockey!). Between working, reading, and writing, hockey is that little distraction that keeps me sane. At least once a month, and especially when the Blackhawks are in town, I can be found in Bridgestone Arena cheering on the Predators (except, of course, when the Blackhawks are in town).